As the nation reels from yet another high-profile gun violence tragedy -- this time in 
a movie theater in Louisiana
-- photographer Joe Quint was, sadly, not surprised. 
"We've come to accept [gun violence] as tragic and awful and a part of life, but no one expects to be sitting in a movie theater and watching a comedy and someone stands up and starts shooting," Quint told The Huffington Post Friday. "That's not normal."
Despite the abnormality of the experience, Americans "haven't had the collective shift in consciousness yet to rise up with a unified voice and say 'enough'," Quint said.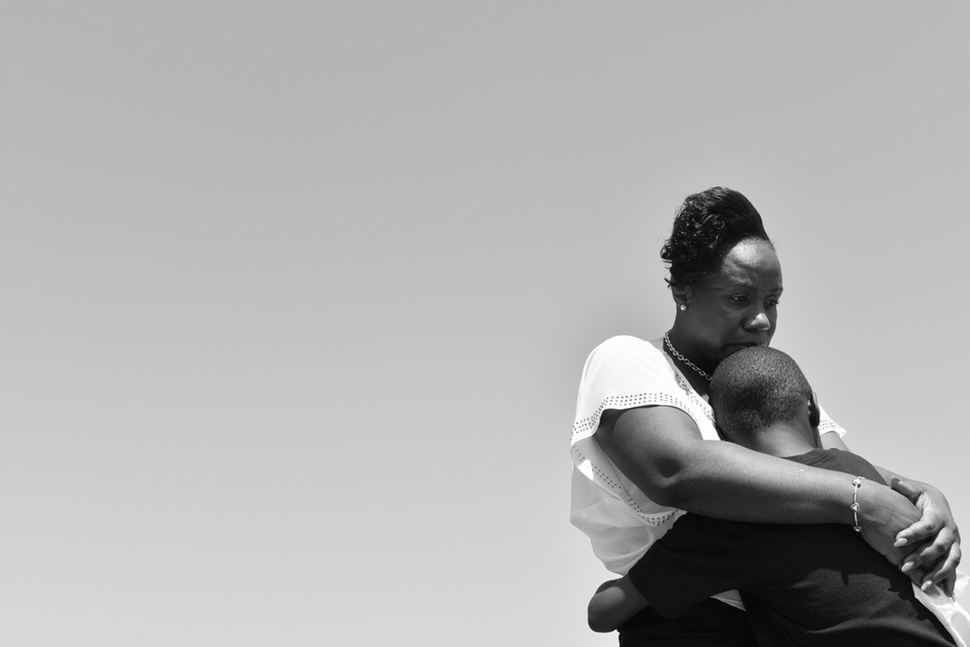 Akeal Christopher, 14, was shot and killed on his way home from a party in the Bushwick neighborhood of Brooklyn. His mother Natasha is pictured hugging her other son. Bars, stores and bodegas were open at the time of the shooting but no one has stepped forward to identify the shooter.
Its purpose is twofold: Help viewers personally connect to the stories of gun violence and ensure they don't forget and become complacent with the issue. He hopes the result will spur people to take action, and one day render his project might unneeded.
"I want people to see their story and the story of their family in the other [victims] so they get inspired to get off the sidelines and take action," Quint said. "This isn't photography for photography's sake."
Quint said gun violence is commonly invoked as a problem for urban areas -- think Baltimore, Detroit or Chicago. But other, arguably more pervasive, instances of gun violence are everywhere. Instead of city shootings, they take the form of domestic violence, suicide or children having accidents with guns in the home.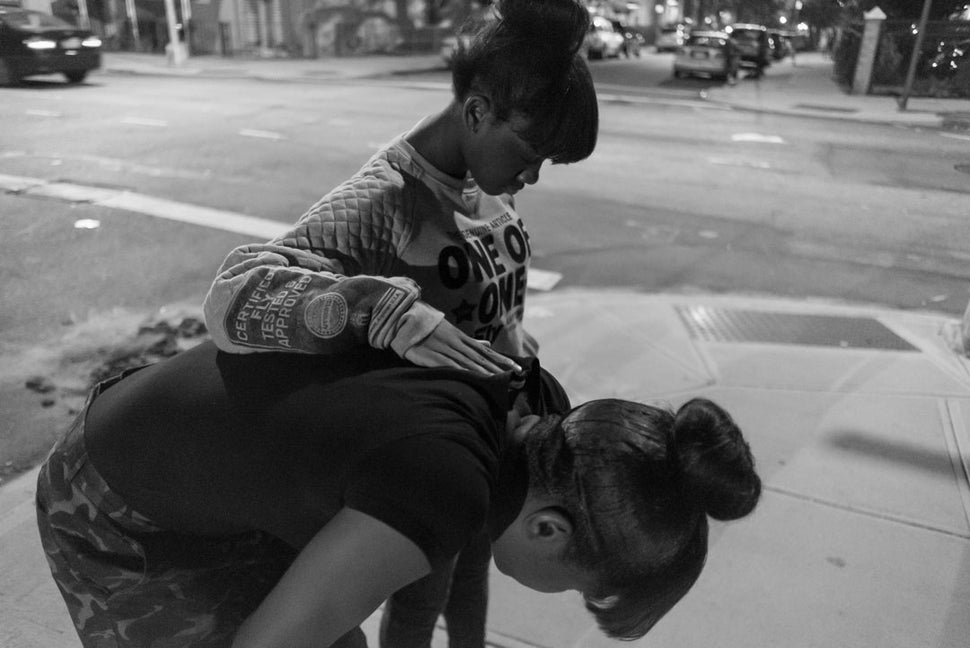 Myzinae and Whitney still regularly visit the corner where Akeal, Myzinae's boyfriend, was killed more than two years ago.
"It's such a diverse story and it really cuts across all facets of society," Quint said. "We can't simply say 'oh, that happens to those people in those neighborhoods. It happens in churches, it happens in neighborhoods, in movie theaters, in parks. It's an epidemic."
The long-term impact on gun violence survivors is profound. For some, the Fourth of July is an especially difficult day, with fireworks prompting flashbacks of gunfire. One woman Quint photographed told him certain smells take her back to her post-shooting surgery. 
"Aside from whatever medical issues that they carry with them for the rest of their life, there's a trauma that's associated with it every time there's another shooting, like last night," Quint said. 
See more photos from "It Takes Us" below.
REAL LIFE. REAL NEWS. REAL VOICES.
Help us tell more of the stories that matter from voices that too often remain unheard.