 Paul McCartney, George Harrison, John Lennon (vorne v.l.) und Ringo Starr (hinten) von der englischen Band The Beatles treten in New York, USA, in der TV-Sendung "Ed Sullivan Show" des Senders CBS auf (Foto vom 09.02.64). Zur Jubilaeumsfeier der ersten Beatles-Single "Love Me Do", die vor 50 Jahren erschien, versammeln sich Fans der legendaeren Band vom 5. bis 7. Oktober 2012 in Liverpool zu einem "Love Me Do Weekend."
For many, the magic associated with the best of the 1960s will always be inextricably entwined with the phenomenon of the Beatles. Success was certainly in the cards for John, Paul, George and Ringo fifty years ago this month, when they stepped off a plane in New York, with a modest entourage that included their manager Brian Epstein. They soon won over the hearts of a nation's youth via their legendary Ed Sullivan Show appearances and first American concerts.
Success is also in the cards for you, with the "Fave Fab Four Album" card effect described below. But before we get magical, a history tour is, well, waiting to take you away.
In February 1964, the hardworking musical combo from Liverpool probably had no idea that they were poised to change the landscape of pop music forever. While they may have looked fresh off the production line, they were no novices. They'd already honed their performing craft for years in sweaty clubs up and down England and in the fleshpots of Hamburg, performing a repertoire heavy on Americana of the period, from Chuck Berry, Elvis Presley, Ray Charles, Carl Perkins, Little Richard, and Buddy Holly, to both the Everly Brothers and Isley Brothers.
The enthusiastic scenes that greeted them in the new world were not unfamiliar; they'd recently mastered the inducement of hysteria in their female fans from Britain to Scandinavia, thanks to distinctive sharp suits and Those Haircuts. Oh yes, they'd also come up with a few catchy tunes of their own and Yeah Yeah Yeah choruses. But anyone who dismissed them as mere teen idols was sorely mistaken, as the world was about to learn.
By the time they first set foot in America, they'd not only had numerous original hits back home in the UK, they'd issued two of the dozen-odd LPs that redefined what was expected of pop bands. These were no hastily thrown together affairs—a couple of chart toppers padded out with throwaway filler—like earlier albums on Motown, for instance. They were dynamite collections of some of the Beatles' strongest material from their live sets, each consisting of eight of their own songs paired with six written by others, performed in the studio under close-to-live conditions.
Amazingly, the month after they first conquered America, they returned to Abbey Road studios in London and set about recording the music for their genre-inventing A Hard Day's Night film, in the process also setting the gold standard for "that difficult third album." This time, it was thirteen all-original songs that they committed to vinyl, with breathtaking guitars, harmonies and melodies. The released LP marked an extraordinary maturing in songwriting, and the 12-string Rickenbacker heard (and seen, in the accompanying film) inspired many a budding musician worldwide to plug in.
If they'd done nothing else, they'd have earned a place in the history books with the fruits of their labours to date. But so much more was to follow, in directions yet undreamed of, including eight more LPs, half of which still make it into fans' and critics' lists of Best Albums today.
In the early days, their hit singles and 13- or 14- track UK LPs were shamelessly cut and pasted into a proliferation of 10-track American albums which didn't even attempt to respect the integrity of the musicians' vision, but from 1966 on, they controlled their US releases too. Leaving aside all the classic non-LP UK singles, from "I Feel Fine" and "Ticket to Ride" to "Lady Madonna" and "Hey Jude", the fabulous foursome's main recorded legacy is a dozen albums over a seven-year period, representing a streak of productivity, musical vision, and artistic growth unmatched in the history of popular music.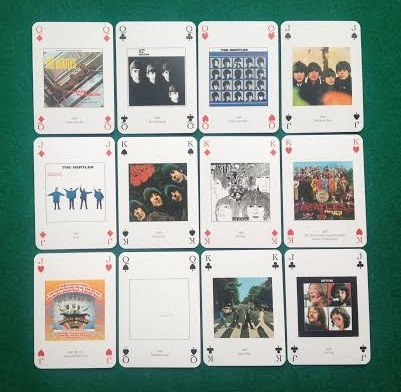 The UK LPs were Please Please Me (1963), With the Beatles (1963), A Hard Day's Night (1964), Beatles For Sale (1964), Help! (1965), Rubber Soul (1965), Revolver (1966), Sgt. Pepper's Lonely Hearts Club Band (1967), The Beatles (1968, aka "The White Album"), Abbey Road (1969), and Let It Be (1970). These account for eleven albums, but twelve pieces of vinyl as "The White Album" was actually a 2-LP set. These days, it's customary to add in Magical Mystery Tour—the American compilation of non-LP tracks from 1967—after Sgt. Pepper, to arrive at a total of twelve standard album (and thirteen discs). Some would justify the catch-up Hey Jude compilation from 1970 as a thirteenth album.
All told, this adds up to four extraordinarily talented lads and thirteen albums. It's enough to make any reasonable person think of a deck of cards. We now suggest a magical card effect you can perform for a friend or small gathering.
You'll need twelwe cards representing the twelve Beatles albums depicted. You can use Cartamundi Beatles cards, or a dozen ordinary playing cards on whose faces you have written the names of the twelve albums, or that many index cards on which you're likewise jotted down the LP names.
Set the scene by cheerily announcing,

"It was fifty years ago today, Mr. Epstein brought these four to play,
They've been going in and out of style, but they're guaranteed to raise a smile,
So may I introduce to you, the cards you've known for all these years,
Diamonds, spades, and hearts and clubs are banned."

Then add, "I'm only joking, cards aren't banned at all, in fact they are essential to what I'm about to do. I hope you have a fave Fab Four album, in a moment I'm going to ask you what it is."
Hold the packet of twelve cards face down in one hand, but at such an angle that you get peek at the bottom card's face at any time. We recommend starting with the cards in the order of album release, from Please Please Me to Let It Be. That way, if you shuffle cards from one end of the packet to the other, over and over, it's not so hard to arrange it so that any particular card is at the bottom.
Shuffle repeatedly as you ask a friend to call out the name of their fave Beatles album. Let's suppose "Sgt Pepper" is named. You soon stop stuffing, having sneakily waited until that specific card appeared at the bottom of the packet. Hold the packet flat, with the card faces all facing the floor, and say, "I'll mx them more."
Actually with one thumb you move the bottom card to the top, then, keeping the other thumb on it, you jumble up the rest of the cards with your free fingers, making sure to hold the packet up at least once, to flash some of the card faces to your audience, saying, "See, these represent Beatles albums, note how they are all different." Be careful not to flash the face of the top card. With the cards once more facing the floor, use a thumb to get the top ("Sgt Pepper") card back on the bottom, and continue mixing up the cards above it, until told when to stop. Unknown to everyone but you, the fave fab four album is on the bottom card, and you are all set to perform a miracle.
Deal out into a face-down pile one card for each of the nine letters in "Sgt Pepper", spelling out loud, and thus reversing the card order, before dropping the rest of the cards on top as a unit. Pick up the packet and repeat. Finally, do it all one more time, for a total of three deals and drops.
Have your friend press down hard on the resulting top card, and solomnly intone the words, "She loves you, yeah yeah yeah." When this card is turned over it is found to depict Sgt Peppers. The other eleven cards can be checked to represent the other Beatles albums.
This all works—the initial bottom card inevitably ending up on top—because of a mathematical principle we won't go into here. It's mathemagic in action, and interested readers will find all the details in my book "Mathematical Card Tricks" (AK Peters/CRC Press).
In practice the album title spelled out should have at most ten letters, so perhaps offer this written list at the outset:
If one of the first four is named, say nothing until after the shufffling, and you have the desired card in place. Then say, "What was your fave album? Oh, I remember now. That's longer than I can handle, so I'll need shorten it." Then you spell "Please Me", "With the", "Hard Day's", or "For Sale". Likewise, spell "Magical" or "Mystery" should that album be named.
Less obvious, but essential, is that at least six cards/letters must be spelled out each time, so if "Help!" is mentioned, then after you say, "What was your fave album?" add, "Oh, I remember now, it's Help!" Then brazenly spell out "It's Help".
Starting with a dozen cards, this works using any word of between six and twelve letters. While American Beatles album titles can also be accomodated, beware of "Introducing", "Beatlemania" or "Something New", as spelling out eleven or twelve letters/cards leads to some confusion, since there is so little left to drop on top each time.
For further adventures involving the fab four and playing cards, please see "All You Need Is Cards" by the reclusive Brain Epstein. A splendid time is guaranteed for Paul (and Ringo).
"Card Colm" Mulcahy is professor of mathematics at Spelman College, Atlanta, GA, currently visiting American University, in Washington, D.C. He's been a Beatles fan since 1963, is author of "Mathematical Card Tricks" (AK Peters/CRC Press), and is on Twitter at @CardColm.
Calling all HuffPost superfans!
Sign up for membership to become a founding member and help shape HuffPost's next chapter