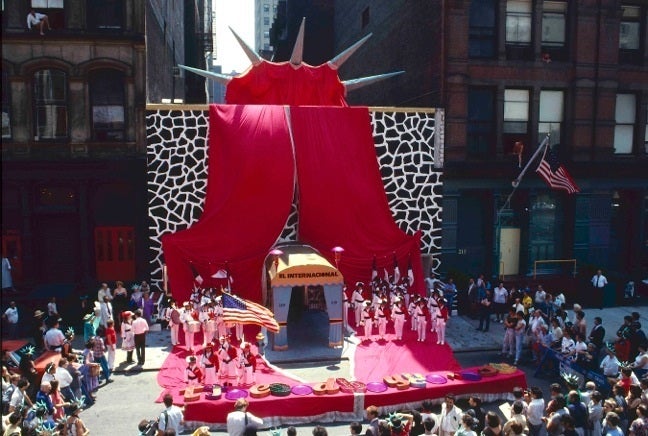 In 1984, on a menacing, rubbish-strewn street in what later would become New York City's most expensive neighborhood, an outlandish restaurant called El Internacional opened on West Broadway in Tribeca.
It was an uproarious success, filled nightly by literati, glitterati, hipsters and, yes, even tourists. There were crushed soda cans embedded in its sidewalk, the facade resembled an intensely spotted cow, and a one-ton replica of the State of Liberty's crown peeked above its roofline. It staged food pageants and flamboyant parades, and subverted every standard notion of what a restaurant was "supposed" to be.
It closed in two years -- which is one year longer than it took to build. But it lasted long enough to make an indelible impression on the city's food, culture and design professions, whose newspapers and magazines covered its every outrageous eccentricity. In truth, El Internacional was an art "installation" rather than a restaurant. Oh, yes, it also was the city's first (or perhaps second) tapas bar.
I'm giving you this bit of history because a mammoth book about this never-to-be repeated restaurant was just issued. It's called El Internacional-- New York's Archeological Sandwich, and if you have any interest in how design, art and food merged into a sizzling social experiment, then you need to read it; and if you have any desire to open a "concept" restaurant, you also need to read it. You won't stumble upon it in your local bookstore but Amazon has it for about forty bucks. El Internacional was the genius offspring of Antoni Miralda (an artist of internationally famed eccentricity) and Montse Guillen, a Spanish chef who incidentally worked for a short while on tapas creations for Windows on the World (which we created.)
Describing this restaurant-artwork is futile: Salvador Dali has a bad hair day; a food truck explodes in the Museum of Natural History; Miami Beach meets Barcelona. Post-modern collides with punk. El Internacional was overlaid onto a previous restaurant -- a swanky mafia joint called Teddy's which itself was overlaid onto an older German restaurant. As Miralda stripped away decades of accretions from the walls and floor he found amazing design elements that he incorporated into El Internacional -- which is why book is called an archeological sandwich.
Its interiors were filled with purple chandeliers, hanging sausages, cup-and-saucer light fixtures, purposely clashing fabrics, a wall for women to leave their signed lip-prints, matador head candelabra, a glass-topped coffin filled with salt cod, and other wackadoodle paraphernalia that these days we'd call "curated." Teddy's regulars included Elizabeth Taylor with various husbands. Ed Sullivan, Steve McQueen and Frank Sinatra. The new clientele tilted more towards Bianca Jagger, Robert De Nero, Jean-Michel Basquiat and the Andy Warhol crowd, and lots of homesick Spaniards.
El Internacional was an endless carnival but the food was rather serious stuff. This was the city's first Catalan restaurant when no one knew what tapas were. It was fiercely regional and scrupulously authentic. Even by today's standards the cooking was adventurous: baby eels in hot sauce; pigs' ears vinaigrette; squid a la plancha; Catalan tripe; kidney brochettes; Moroccan-style eggplant; raw salt cod and tomatoes; stuffed pigs' feet; grilled lamb ribs with seven medieval sauces, and, probably, New York's first potatoes bravas. The menu was composed on an Apple Macintosh dot printer that had come out the very same year.
There also was a video menu that showed not only what you might eat, but also where it came from and how it was prepared. Sometimes more than you wanted to know -- herds of sheep heading for the stew pot, and the reproductive calisthenics of snails. It was the quirkiest, campiest restaurant of its time, and probably would be the quirkiest today.
But after two years, its time was up. The place was being captured by "not our crowd" invaders from uptown and the outer boroughs, and there were rumors of discord between Miralda and Guillen on one side and their partners on the other. Yet another restaurant was built upon the interior designs of El Internacional with additional overlays by local artists. It was called El Teddy's, an oddball Mexican restaurant with a modicum of success until it, too, was overrun by "suits" and Wall Street strivers. It closed in 2004 and today is a six-story luxury condo.
Special thanks to Michael Whiteman, celebrated global food trends expert and international restaurant consultant, for his unique perspective on one of New York's most fabulous restaurants.
Related
Popular in the Community