A national survey by the Pew Hispanic Center shows that by "a ratio of more than two-to-one (59% versus 27%), Latinos disapprove of the way the Obama administration is handling deportations of unauthorized immigrants." This should come as no surprise to anyone following Latino affairs under Obama. Unfortunately, Pew Hispanic's latest report reveals that "not all Latinos are aware that the Obama administration has stepped up deportations of unauthorized immigrants."
Slightly more than a third (36%) say the two administrations have deported about the same number of immigrants. And one-in-ten (10%) Latinos say the Obama administration has deported fewer unauthorized immigrants than the Bush administration.
In fact, Obama has overseen a 30% increase in deportations over the George W. Bush White House, up to nearly 400,000 during each of the last 2 years. In the first 6 months of 2011, la migra de Obama "deported more than 46,000 parents of U.S. citizen children." Furthermore, while an estimated 81% of illegals are Latino Americans, 97% of the deported have been brown men and brown women.
Seizing on President Obama's failure to keep his campaign promises of comprehensive immigration reform, the Republican Party quickly moved to score political points with excitable bigots and chronically jobless white people. What began on Capitol Hill as an ordinary, baseless rally by both parties "to secure our nation's borders" by allocating multimillion dollar contracts in public funds to political allies through lucrative "defense" and construction contracts quickly mutated into a cowardly GOP chorus railing against children they called Anchor Babies.  Soon the 14th Amendment was under fire and GOP buffoons and bigots at the state- and local-level were emboldened from sea to shining sea. First came SB1070, Arizona Governor Jan Brewer's wholesale rape of Latino civil rights for little more than "15 minutes" of political super-stardom and the usual multimillions of dollars in public funds for political allies. Now, 80% of Alabama's Latino children are absent from Alabama's schools from a year ago. Georgia's Latino exodus cost the state's agriculture sector an estimated $140 million last spring and summer as 11,080 farm jobs went unfilled.  And a quiet and largely unquantifiable internal refugee crisis unfolds across America as undocumented millions of Latino Americans flee from the shadows to other shadows.
Mitt Romney's success this week in New Hampshire is a predictable lockstep closer to a 2012 election in which Latinos have no viable ally on the national ballot. This means Latino voters must decide for themselves which candidate to vote against. Obama failed us, sure, but his administration's sickening fondness for suddenly, permanently removing brown, Christian parents from the lives of their children is not just failure. It is cruelty.  And when 97 of every 100 victims of Obama's deportations are Latino, it is not just a civil liberties issue. It is a hate crime.  So it would behoove our Nobel Peace Prize President, who spoke so perfectly of "slaves and abolitionists" when he last applied for the job Latinos hired him to do, to revisit an unsympathetic truth Fredrick Douglas articulates thusly:
"The American people have this lesson to learn: that where justice is denied, where poverty is enforced, where ignorance prevails, and where any one class is made to feel that society is an organized conspiracy to oppress, rob, and degrade them, neither persons nor property will be safe."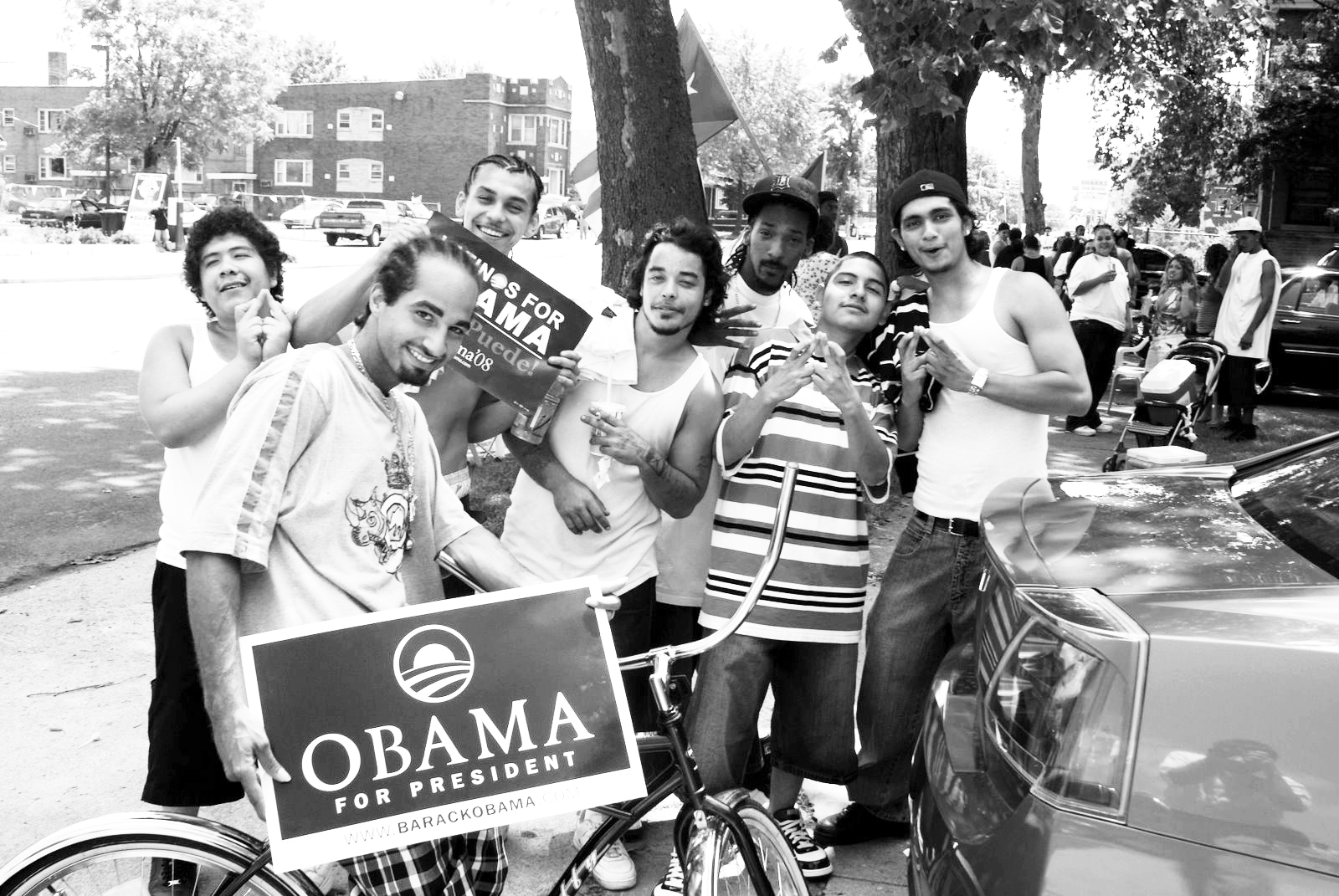 Latin Kings for Obama '08 (Photo by Pablo Manriquez)
Calling all HuffPost superfans!
Sign up for membership to become a founding member and help shape HuffPost's next chapter