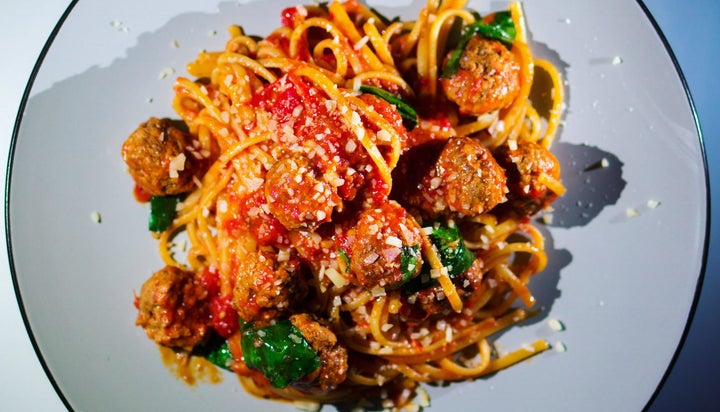 Most Americans don't see a difference between Italian food and Italian-American food, but native Italians sure do.
They're often perplexed by the size of our dishes, the quantity of ingredients and the recipe rule-breaking we Americans commit, sometimes going so far as to ask, "This is a joke, right?"
But I grew up eating Italian-American food, unaware of its digressive autonomy from the Motherland. It wasn't right or wrong; it was just the Italian food I grew up with ... and I loved it.
But in 2006, everything changed.
An obsession with all things Italian led me down the rabbit hole to real Italian or Italian-Italian food. The history and myths of Italy's classic dishes ignited my passion for red sauce. One could say I was turned on by the food.
Suddenly, all things became black and white, right and wrong, with no wiggle room. In my mind, Italian-American food became a blasphemous amalgamation of ingredients I was embarrassed my countrymen had peddled for as long as they had.
Now, my stance on the issue has changed and in order to make my argument for Italian-American cuisine, we must first talk about Italian food and culture.
What constitutes Italian-Italian food? Well, there's a different definition for every region.
At its core, Italian food is a grouping of seasonal ingredients prepared simply and in a prescribed method. The irony is that ingredient quantities aren't at all precisely measured, yet the consistency of the dishes is impeccable.
The value in learning to measure with the "quanto basta" or "correct amount" of a certain ingredient is one of the best things about the Italian method of cooking. If you were to ask, "Hey Nonna, how much flour should I add to the gnocchi dough?" she's more than likely to answer with "quanto basta." This method keeps the cook engaged and brings the food to life.
"The best ingredient I discovered in America was 'freedom.' The freedom to experiment in the kitchen and the freedom to be open to those experiments in the dining room."
Every region of Italy has vastly different food. The food in Friuli-Venezia Giulia is totally different from in Calabria, which is nothing like in Emilia-Romagna. Simply put, Italian food is hyper-regional, and each region is fiercely protective of its right to claim the utmost authenticity of each dish and its respective ingredients.
So here's what I've humbly concluded: Our idea of "Italian" food is actually a bland generalization of the many types of Italian cuisine, and is not an accurate depiction of the country's 20 diverse and unique regions. So when you see an Italian in a message forum saying something like, "I am Italian, spaghetti and meatballs don't exist and should never be on the same plate," that person is speaking only with the knowledge of his own region.
Italian-American food evolved when Italian immigrants broke free from their old cultural restrictions.
So how and why did Italian food evolve in the U.S.? I asked my friend Francine Segan, who's a six-time James Beard-nominated cookbook author and food historian, to explain it.
Segan told me, "It all started when the first Italian immigrants came to America and couldn't cook their favorite dishes because certain ingredients were either missing or simply didn't taste the same. Italians who went into the restaurant business found that they could be more creative than they could in their homeland. Native Italians resist changes to their traditional dishes, but in America, those restrictions were lifted and chefs could flex their creative muscles ... think pasta tetrazzini created at the turn of the 20th century in America and named after the Italian opera singer. That 'Italian' dish never existed in Italy."
"Even though Italian-American food always got a bad rap from the Italians, the truth is, it was never trying to be Italian."
In the last 10 years, the resistance to culinary change in Italy has faded slightly.
When I asked Chef Silvia Barban of LaRina Pastificcio in Brooklyn if her creative takes on pasta ― like smoking her spaghetti before adding confit garlic and toasted hazelnuts ― would be accepted in Italy today, she said yes. "I think more Italian restaurants in Italy are using less traditional ingredients, but still of the highest quality."
This newfound willingness to change might be thanks to Osteria Francescana in Modena, Italy. Segan recently spoke to Massimo Bottura, the chef/owner of the top-rated restaurant, who told her, "The best ingredient I discovered in America was 'freedom.' The freedom to experiment in the kitchen and the freedom to be open to those experiments in the dining room."
American ingredients have shaped Italian-American cuisine into its own distinct entity. And it's still evolving.
I believe Italian-American food is an expression of Italian food using American ingredients. Why have just eggplant parmigiana when America has such accessible chicken and veal? Why maintain meatballs as microscopic spheres of veal and pork when the size could be doubled using America's plentiful supply of beef? These are all examples of Italian-American food in the early 20th century, but lately, it has evolved further.
Restaurants like Carbone are trying to revive the old Italian-American food with the finest ingredients. Places like Maialino (to pick one of thousands) are using seasonal, U.S.-grown ingredients prepared simply. I recently had a dish of cavatelli with sausage, ramp pesto and two-year-old preserved cherry tomatoes. It was divine, but was it Italian? Was it even Italian-American?
America now has more farmers markets than ever before, and the shelf-stable products that forced immigrants to innovate with lower-quality ingredients are no longer the only option. As a result, we're entering a new frontier of Italian-inspired food here in the U.S.
I'd argue it's driven by our wonderful ingredients and innovation. This new frontier should be dubbed American-Italian food rather than Italian-American food, as it's prepared using American ingredients and ingenuity with the Italian philosophy of "quanto basta."
So even though Italian-American food always got a bad rap from the Italians, the truth is, it was never trying to be Italian. It was simply improvised food that resembled the stuff from the old country. Nothing is black and white; everything is shifting and evolving. When eating anything new these days, I ask only one question: Is it delicious?
Illegal Spaghetti and Meatballs
In Italy, these two should never be on the same plate (unless you're in Abruzzo). But in New York, spaghetti and meatballs are a red sauce staple ― and I'm a New Yorker, so here's how I make mine, simple and delicious.
8 ounces ground beef
8 ounces ground pork (if you're not a pork eater, double the beef or use ground veal)
1 ounce of white bread, no crust
1 ounce (by weight) half-and-half
2 allspice berries, ground in a mortar and pestle, or between two napkins with a hammer
6 black peppercorns, or 3 twists of a pepper mill.
1 tablespoon kosher salt (plus more for the pasta water)
1 tablespoon tomato paste
1 clove garlic, minced
1/4 cup extra-virgin olive oil
1 large can (28 ounces) whole peeled tomatoes
6 fresh Roma-style tomatoes.
4 ounces freshly grated Parmigiano-Reggiano
1 pound good quality spaghetti, like deCecco
digital scale
mixing bowl
stock pot
heavy-bottomed pot large enough to contain the sauce, meatballs and eventually pasta
cookie tray
parchment paper
Fill the stockpot with at least a gallon of water and set over high heat.
Combine the bread and the half-and-half, and mix well until combined.
Add all of the ground meat, allspice, pepper, kosher salt and tomato paste. Mix well until combined.
Form 1-ounce balls by weighing a piece of the mixture first and then rolling/forming the ball between your hands. They should be slightly smaller than golf balls. Set them onto the cookie sheet lined with parchment
Heat your heavy-bottomed pot over medium heat (250 degrees Fahrenheit) and add the extra-virgin olive oil and the meatballs, in batches if necessary. They need about half an inch between each other.
Brown on all sides, remove and set aside on the cookie tray (remove the parchment paper before placing them on the tray).
Add the garlic to the oil, and when fragrant add the crushed tomatoes and the fresh tomatoes. Bring to a simmer.
Add the meatballs back into the the pot with the sauce.
Lower the heat so that the occasional bubble breaks the surface.
When the water is boiling, add a good handful of salt (about 1 1/2 ounces per gallon)
Dump the spaghetti in and give it a good stir. Cook two minutes shy of the box's instructions!
When you're two minutes shy of the box's instructions, add all the pasta to the sauce, and bring the heat back up, stirring continuously for an additional two minutes.
Add the cheese and stir for an additional 30 seconds.
The pasta and cheese will absorb a lot of liquid and thicken your sauce. If it's too thick for your liking, add some of the reserved pasta water that you cooked your pasta in, and if you already dumped that out, add some regular water that's warm.
Serve with basil, parsley and/or a bottle of wine and some nice bread. Enjoy a dish that's outlawed in 19 of 20 Italian regions, but legal in all 50 states.