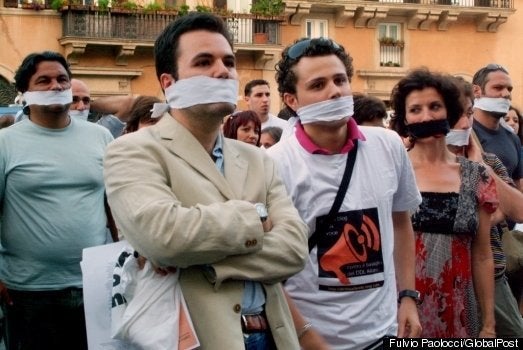 By Fulvio Paolocci | GlobalPost
ROME -- This week in Rome, bloggers and activists wore gags to protest a proposed law that could impose heavy fines on bloggers who don't correct "offensive" comments within 48 hours.
About 200 bloggers gathered at sunset in the picturesque Piazza Navona July 15, while hundreds others joined the protest online by freezing blog posts for a day.
"A blogger is not a professional reporter," yelled 35 year-old Guido Scorza from atop a marble bench as he held a heavy megaphone. "A blogger doesn't have a legal office to defend him from lawsuits," he said.
The controversial Alfano proposal -- named after its author, Italy's Minister of Justice Angelino Alfano -- has already been approved by Parliament and awaits Senate approval.
If passed, the law would force bloggers to edit any post denounced to the government as defamatory. If the blogger refused, the denouncing citizen could sue for as much as $18,000.
Few bloggers can afford such a high price for freedom of expression. Strike organizers said that the provision especially aims to discourage bloggers from commenting on politicians and other public figures.
"They are trying to reduce the number of bloggers in Italy," said Scorza, a lawyer and expert in digital civil rights. He said the internet has given Italians the tools to question their elected representatives.
One such Italian, the comedian-turned-blogger Beppe Grillo, has used the web to expose the Italian Parliament's inability to act on crucial issues such as conflict of interest, corruption and the environment.
Every year, Grillo organizes a popular event called "V-Day," which promotes active citizenship, and the use of the web as a news source. Recently, Grillo's popularity won him an online election as the next secretary of the Italian Democratic Party (PD). The party, however, refused his candidacy.
In a country where the prime minister owns the three largest commercial TV channels, the biggest publishing house, a leading advertising agency, and -- as head of state -- oversees Italian public television, RAI, bloggers represent a fresh breeze of critical voices.
A blog reader like Damiano Zito, a 22-year-old engineering student from southern Italy, put it bluntly: "If bloggers start shutting down, I won't have any alternative source of information."
But Antonio Palmieri, a Parliament member from Berlusconi's People of Freedom Party (PdL), said the Alfano law aims at stopping bloggers from abusing the freedom of the internet.
"How would you feel if you were anonymously insulted on the internet every day?" he said.
Palmieri defended the "Alfano" proposal but also said it was written as an emotional reaction. He is working to improve the language of the proposal by clarifying what kinds of blogs and web sites should be liable. Palmieri thinks bigger blogs and online newspapers that affect public opinion should be regulated.
The Alfano proposal updates a 1948 law that was passed to regulate newspapers created after World War II. The law required newspapers to either correct published information that citizens denounced as defamatory or be subject to a fine. The Alfano proposal extends the rule to so-called "Information Sites."
Bloggers demonstrating in Piazza Navona called it a "geriatric" reaction by Italian Parliament members who don't understand the nature of the web. But recent Italian events shed a different light on this latest attempt to regulate the Italian web -- maybe more strategic than geriatric.
In 2007, a YouTube video of a recorded phone call between then-opposition leader Silvio Berlusconi and a former RAI director exposed Berlusconi to public scrutiny. In the call, Berlusconi asked the RAI director to hire two women as a favor for a senator of the majority. Berlusconi said explicitly that he expected the senator to return the favor by helping him regain a Parliamentary majority.
Recently, now-Prime Minister Berlusconi has been under heavy public scrutiny for an ambiguous relationship with an 18-year-old aspiring TV star. Within days, the internet was saturated with satirical renditions of the alleged relationship via print, audio photo and video.
"This government is formed by people who for 30 years got used to having a tight grip on the media," said Scorza.
"The principle of accountability is sacred and I think that anyone posting information of public interest should be accurate," said Scorza, "but the way they [legislators] want to apply the principle is twisted."
Related
Popular in the Community