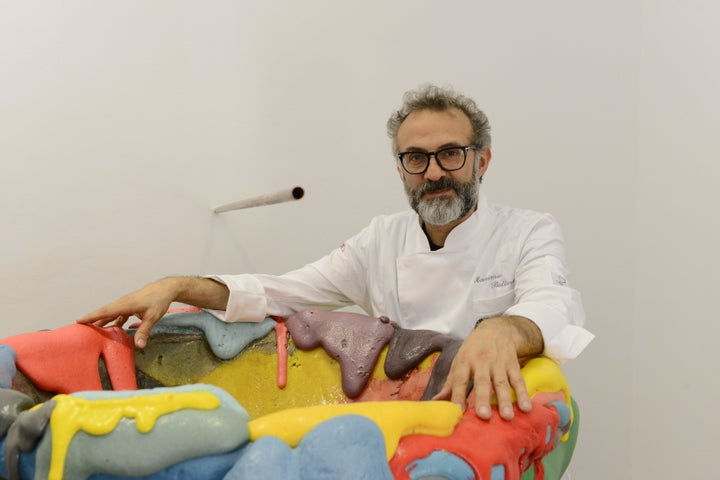 Massimo Bottura, the award-winning chef behind the famed Osteria Francescana in Modena, Italy, believes that cooking is about more than just putting quality ingredients together ― "cooking is a call to act," he says.
During Milan's Universal Exposition, or Expo 2015, Bottura created an off-site project to reduce food waste. In collaboration with the Vatican and about 60 world-renowned chefs, he established the Refettorio Amborsiano (Ambrosian Refectory), a dining hall designed to serve food left over from the Expo to the city's needy.
Working inside the Teatro Greco, a theater that had been abandoned since the 1930s, Bottura transformed 15 tons of discarded food into delectable dishes and distributed them to Milan's homeless.
"Avoiding wasting food is nothing new: It was something our grandmothers did -- it was the foundation of Italian cuisine!"
Bottura did not end the project after the Expo ― in fact, he has since expanded his efforts. After working in Milan and Bologna, the chef has decided to take his initiative to Rio de Janeiro for the upcoming Olympic Games.
The star chef is setting up a cafeteria, the Refettorio Gastromotiva, on Rio's Rua da Lapa, which will serve free meals to the inhabitants of the city's favelas.
The cafeteria will repurpose leftover food from the Olympic Village. Chefs from across the globe have been invited to help cook edible items that would otherwise be thrown away.
"We hope to become an example for others, and that work like ours will help favor social integration through a commitment to fighting waste and redistributing resources."
The nonprofit Bottura founded ― Food for Soul ― seeks to create inspiring environments where food waste and hunger in urban areas can be addressed. There are plans underway for similar projects in Los Angeles, Berlin and Montreal.
HuffPost Italy spoke with Bottura about his project.
How did you reconcile the idea of a Michelin-starred restaurant with that of a refectory? How was the idea for Food for Soul born?
At the Osteria Francescana, we've always tried to work to eliminate food waste in our kitchen. But avoiding wasting food is nothing new: It was something our grandmothers did ― it was the foundation of Italian cuisine!
We take time to clearly identify the quantities of our ingredients, even when it's going to be used to feed our 40-person staff for lunch or dinner. When the concept for the Refettorio Ambrosiano was born, we immediately decided that this idea could be extended well beyond our limited, local experience. At the same time, it was an experience that gave a lot back to us. For our staff, we prepare pesto made with dry bread instead of pine nuts, and chop aromatic herbs instead of basil.
The idea for Food for Soul was born of my desire to do something for others ― after having received so much throughout my life ― by putting the cultural energy that was created at the Osteria Francescana into play.
Meeting with [cultural curator] Davide Rampello and [the charity group] Caritas Ambrosiana enabled us to create the Refettorio Ambrosiano inside the Teatro Greco in Milan. Obviously, the Refettorio is still open and active today, and serves both the locals in the Greco neighborhood and homeless people from Caritas' shelters at night.
The project was born in Milan. How has it expanded outside the city?
Well, first of all, we established this association [Food for Soul] to handle the development of projects. We have received many requests to create something similar to the Refettorio Ambrosiano in other places ― in Italy and around the world. We rolled up our sleeves, and now we're working on developing these as well.
Above all, we mostly hope to become an example for others, and that work like ours will help favor social integration through a commitment to fighting waste and redistributing resources. We would like to see the commitment to this cultural project expand and multiply all over the world.
How does it work from a practical standpoint? How is the work organized?
We work like tailors, with each person dedicated to a specific area and a specific type of partner we're dealing with. For example, in the case of the Refettorio Ambrosiano, we worked in collaboration with Caritas Ambrosiana and Pavilion Zero [a pavilion at Expo 2015] to transform an abandoned theater in the Greco neighborhood in Milan into a pilot project for a refectory that could provide quality meals created using discarded food, all within an extremely pleasant, welcoming atmosphere.
In Rio de Janeiro, we will be doing something similar in Lapa, in collaboration with Gastromotiva, an association that has been working in Brazil for 10 years.
Will you have other partners in Rio de Janeiro? Are there other chefs who have responded to your call?
I'd say that both our group and Gastromotiva are drawing a number of different partners, sponsors and supporters, both economic and technical, into the project, who believe in our dream and at the same time have the means to make it a concrete reality.
Last but not least, we want to underline the fact that the creation of a refectory in Rio was also supported by the city itself, and the Olympic committee. All of their efforts make it possible to spotlight this initiative and take the time necessary to build up a solid project that can survive and continue to operate even once the Olympics are over, remaining a point of reference for the entire Lapa community.
The chefs who have already confirmed their participation in the initiative include Albert Adrià, Alain Ducasse, Virgilio Martínez, Rodolfo Guzmán, Mitsuharu Tsumura, Mauro Colagreco, Helena Rizzo, Carlos García, Enrique Olvera, Joan Roca, and Rafa Costa e Silva. In any case, we're continuously on the lookout for new partners who share our values and who can support our projects in Italy and abroad.
This piece was originally published on HuffPost Italy. It has been translated into English and edited for a U.S. audience.
For more Olympic coverage:
Related