Bite into one of these delicious muffins and experience the flavors of southern Italy -- ricotta cheese and cherries! Did you know that fresh ricotta cheese is the main ingredient in southern Italian sweet delicacies like Italian cheesecake and cannolis? It's much healthier than the artery clogging processed cream cheese that is typically used in American desserts. Fresh ricotta cheese (mixed with sugar and lemon zest) is also a treat served straight up with fresh fruit.
Most of Italy's cherries are grown in the region of Puglia, located in the heel of the country. In June, the harvest is celebrated with cherry festivals. There is an Italian saying, "Una ciliegia tira l'altra" or "One cherry leads to another". That saying is also true in the U.S. where we just can't get enough of the short season when sweet cherries are at peak flavor.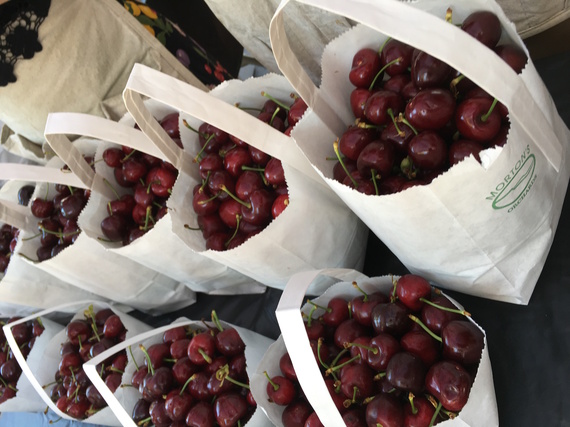 Sour cherries are lower in calories and higher in vitamin C and beta-carotene compared to sweet cherries.
Cherries are available fresh, frozen and canned, or as juice, wine, brined or dried.
You can freeze cherries by rinsing and draining thoroughly, spreading them out in a single layer on a cookie sheet and placing in the freezer overnight. Once the cherries are frozen, transfer them to a heavy plastic bag. The frozen fruit may be kept up to a year.
One cup of cherries has 3 grams of fiber, which aids in digestion, lowers cholesterol, controls blood sugar, and can help with weight loss.
Cherries are a good source of vitamin C, with 16% of the daily recommended value in one cup.
One cup of sweet cherries have 260 mg of potassium. Potassium is important for muscle, heart, kidney, and nerve cell functions.
Anthocyanins in sweet cherries give the fruit its red color and help protect the heart, prevent cancer and improve cognitive function.
Layne's Italian Cherry Ricotta Cheese Muffin Recipe:
Ingredients (use organic when available):
1/2-cup part-skim ricotta cheese
1/2-cup low-fat buttermilk
2 teaspoons vanilla extract
2 teaspoons fresh lemon juice
2 tablespoons unsweetened applesauce
1 cup fresh cherries, pitted and cut in half or 1 cup frozen cherries, pitted and thawed
Place rack in the middle of the oven. Preheat oven to 350 degrees F (177 degrees C). Spray a 8-muffin tin with non-stick cooking spray and set aside.
In a medium bowl, whisk the ricotta cheese with the egg, beating well. Mix in the buttermilk, vanilla extract, lemon juice, and applesauce until well combined. Set aside.
In a large bowl, whisk the flour, sugar, baking powder, baking soda and salt. Add the ricotta mixture to the flour mixture. Stir just until combined and then fold in the chopped cherries. Do not over mix this mixture or the muffins texture will be hard.
Evenly scoop the batter into muffin cups.
Place in the oven and bake about 25 minutes or until golden brown. Remove from oven and allow to cool.
Makes 8 muffins.
Nutrition facts per serving: 140 calories, 2.2 grams fat, 160 mg sodium, 161 mg potassium, 25 g carbohydrates, 5 grams protein, 1.0 g dietary fiber, 10 percent daily value calcium.