When I received an invitation from Selim Zilkha and Mary Hayley to a book party at their sumptuous Bel Air home, I immediately went to Amazon and ordered a copy of the book. innocuously entitled, My Mother, My Father and His Wife Hortense, by Dialta Alliata (Amazon, $24.95). I quickly learned that Dialta Alliata di Montereale was actually a real-life Italian princess, having married in 1989 a charming fellow named Prince Vittorio di Montereale, whose celebrated Venetian family dated back to the 15th century and the Holy Roman Empire. They met in Rome at the home of Egan von Furstenberg, soon married and had five children in the course of three years.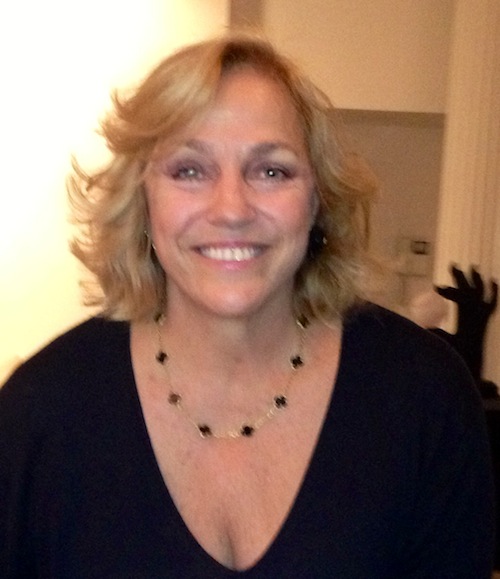 Princess Dialta.
The moment I started reading this book, I was hooked! It was a fascinating, fierce and somewhat poignant story in which this glamorous woman (whom I took to lunch the day before the party to learn more) uses her grandmother's richly erotic diaries to unveil intimate and scandalous details of the intrigue surrounding the famed Acton dynasty in Florence, Italy. It goes into the illicit love affair of a young (18), innocent and beautiful Italian girl, Elsie (her grandmother), who some 115 years ago met in Florence a sophisticated older (24) Anglo-Italian baron named Arthur Acton. She was working for a local doctor when he zeroes in on her -- intrigued by her knowledge of Italian art -- and hires her to work for him, beginning a passionate love affair which lasted some 50 years until his death in 1953. It continued even after he returned from America in 1903 with a rich 26-year old wife named Hortense Mitchell who had a Chicago fortune in her dowry. The two of them, Elsie and Arthur, worked ceaselessly to rehabilitate a 57-acre rundown Renaissance estate outside of Florence called Villa La Pietra, and then filled it with great art and sculpture. Arthur was collecting art for the famed American architect, Stanford White (remember "The Girl in the Red Velvet Swing"?) and was actually at the table in Madison Square Garden when the mad Harry Thaw killed White for his attention to Thaw's young bride, Evelyn Nesbit.
The book details how Elsie (real name Ersilia) and Arthur had an illegitimate daughter in 1917 named Liana Beacci (who was the author's mother). Arthur could not publicly recognize this child as his own because of the strictures of the time, but he lavished her with affection, seeing her every Sunday and overseeing her education in England and Switzerland, gave her a Fiat, while painting her portrait each year for her birthday. Arthur Acton and Hortense had two sons, a nice guy named William who acknowledged his half-sister and a spoiled aesthetic bastard named Harold -- gay and childless -- who didn't ever. (He was the model for Anthony Blanche in Evelyn Waugh's Brideshead Revisited. Remember that book and miniseries?) He hosted many famous people at La Pietra including Pablo Picasso, Winston Churchill, and Princes Diana.
When Arthur died without leaving a will (though he said he wrote one), the entire estate, Villa La Pietra and four other estates, plus 5,000 works of art and 40,000 rare books, now valued at over a billion dollars, was left to Harold (since William had died young.) Under a recent Italian law meeting European protocols, illegitimate children can now share in the estate of their parents... but in those hectic days Harold wanted no part of his half-sister and ignored her during his lifetime even though his father had always instructed him to take care of his mistress and daughter. But mistress Elsie had started a pensione/hotel in Florence which became celebrated for its service and hospitality, and she managed to care for herself and her daughter until she died in 1954 a year after Arthur.
When Harold died in 1994, he left the entire estate to....gasp, my alma mater New York University, which had established a presence in Florence with some activities. In this story, I'm ashamed to say, they are the real bad guys...refusing to recognize that Liana, Arthur's daughter, had a legitimate claim to part of the estate. So in 1996 she sued in the Italian courts for recognition, a law suit which was continued by her daughters after she died at 83 in 2000. And they asked that a DNA test be conductd on Arthur's remains to establish her legitimate claim as his daughter. A real hullabaloo all over the country ensued....and the first chapter of the book by Dialta details a bizarre scene in the cemetery near Florence in 2003 when a team of lawyers and authorities descend upon Acton's tomb and exhumed the tuxedo-clad remains to test his DNA. It established "with the highest degree of probability" that Liana was, indeed, his daughter... and although Liana died in 2000 the lawsuit continues to this day... NYU still refusing to acknowledge her claim. (Italian courts are notoriously slow and awkward in handling these cases, especially with the high-powered legal team the university had assembled. The case is now before the Supreme Court of Rome.)
In the meantime, Dialta had met and married this handsome, dashing Italian Prince, had several children with him, and in the early 1990s they moved from Florence to Holmby Hills, California, about a mile from where the book party took place. She began writing this amorous and interesting tale... and continued it in Hawaii, where they next moved and now live. The book was recently finished and published, and now the world knows the true love story and its aftermath. She told me at lunch that she had to wait a few years to publish it until her children were old enough to read the scandalous, sexy details of the love affair between Elsie and Arthur... and indeed, there are sections which would make my friend Jackie Collins blush. As Dialta described it to me, "It's 'Shades of Gray' with class."
So this new book about love, art, glamour, war and international intrigue is a fabulous family saga set against the backdrop of the celebrated Villa La Pietra in Florence. I told her at lunch I thought it would make a wonderful feature film or cable TV miniseries (BBC, are you listening?) and she agreed... and told me that she a recently had a screenplay written about the saga. So... coming to your neighborhood theatre or TV screen one day soon will be a filmed version But don't wait for that....order a copy of the book from Amazon and dig into the romantic, exciting love story of two magnificent creatures who were larger-than-life and also full of life. These Italians sure know how to live!
To subscribe to Jay Weston's Restaurant Newsletter ($70 for twelve monthly issues) email him at jayweston@sbcglobal.net.
Calling all HuffPost superfans!
Sign up for membership to become a founding member and help shape HuffPost's next chapter