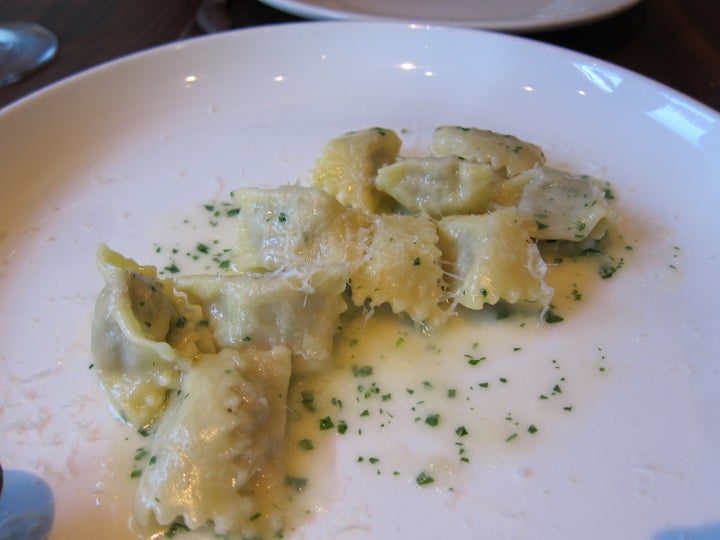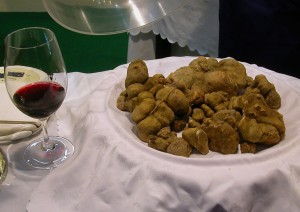 It's easy to paint a broad-brush stroke across all of Italy when describing, arguably, one of the most popular cuisines in the world. However, you might just miss the mosaic of subtleties that comprise Italy's fabulous patchwork of regional dishes, heavily influenced by locale, necessity, and intricate history. It is a fair statement to say that the 20 regions that comprise Italy could be considered a loosely stitched patchwork of nation states, as Italians often see themselves through their regional identity first and as Italians after. Ask most Italian Americans about their Italian heritage and you won't have to dig too deep to discover the region from which their families hail. Italian cuisine is distinctly regional, sometimes fiercely so. When you first visit Italy, you might find it surprising that many familiar dishes won't always be found in all parts of Italy. Even within a region, you will find wide variations on their classic regional dishes, reflecting not only the personality of the cook, but the nuances seeping in from every nook and cranny of each region. Many of the differences can be attributed to geography, from the mountains that stretch across the north, snaking down the length of the country, to being a peninsula almost entirely surrounded by the sea, or completely so, as in the case of the island regions of Sicily and Sardinia. Then add in the thousands of years of invaders or the adoption of returning explorers' culinary discoveries and you've got an exotic blend of culture, tradition, and cuisine. The dishes of each region have stories whose significance deserve a closer look, although it seems that we'll just be dipping our toe into this complex subject. I'll give you an overview of the three main geographical areas, which comprise the north, central and south Italy. I'll begin with the north, where I reside, and perhaps this will whet your appetite to lean closer in as we delve deeper into the individual regional cuisine.
The mountainous regions will feature hearty, meaty fare, while the sea encircles nearly the whole country, making fish dishes plentiful and well loved. Both north and south love their pasta and each region has their favorite, although you'll find a southern meal isn't complete without a pasta course, whilst the north prefers to regularly mix it up with gnocchi, risotto and polenta dishes.
Broadly speaking, you could say that the northern cuisine is more butter- and dairy-based, with abundant use of rosemary and sage. Though the Alp and Dolomite mountain ranges delineate Italy's northern border today, historically, the borders in Europe have been quite fluid, with the culinary influence of the French and Hapsburg empire seeping over the borders to settle into Italy's present-day northern cuisine.
In the sun-drenched south, you will find more Greek and Arabic influences, with a cuisine featuring fragrant olive oils and many varieties of tomatoes both fresh and dried, spiked with hot peppers, and accentuated with basil and oregano. Sicilians add citrus, raisins, almonds and exotic spices that set their cuisine apart. The Spaniards' influence, most notably saffron, is found throughout the south and also in Milan and Sardinia where they once ruled.
The Regions, Part 1 of 3
Piemonte
Piemonte (Piedmont) is all about big flavors and big wine with many subtleties in between. They say General Hannibal brought his elephants and men through this part of the Alps to strengthen his diminishing troops on the area's rich dairy.
Toma
cheese is one of the most widely produced, with
Cevrin
goat cheese, a definite must-try and
Seirass del Fen
, a more unusual cheese wrapped in grass and reminiscent of
ricotta salata
. Garlicky, anchovy-based
Bagna Cauda
is served as a type of dipping sauce to make the mountain vegetables like potato, leek, Savoy cabbage, and cardoons just a wee bit more exciting. Today it's popular drizzled over grilled peppers or eggplant as a typical
antipasto
. Egg-rich
Tajarin
pasta threads are often served with the much prized local
Porcino
or white
Tartufo
(truffle) mushrooms. Meat-filled
agnolotti
or tiny
plin
might be served in a simple cream or butter sage sauce.
Brasato Barolo
is a beef roast braised in Barolo, which is made from the
Nebbiolo
grape. However, don't miss the
Barbera
, and
Dolcetto
reds along with whites
Arneis
, and desert wine
Moscato
to finish.
Valle D'Aosta
Valle D'Aosta (Aosta Valley) is a small region, once the playground and hunting area of the Savoy royal family. Although Americans seem to have an aversion to saturated fats due to health concerns, thinly sliced lard has been an important part of the diet in the mountains for centuries. Famous
Arnaud Lardo,
lightly flavored with bay, rosemary and juniper berry, is truly delicious and worth sampling. Otherwise you might try a cured meat called
Mocetto
, which can be any one of a variety of meats, such as wild boar, deer, or even pork. A rich red wine meat stew,
Carbonada
, is typical of Aosta valley and served with creamy mountains of polenta.
Fontina
cheese, one of their most famous of cheeses, makes the best
fonduta
sauces to serve over
Costoletta alla Valdostana
, veal chops drenched in Fontina sauce. It pairs well with the vegetable flans and potato gnocchi so popular throughout the Alps. Wines include local varieties such as Torrette, Petit Rouge and Fumin.
Lombardia
Lombardia (Lombardy), home to Italy's second largest city, fashionable Milano, is historically a trendsetter in its food as well as design sensibilities. Once ruled by the Spanish, Milan's iconic saffron-infused risotto is perfection in its simplicity and classically paired with
Ossobuco
, braised veal shanks garnished with a gremolata herb condiment. Lombardy boasts many varieties of cheeses that range from very soft and creamy to the long aged and hard grating variety. Soft spreadable
Crescenza
and
Stracchino
are a tasty contrast to mighty
Mascarpone
, most famously known for its starring role in the perennially popular
Tiramisu
, found almost everywhere in Italy.
Bitto
cheese is a long-maturing cheese that can age up to 10 years while
Grana Padana
is a kissing cousin to
Parmigiano Reggiano
with its own loyal fans.
Bresaola
, a cured lean beef from the Valtellina valley makes a delightfully refreshing salad, when the thin meat slices are topped with rucola/arugula greens, parmesan shavings and dressed with a squeeze of lemon and extra virgin olive oil. Make sure to enjoy a Valtellina Superiore DOCG produced from the nebbiolo grapes which are less acidic and tannic than neighboring Piemonte's nebbiolos.
Panettone
, a light egg rich cake spiked with candied citrus, is Lombardia's most famous dessert. It is the quintessential Italian Christmas cake made and enjoyed everywhere in Italy. Delicious served with the slightly sparkling and prestigious
Franciacorta
wine.
Trentino-Alto Aldige
Trentino-Alto Aldige (South Tyrol), once part of Austria, shares traditions from both sides of the border.
Radicchio with Speck Risotto
is a traditional way of using this regions most famous smoked cured ham, speck. The love of dumplings means you will find several different types of gnocchi and not so much in the way of pasta.
Canederli
are a type of bread dumpling served in a broth with several variations and sometimes served with goulash, a meat stew found served in most mountain huts throughout the central Alps. Trentino is famous for its apples, so it would come as no surprise that they make some of the best apple strudel. The
Fregolotta
cake is a mixture of flour, sugar, and almonds. When baked it becomes crisp and crunchy. Wines can include
Müller-Thurgau
,
Malvasia
and
Lagrein
, an ancient native wine that is also used when making
Malga Staginato nelle Vinacce
cheese. The fresh wheel of cheese is left in a blend of the wine and grape must to form a dark wine-colored rind to give it a distinct flavor. Other cheeses of note are
Vezzena
and
Puzzone of Moena
, an ancient cheese with a modern name, "stinky cheese from Moena town."
Friuli-Venezia Giulia
Friuli-Venezia Giulia is another region whose cuisine straddles the borders and shares common culinary traditions. The love and practicality of dry curing shines through in their
San Daniele del Friuli
ham or Carnia smoked trout.
Baccala alla Triestina
, or salt cod dishes in the Trieste style, are popular. The region's most famous cheese,
Montasio
, is a firm flavorful cheese used when making
Frico
, a cheese crisp that can be formed into an edible basket for holding risotto or gnocchi. Grated Montasio slowly cooked on the stovetop can also have potato or onion added to it. An unusual sweet filled pasta called
štruki
, made from potatoes and wheat flour, is filled with raisins, walnuts, pine nuts, butter, bread crumbs, and sugar. Once cooked by boiling, it is served with melted butter, sugar and cinnamon. FVG is known for their white wines;
Collio Goriziano
and
Friuli Isonzo
are two of several to look for, along with the well known dessert wine,
Ramandolo
, protected by a DOCG designation.
Veneto
The Veneto is home to two of the most romantic cities of Italy: Venice, with its maze of canals, and Verona, Shakespeare's setting for the star-crossed lovers Romeo and Juliet. The Veneto reflects its watery ways with a passion for seafood dishes and risottos,
Baccala' al latte
, cod cooked in milk or
Sepia
, cuttlefish with its signature black ink in risotto and pasta. For the less adventuresome diners there is always the classic
Risi e Bisi
, rice and peas. Many colorful varieties of radicchio are the mainstay of winter greens throughout Italy, although Treviso's famously curled, spear-shaped heads are oftentimes enjoyed grilled. Flavorful
Asiago
and
Monte Veronese
are just two Veneto cheeses to try. You'll certainly not go wrong with any of the Vento's well known wines like
Pinot Grigio
,
Valpolicella
, and
Amarone
. You might try pairing a
Prosecco
with
Zaleti
, a traditional Veneto cookie made of cornmeal, pine nuts and raisin, for a light treat.
I will begin the next portion of my Italian Regional Culinary Guide with Liguria and Emilia Romagna as they are also part of the north and begin the transition to the central portion of Italy.
Marla Gulley Roncaglia is an American expat living in the Italian Alps. Marla is an accomplished pastry chef, and a master at high-altitude baking. She and her husband Fabrizio (who has also worked as a chef) teach Italian cooking classes and run a bed and breakfast named Bella Baita ("beautiful mountain house"), where they are active supporters of the slow food movement.
Related