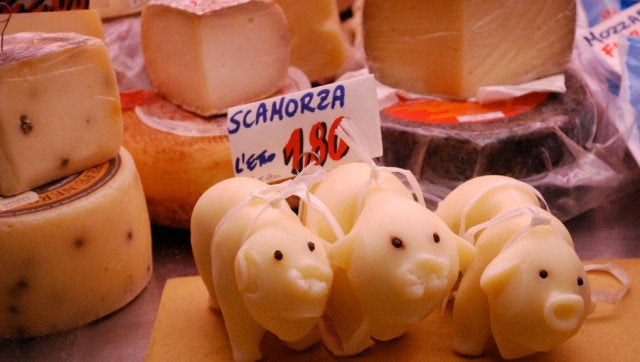 This is the third installment of a three-part series exploring the variances in Italian regional cuisine. Visit the Northern Italian regions here and Central Italy here.
In this third and final part of the regional cuisine of Italy, we find ourselves firmly in the land of olive oil and spicy peppers. Southern Italy is where, with few exceptions, pasta is served as part of each meal. Generally, the cuisine leaves behind the richer butter and cream dishes and features spicier tomato-based pasta.
In arbitrarily dividing Italy into three sections of north, central and south, some of the regions naturally commingle from one section to the next, with their feet sometimes firmly planted in both. The qualities that unite and separate one region from another are profound because Italy is a country united, barely 150 years ago, from autonomous countries with unique customs and food traditions. Through the years, regional dishes migrated up and down the peninsula and across the sea, sharing a respect for genuine ingredients and an Italian passion for their native regions' specialties first; embracing the others when it suits their taste.
Abruzzo
Located in the central heart of the Apennine mountains and bordering the Adriatic Sea, Abruzzo is one of the more sparsely populated regions. Its cuisine is based on simplicity, relying on the excellent quality of their ingredients. It is said that the Medici family so loved the region's lamb and cheeses that they sought to acquire land of their own here.
La panarda
, a tradition born in ancient pagan times, involves feasting on some 30 to 50 dishes throughout the day and well into the night. Today, the tradition carries on during festive occasions like Christmas or weddings.
The Abruzzese love spicy peperoncino peppers and il diavolino, "little devil" chili peppers. The classic pasta all'Amatriciana is a chili-spiced pancetta red sauce that originated in the town of Amatrice, once part of Abruzzo until it became part of Lazio in the late 1920s. The dish features a uniquely Abruzzese pasta, the handmade chitarra, or guitar pasta, so named for the way that it is cut. The flattened dough is pressed through a stringed wooden cutter that resembles a harp or dulcimer and cuts the dough into square strings. Sometimes bucatini is used for pasta all'Amatriciana, but this is more a Roman tradition. Another famous pasta dish is Timballo, a dish using paper-thin scrippelle (crêpes) elaborately layered with rich ragu, polpettini (tiny meatballs), peppers or artichokes and finished with Scamorza, a local mozzarella-type cheese that melts perfectly and nicely pulls the whole dish together. They say it is so delicious that you will forget all about lasagna.
Other Abruzzese specialties are spicy Ventriccina salami flavored with chili peppers, rosemary, fennel, and orange, or sausage variations which add foije, a local take on sauerkraut using preserved savoy cabbage and chili peppers. One of the area's most famous desserts is the Christmas specialty Caggionetti, fried dough filled with chestnut and chocolate liqueur. Wines of note include Montepulciano d'Abruzzo and Trebbiano.
Molise
Molise is the second smallest and the newest region of Italy, having been part of Abruzzo until 1970 when it became independent. They say many of the region's dishes are vegetarian or flavored with a small amount of meat because animals were mostly raised to sell and trade in order to sustain its citizens' needs. One of the regional variations of polenta forgoes the normal corn for potatoes and wheat, topped with a tomato sauce named
P'lenta d'iragn
in dialect. A more traditional corn polenta,
Polenta Crostini
, can also be found. Popular
Taccozze con Ceci
combines short, wide ruffled-edge pasta with chickpeas. Look for
Scamorza Molisiana
made from the highly prized Bruna cows' milk, and the very unusual springtime cheese called
Treccia
or braid. It looks like a braided scarf and is often worn around a shepherd's neck to share with friends on the feast day of the
Madonna dell'Incoronata
.
Campagnia
Campagnia is home to many iconic Italian ingredients, most notably tomato sauce, mozzarella cheese, pizza, and macaroni pasta. The Campani are sometimes affectionately referred to as the "macaroni eaters," as their love of tubular pasta and spaghetti is legendary. The classic
Margherita Pizza
is a hand-shaped yeasted wheat dough topped with tomato sauce (made only with San Marzano tomatoes), water buffalo mozzarella cheese, and finished with either basil or oregano. When it was served in the late 1800s to Queen Margherita Savoy, she was so taken with it that they began to call the already popular pizza by her name. The ever-popular
Caprese
salad, named for the island of Capri, pairs water buffalo mozzarella with tomatoes and fresh basil.
Provolone
and
Casoperuto
cheeses are worth seeking out. Octopus stewed in sealed clay pots or eels that have been marinated in vinegar and onions are fish dishes reserved for special occasions like Christmas. Easter brings out specialties like egg and spinach
Torta Pasqualina
and
Casatiello
, a bread wreath filled with salami and provolone cheese and adorned with eggs. The list of sweets can be deliciously long, including fried dough balls drenched in honey and lemon zest called
Struffoli
, and
Baba al Rhum
, sometimes called walking sticks, which are small handheld cakes to eat on the run. Springtime also brings
Pastiera
, a ricotta- and cooked wheat-filled tart, or cream-filled
Zeppole
for Father's Day, known here as St Joseph's Day. In Sorrento, along the Amalfi coast, the refreshing and bracing
Limoncello
liqueur was invented. Wines have long been produced in Campagnia dating back to the 13th century. The most well known wine is the
Lacrima Christi
, "Tears of Christ." White wines of note are
Taurasi
,
Fiano d Avellino
and
Greco di Tufo
; the king of red here is
Aglianico
.
Puglia
Unlike most of the other southern regions that are hilly or mountainous, Puglia is a fertile flat plain cultivating the all-important durum wheat, crucial in the making of pasta and bread. Puglia grows many grains, beans and vegetables, as well as producing the largest amount of olive oil in all of Italy. Pugliese olive oil is prized for its distinctive peppery flavor.
Orecchiette
, or "little ears" pasta, is often paired with spicy broccoli rabe. Another handmade pasta,
Troccoli
, is delicious with tomatoes and arugula. Puréed fava beans with broccoli rabe is a classic Pugliese dish.
Canestrato Pugliese
is a firm sheep cheese, aged in caves and mainly used for grating over dishes like pasta or
bruschette
.
Burrata
, a cow's cheese whose outer layer is very similar to mozzarella, has a soft, creamy cheese filling -- indulgent as a salad and excellent with pasta. Also worth noting are
Zampitti
sausages and
Tarantello
, a cured and spiced tuna from Taranto. One of the most famous breads in Italy is the chewy rustic loaves of Altamura.
Friselle
bread disks are unusual as they look like rough, twice-baked giant bagel halves. They are soaked in water and topped like normal bruschette. Raw sea urchins are a unique specialty of Puglia. Not to be missed are the Ricotta fritters and
Cartellate
, a rose-shaped pastry, that is deep fried and dipped in
vin cotto
or a fig reduction. Notable wines of this region are
Nero di Troia
and a personal favorite of mine,
Primitivo
.
Basilicata
Basilicata was historically known as Lucania, and even now the people of this region are referred to as the
Lucani
. It is one of the more ruggedly mountainous and remote regions of Italy, with the Lucani diet simple and predominately pasta-based. They have a fondness for beans and legumes, locally grown along with durum wheat. Legumes are not only incorporated into dishes, but also used as flour to make pasta. One ancient pasta mixture is called
miskiglio
, consisting of fava bean, chickpea, barley, oat, and wheat flours. Sometimes it is shaped into
rascatielli
, a larger, elongated brown orecchiette-type shape. Other pasta shapes include
capuntini
,
minuich
, and
fusilli
, just to name a few. The region's main meat is pork, and their hill-wandering pigs tend to be leaner and have a wilder taste than one might expect. One of the favorites and most well-known sausages is a spicy, long variety called
Luganega
or
Lucanica
, and another favorite salami is
Pezzente
. Interesting cheeses to discover are
Burrino
, with its springy outer layer and inner layer of butter, and the fern-wrapped
Cassieddu di Moliterno
. The singular DOC red wine,
Aglianico del Volture
, is made from a grape that was introduced by the Greeks and planted around the base of the volcanic Mont Volture, from whence it derives its name.
Calabria
Calabria's cuisine is noted for the influence of many conquerors, as well as its physical features, such as being almost surrounded by two different seas. Fishing brings an abundance of shellfish, sardines, cod, and their mainstay, swordfish. The sun-drenched land produces an abundance of produce like artichokes, eggplant, tomatoes, and peppers (both sweet and spicy - most notably the fiery chili peppers that makes Calabrese salami so memorable). Calabria's
salami picante
is what most Americans know as pepperoni.
Supressata
or
Soppressata
is a delicious, spicy, dry salami, alongside
Nduja
, a spreadable spicy salami, delicious on bread with aged ripe cheese, or in pasta sauces. The coastal town of Tropea has become so famous for its red onions that
Tropea
has become synonymous with all red onions. The most sought-after citrus is
Bergamot
, a native Calabrese hybrid, that is used to give Earl Grey tea its distinctive aroma.
Cacciocavallo Silano
cheese is documented back to the Middle Ages and most of Calabria is designated as its territory of origin, although it is made throughout most of the southern regions. Other notable cheeses are the elusive
Rasco
, a delicacy that has all but disappeared, and
Canestrato Crotonese
, often eaten at Easter with fresh fava beans accompanied by
Ciró
,
Meliisa
or
Val di Nero
wine.
Sicily
Of all of the Italian regions, Sicily has perhaps the most exotic and bold blend of culture and cuisine. All the regions have a mixture of influences from occupying people, but I think Sicily is the profound. Its cuisine is firmly rooted in Italian yet has blended with influences from the Greek, Spanish and Arabian to create what is uniquely Sicilian. Street foods are abundantly varied; one of the most iconic is
Arancini
, a deep fried rice ball with cheese, ham and peas inside.
Panelle
, a fried chickpea fritter, is another.
Caponata
is a sweet and savory eggplant dish that can be an antipasti, a side for fish, or a main course. Sicilians are passionate about eggplant and so the classic
Parmigiana di melanzane
or eggplant parmesan originated here and should not be missed. Meat dishes are varied and can feature many sweet elements like
Petti d'anatra all'arancio Siciliano
, duck served in blood orange sauce, or
Scaloppine al Marsala
, veal in Marsala wine. Fish is abundant and varied, with tuna and swordfish featuring in many dishes. Stuffed fried sardines are a standard menu item. Sicilian anchovies, fresh or salted, are regarded as simply the best. Spaghetti with
Bottarga
, a dried tuna roe that is grated over cooked pasta, is a specialty. The classic Sicilian pasta
Maccheroni con le Sarde
is an interesting and unusual combination of sardines, anchovies, wild fennel fronds, onions, a pinch of saffron, raisins, and pine nuts.
Il Timballo
, made with long tubular pasta in a case of pasta sheets, is a dish similar to
Il Timpano
, whose roots are in Calabria and immortalized in the movie
The Big Night
, which, if you have never seen it, should be on your must-see list.
Trapani province, long famous for its sea salt production, is also fond of couscous. They host an annual festival celebrating this north African influenced specialty. Ragusano cheese is a traditional favorite, traded around the world for hundreds of years. Their ricotta cheese is highly regarded especially when used in one of the most well known desserts of Sicily, the Cannolo. The Sicilians have a big sweet tooth, specializing in everything almond, from cookies, pastries, and marzipan miniature fruits. Cassata siciliana is a classic dessert alongside fruit granite that are legendary. The chocolate from Modica is uniquely different and tempting. Marsala wine is the most famous of wines but used almost more for cooking; for drinking, consider reds Nero D'Avola, Etna Rosso, Cerasuolo di Vittoria, or for white, Bianco D'Alcamo.
Sardinia
Sardinia is the second largest Mediterranean island with a long history of habitation offering up very unique history and cuisine. Its cuisine is not so much in the southern tradition but more uniquely its own. Much of the cuisine features goats and sheep as the preferred meat along with their milk for cheeses. They love to roast pig or wild boar and season it with the abundant myrtle, from which they also make a liqueur called Mirto. They make many varieties of
Pecorino
, a sheep cheese that ages well and is perfect for grating. Their
Fiore Sardo
is a sheep cheese produced in a mountain shepherd's hut, whose central open fire imparts its characteristic smoky flavor.
Gioddu
is an unusual soft cheese similar to yogurt.
Peretta
is a cow's milk cheese used in stuffing ravioli, like
Angiulottos
, and also in a traditional fried dessert called
Sebada
. Another well known Sardinian ravioli is called
Culurgiones
, prominently featuring potato with pecorino and ricotta, but distinctive for its shape, which can vary between a pinched-together ridged top to a flatter braided closing -- very pretty when made by experienced hands. An unusual pasta of Sardinia called
Fregola
is made with coarse durum semolina flour and rolled into small 2-3 mm balls that are then toasted in an oven. Another unusual specialty of Sardinia is its paper-thin crisp bread called
Carasau
. The shepherds' wives developed this flatbread to keep while they were away from home for long periods of time. The disks are briefly soaked in water and layered between tomato sauce and cheese for a very different type of lasagna. Of all the regions, Sardinia produces the least amount of wine, as they did not have the same tradition of wine found on the mainland. Viniculture was introduced recently as a business opportunity since the climate is conducive for producing quality wines like
Vermentino di Gallura
,
Carignano del Sulcis
, or
Vernaccia di Oristano
.
I hope you have enjoyed exploring Italy's regional cuisine as much as I have. Naturally, this guide only scratches the surface, but perhaps has whetted your appetite to do a bit of exploring when you eat at an Italian restaurant and inspired you to try something new. Better yet, try and explore the place of origin and plan your next trip to Italy one region at a time.
Marla Gulley Roncaglia is an American expat living in the Italian Alps. Marla is an accomplished pastry chef, and a master at high-altitude baking. She and her husband Fabrizio (who has also worked as a chef) teach Italian cooking classes and run a bed and breakfast named Bella Baita ("beautiful mountain house"), where they are active supporters of the slow food movement.