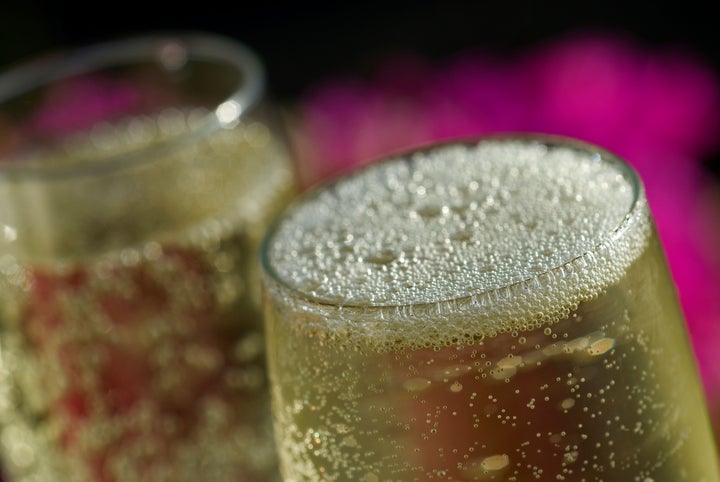 Americans are drinking an increasing amount of sparkling wine. U.S. sparkling wine sales continued to increase at a higher rate than table wine brands for the third straight year in 2011 and now amount to about 5 percent of the U.S. wine market.
Imports from France still lead the sparkling wine category, but Italian sparkling wine exports are on the increase, having risen by 36 percent in 2011.
Italy's Prosecco saw the most growth among sparkling wines, with imports doubling between 2007 and 2010.
There's a lot more to sparkling wine in Italy than Prosecco, however. Italy has the largest proliferation of different kinds of sparkling wines of any country. And the price ranges for most of these wines are quite low compared to Champagne and most sparkling wine produced in California.
To begin with, there are the sparklers that are most similar to French Champagne, wines made from the same grapes as Champagne -- Chardonnay, Pinot Noir and Pinot Meunier, and following the same techniques of barrel aging the wine on its lees and secondary fermentations in the bottle.
The leading source of methode champenoise or metodo classico style sparklers in Italy is Franciacorta in the Lombardy region.

Some refer to this as the "Silicon Valley of Italy" as its booming economy has been fueled by a relatively new product -- bottle-fermented sparkling wine -- and fast-growing entrepreneurial businesses that have invested heavily in vineyards, elaborate wineries and tourist destination facilities in an effort to cash in on the growing demand for this product, within Italy and elsewhere.
Franciacortas, based largely on Chardonnay, have the yeasty, leesy flavors one associates with Champagne, and they often benefit from aging like Champagne. Due to the high costs of producing and aging these wines, prices of this category are the highest for any Italian sparkling wine, so they are less competitive than other Italian sparklers with Champagne in this country. The best producers in my experience are Bellavista, Ca' del Bosco and Monte Rosso. I am particularly fond of Monte Rossa's Cabochon bottlings.
Very good metodo classico sparkling wine is also made in Trento, where Ferrari is the leading producer; in Lombardy's Oltrepò Pavese, where the wines are largely Pinot Noir-based; in Emilia-Romagna's Colli Picenti; and in Piedmont's Langhe region.
The vast majority of Italy's spumanti, or fully sparkling wines, however, are made by the Charmat process, with the secondary fermentation being induced by added sugar and yeast in large pressurized tanks.
This is how Prosecco is made. Prosecco is based on the Prosecco grape, which Italian authorities have now legislated to be called "Glera." Under 2009 regulations, wines can only be labeled Prosecco if they come from demarcated areas in the region located between the towns of Conegliano and Valdobbiadene in Northeastern Italy.

These are refreshing, light wines, often with citrus and/or peach flavors, some minerality and good acidity. They are made to be drunk within a year or two, and go great with light appetizers and pasta dishes. For my recent blog report on Prosecco, including recommendations based on a tasting of 48 current releases, see here.
Asti is also made by the Charmat method, but from fragrant Moscato Bianco grapes. Much of Asti production is industrial level, but in the hands of smaller, more artisanal producers, these can be among the world's greatest sweet sparkling wines, with enough underlying acidity to make them really delightful.
Good Asti producers include Cascina Fonda, Caudrina, Fonatanafredda, Saracco and Villa Banfi.
My personal go-to Italian sparkler is the low alcohol, slightly sparkling, or frizzante, Moscato d'Asti from the Piedmont region. I've written before about these wines in my report on the millennial-fueled Moscato phenomenon in this country here.
Great producers of Moscato d'Asti, whose wines I buy again and again, are Fratelli Barale, La Spinetta, Marenco and Saracco.
Another wonderful, lightly sparkling wine from the same region as Moscato d'Asti is the ruby colored Brachetto d'Asti, made from the red Brachetto grape. These are delicious strawberry and ripe berry flavored wines that go well with fruit desserts, or that can serve as low alcohol treats by themselves at the end of a meal. Good producers include Braida, Malvira' and Marenco.
In the red sparkling category, there's also the Lambrusco from the Emilia-Romagna region. These come in both sweet and dry forms. I'm a bigger fan of the savory dry versions, which can be a fun accompaniment to prosciutto and salumi. The best producers of the dry style are Cavicchioli, Ermete Medici and Vittorio Grazziano.
There are a host of other sparkling wines made throughout the country, most of which are rarely seen in the U.S. In fact, more than 100 of Italy's appellations, known as DOCs (Denominazione di Origine Contrallata) permit wines from that DOC to be made, optionally, as sparkling.
I recently had an aged sparkling Barbera from the Piedmont that was surprisingly good, and a delicious sparkling Barbera/Bonarda blend from Colli Piacenti.
I predict we will continue to see even more variety in Italian sparkling wines, and that the quality will continue to improve, as it already has, significantly, in just the past five or six years.
Calling all HuffPost superfans!
Sign up for membership to become a founding member and help shape HuffPost's next chapter