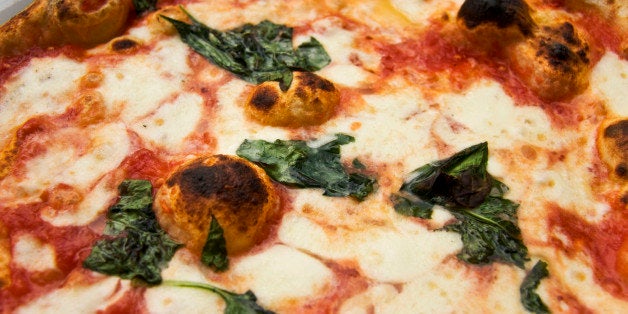 I knew we'd chosen the right hotel in Naples when we checked in at The Excelsior late on a May evening and made our way to the seventh-floor terrace for a drink. The negronis and snacks (peppery Neapolitan taralli enriched with lard and studded with almonds) were delicious, but even better was the pulse-quickening view over the Bay of Naples, where by happy coincidence racing yachts were assembling for the sixty-first edition of the Three Gulfs regatta, which was due to start at midnight.
It was that view - by day and by night, in sunshine and under cloud - that dominated our four-night stay. From the windows and little balcony of our room we gazed across at Vesuvius and watched the boats and ferries; from our breakfast table on the lushly planted terrace we stared at people sunbathing, fishing and checking the mussels they were cultivating on pilings near the shore. Because The Excelsior is on the westernmost corner of the bayside luxury-hotel strip, it offers unparalleled water views in three directions.
Still, there's more to a hotel than what you can see out the window, and even with the curtains closed we enjoyed our visit. The location is a good one: A few minutes' walk will take you to the main drag, the via Toledo, and beyond to the grittier back streets that no visitors should avoid so long as they're fairly alert. And the waterside promenade, just outside the hotel's door, is a happy, lively place for an evening stroll - the more so since the broad via Partenope was pedestrianized in 2013.
The front desk staff and concierges were knowledgeable and helpful, somehow managing to phone one restaurant after I'd been getting a busy signal for some time and quickly addressing a problem with the air conditioning. The Excelsior has considerable grandeur about it, with broad corridors and ample public areas, including a vast salon off the lobby, whose sofas and easy chairs few guests seemed to use, which made it seem a trifle ghostly in a pleasant, peaceful way. Our room was quiet, comfortable and very well maintained; in the clothes closet was a tie rack, which brought a smile to my face: I always travel with a hank of neckties even though I tend to wear the same one or two all the time, and I rarely find a place to hang them. When we arrived, on the coffee table was a plate of classic Neapolitan pastries: miniature sfogliatelle and frolle. Which brings me to the breakfast offerings.
Whether at home or on a trip, Jackie and I usually eat pastries at breakfast time, and it was as though the buffet had been assembled with us in mind. In addition to more of those miniature sfogliatelle and frolle, there were fine renditions of local cakes such as a pitch-perfect chocolate-and-almond torta caprese, various tarts (sometimes including pastiera, which is about as Neapolitan as you can get), freshly fried doughnuts, members of the croissant family and more. Also on the buffet was a selection of meats and cheeses, cereals, eggs and what not. Coffee of all kinds was good and quickly delivered by efficient waiters. Yet, having arrived from Sicily, where even the most modest of the hotels we stayed in offered just-squeezed juice from local oranges, I was surprised to learn from an appropriately embarrassed waiter that the hotel levies a surcharge for fresh juice.
But, you know, sitting on that terrace with a double espresso macchiato and relishing the dreamy view, we could have been eating Pop-Tarts and we'd have been as happy as clams.
Hotel Excelsior. Via Partenope 48, Naples 80121; +39 081 7640111; info@excelsior.it; http://www.excelsior.it/. Double rooms from €200 (about $220) including tax and buffet breakfast, depending on date and availability.
And after all, what would Naples be without clams? We ate excellent ones - some (known as telline) with shells smaller than the nail of my little finger - at La Casa di Ninetta, a short stroll from the hotel. The restaurant is not an old one - it opened in 2010 - and that is partly why I chose it: Naples is full of venerable, unchanging trattorias and seafood restaurants, many of which have lost their edge or don't do their best for diners who are just passing through. There are also plenty of hipper places serving food that often distorts local tradition (not a bad thing in itself). What I wanted on our short trip was at least a couple of honest restaurants that offered traditional Neapolitan dishes made with good ingredients, cooked with care and served with a smile.
Restaurants with a back story can come off as artificial; La Casa di Ninetta has one, but the place isn't artificial at all. The actress Lina Sastri and her brother Carmine opened the restaurant (named after a monologue performed by Ms. Sastri and a subsequent memoir) to perpetuate the cooking of their mother Ninetta and other Neapolitan mothers. What this means is a menu listing most of the dishes you need to eat when you're here - which is not to say it's a long or confusing menu: the list is a reasonably compact one and changes frequently. Some things don't change, however. The homey pastas are always there - some of them the "poverty" dishes that define not only Naples but so many other cities and regions world-wide. Here, these include pasta with potatoes; pasta with meat sauce, but not with meat, which would have been served as another course or another meal. For me, these are all interesting, but what we ordered from this part of the menu was ziti alla genovese, with a meat-and-onion sauce cooked for a long, long time (they say theirs takes twelve hours) until it melts down into a glossy, almost sticky condiment the color of deep mahogany. Again, only the onions are served with the pasta in this impeccable version, though some cooks include shreds of meat. We also ate scialatielli, one of the few home-made fresh pastas used in Neapolitan cooking (most pasta here - apart from filled pastas - comes out of a box or bag, just like at my house). Scialatielli are thick, chewy, ropy noodles with a fine flavor; recipes vary, but most include milk, eggs and grated pecorino cheese. Ours were dressed with shellfish, including those minuscule telline, all briny and sweet and perfect in their intense seafood broth.
Though there were three of us, we ordered only two pastas (which the charming waitress proposed be split into small portions and served sequentially in two courses - very elegant and hospitable). Why was that? And why didn't we then move on to, say, a platter of fried salt cod? Because we had begun with what turned out to be a huge antipasto of marinated fish (slices of swordfish were very sour and dry, while anchovies were moist and stunningly good); garlicky bruschetta with early-in-the-season tomatoes and soft provola cheese. Then fried things: chunks of salt cod; potato croquettes; bread balls; rice balls. These were mostly very good, some of them, like the salt cod and the potato croquettes, wonderful because so well seasoned. Also on the table was a dish of olives and well oiled and salted flatbread baked in the restaurant's wood-fired pizza oven. That antipasto would have sufficed for dinner, though the pasta was so good that we somehow managed to clean our plates.
Next time we're in Naples we'll have another meal here, but we'll limit the antipasti, split a bowl or two of pasta, then see where we stand, hoping we have room for a main course. (Ordering course by course is not frowned upon in most restaurants here if you're willing to wait between dishes.) We'll also come later: at 8:30 on a Sunday night, the place was empty and we wondered what we were getting ourselves into, but an hour later there was a nice crowd, all locals - or at least Italians.
La Casa di Ninetta. Via Niccolò Tommaseo 11, Naples 80121; +39 081 7647573; info@lacasadininetta.it; http://lacasadininetta.it/. Our meal for three cost about €75 ($82) including wine; expect to pay €30 or so per person for a more complete dinner, or much less if you opt for pizza. Open every day lunch and dinner. The background music the night we were there was eighteenth-century Italian opera - exactly the stuff I generally listen to.
Obviously, we ate pizza. But again we forswore the old-line options and took a half-hour walk to 50 Kalò, which opened in 2014 in the Mergellina district, a couple of blocks beyond the American consulate. It is one of the few Neapolitan pizzerias to put the name of its pizzaiolo up in lights: Ciro Salvo is something of a celebrity chef who gets quoted in the press and is seen on Italian television when a pizza expert is needed.
Mr. Salvo's pizza menu is almost American in its breadth. Some pizzerias in Naples offer only two or three kinds (Margherita, marinara, maybe a white pie), but 50 Kalò's seasonal menu gave around twenty, plus a short list of antipasti - potato croquettes and frittatine (basically, fried pucks of macaroni and cheese and perhaps the best food in the world, especially in a cleanly-fried version like this one) - and a couple of fried pizzas and calzones. Also different from the traditional pizzeria is the list of good wines and interesting beers, mostly from smaller breweries in Italy and beyond.
There's a lot to be said for a limited pizza menu; our favorite pizzeria in New York had only four choices and was wildly popular despite that. But 50 Kalò's twenty toppings are not goofy, they're made with first-rate ingredients from carefully chosen suppliers and they're used with moderation. A hallmark of Neapolitan pizza is that there's not a lot of stuff on it: a couple of spoonsful of tomato (not half a liter), a handful of mozzarella (not half a pound), a few basil leaves (not half a bunch) and a drizzle of oil and you've got your Margherita. That also goes for the more creative toppings here: a few dots of 'nduja (a chili-spiked casing-less sausage) gave a modest jolt to a basic mozzarella and tomato pie; a sparse layer of sliced artichokes and a few slices of capocollo (cured pork shoulder) were subtle and delicious - and did not betray the name "pizza."
One reason for the light hand with toppings is that, in principle, pizza is all about the dough (the 50 in the restaurant's name is an arcane reference to bread, and Kalò is meant to be Greek for "good" or "beautiful": they add up to "good bread"). And here the crust is perfect, at once light and chewy, crisp and tender, with just the right amount of salt and just the right length of time in the wood-fired oven.
50 Kalò is very popular, though this can be said of every well-regarded pizzeria in the city. There's a line, complete with good-humored but strict line wranglers who keep a list and who won't seat you if one of your party has gone off for a smoke or a walk around the block. There are plenty of seats inside and quite a few outside; we waited perhaps 20 minutes. Once you're in, however, no one will rush you.
50 Kalò di Ciro Salvo. Piazza Sannazzaro 201/B, Mergellina, Naples; +39 081 1920 4667 (not that they ever seem to answer the phone); http://www.50kalò.it/. Dinner for three, with a couple of antipasti, three pizzas and two 750 ml bottles of beer, cost €70 ($77). Open every day lunch and dinner.
Hotel Excelsior, Naples.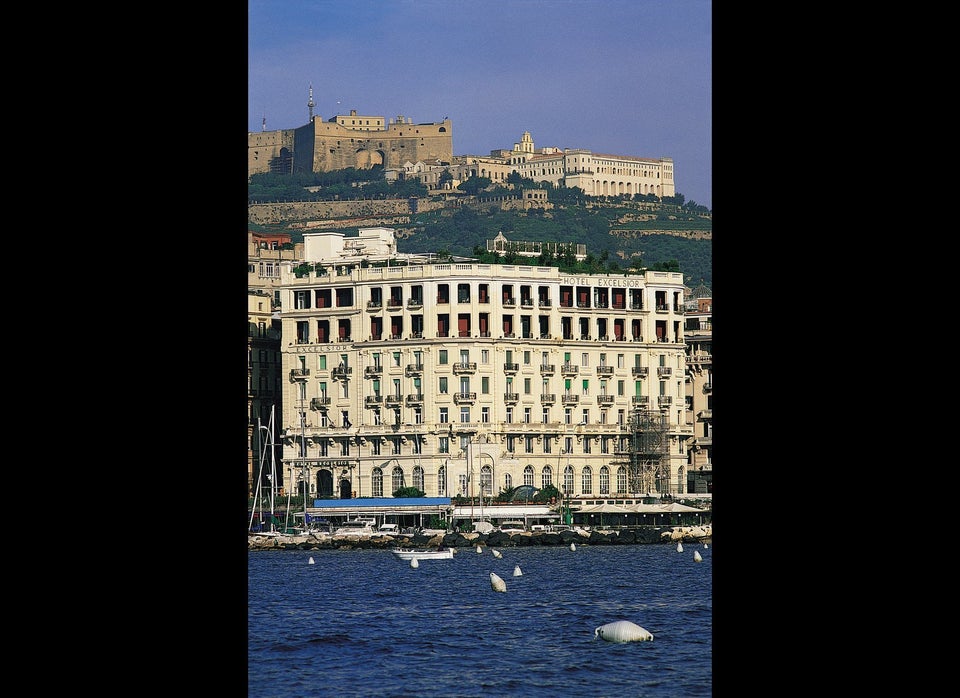 The Excelsior's terrace at breakfast time, Mount Vesuvius in the distance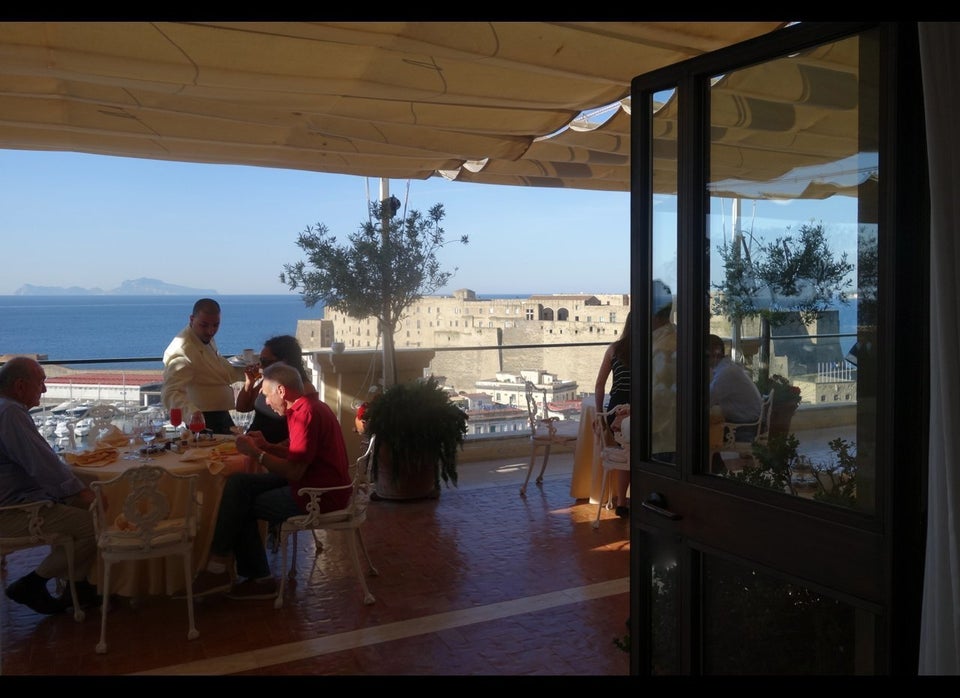 The ample lobby of the Excelsior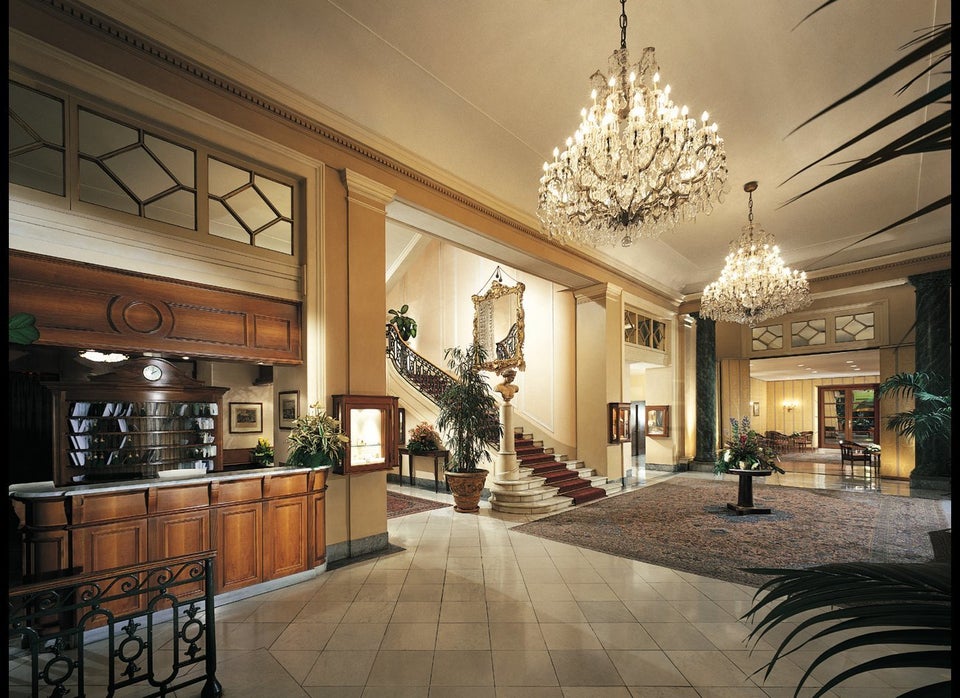 The closet in our room had a tie rack!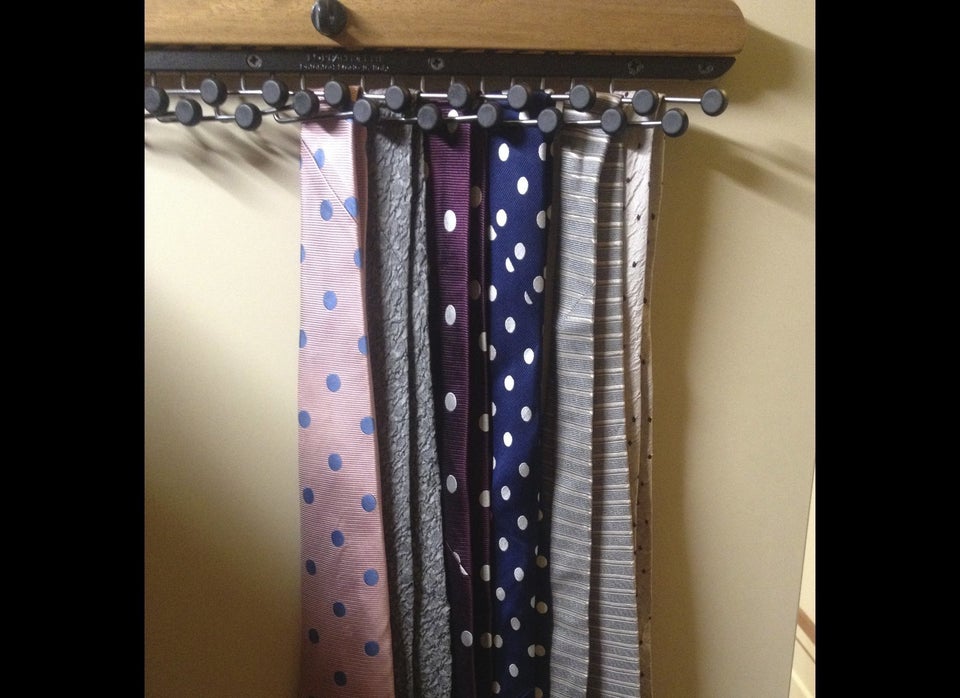 The terrace, set for dinner with a view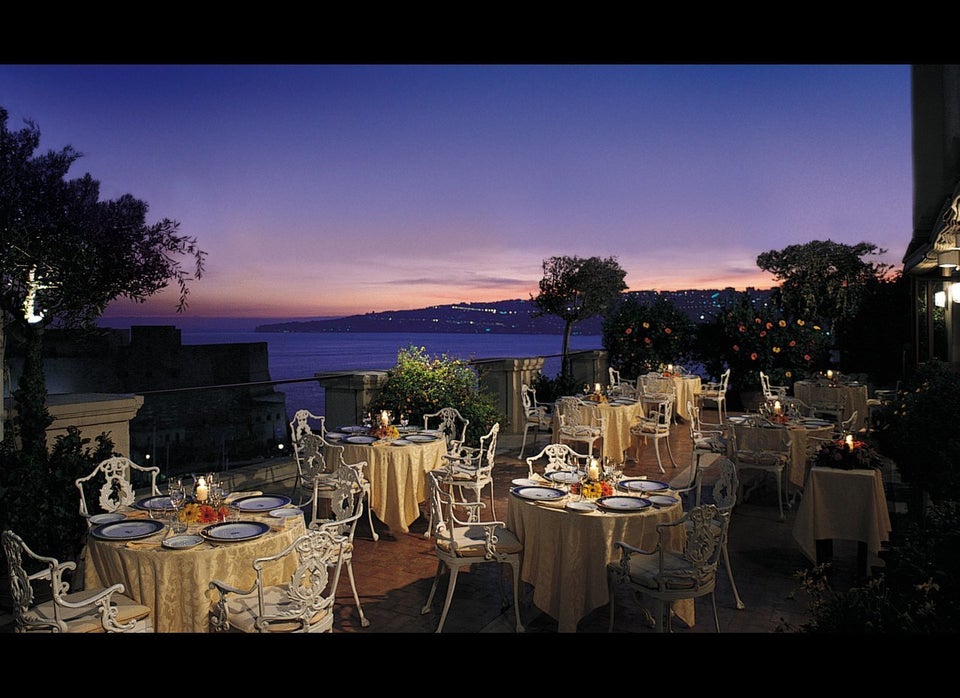 A pastry-lover's breakfast at the Excelsior.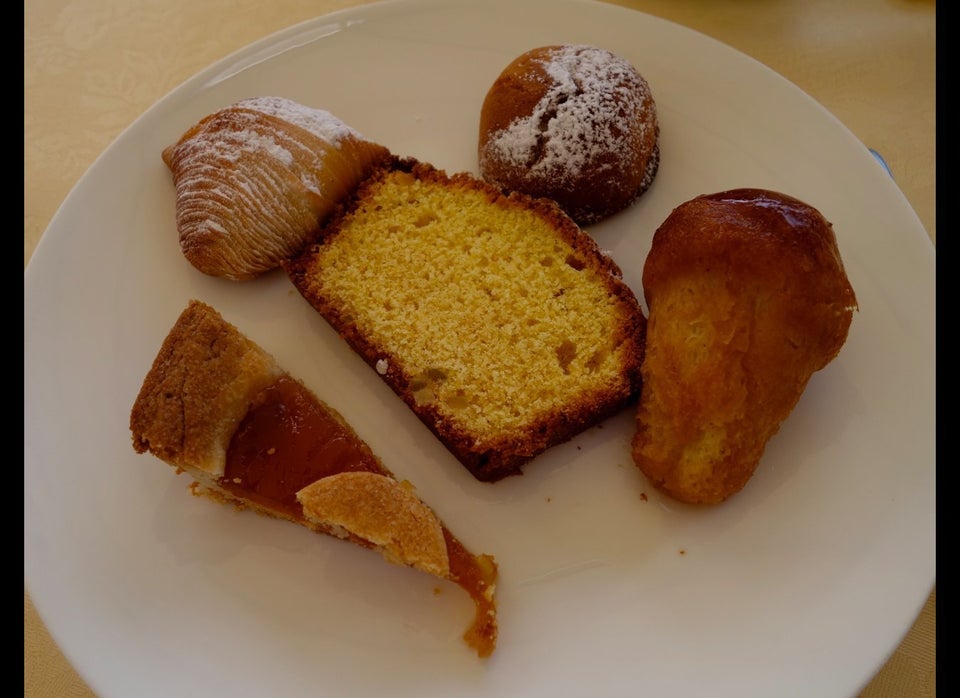 La Casa di Ninetta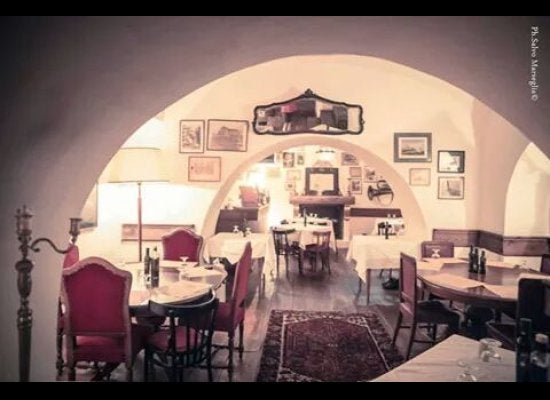 Pasta alla genovese at La Casa di Ninetta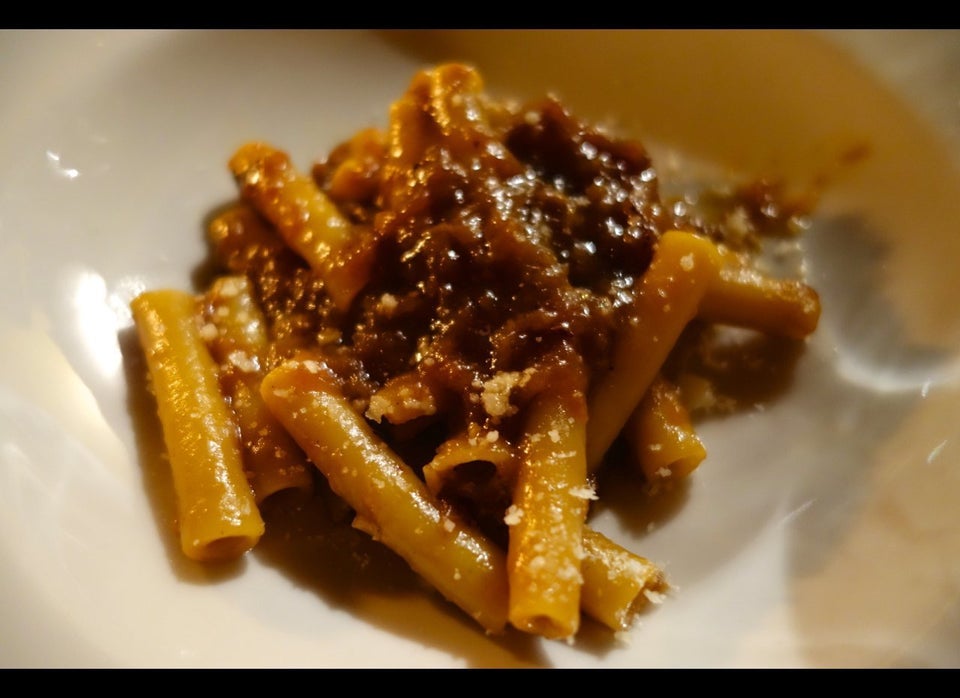 Flatbread at La Casa di Ninetta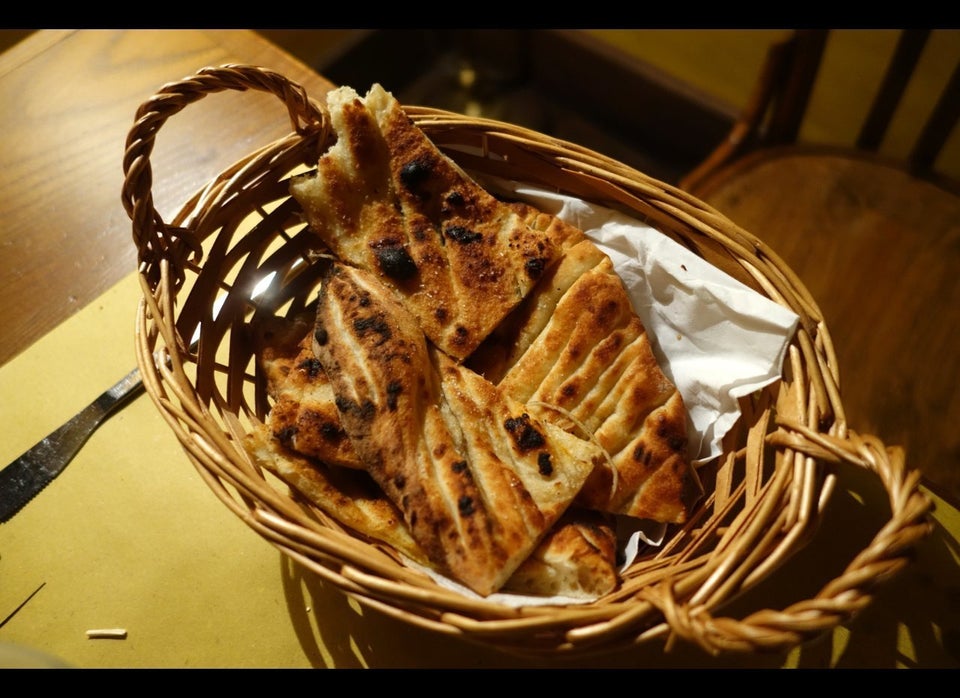 The line/crowd awaiting a pizza at 50 Kalò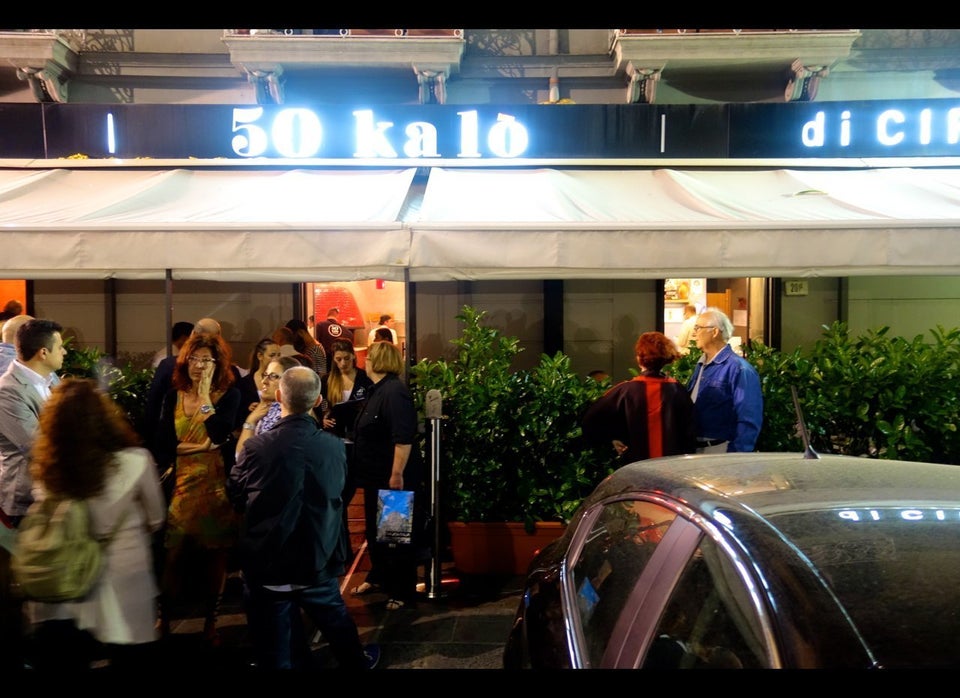 Interesting beer at pizzeria 50 Kalò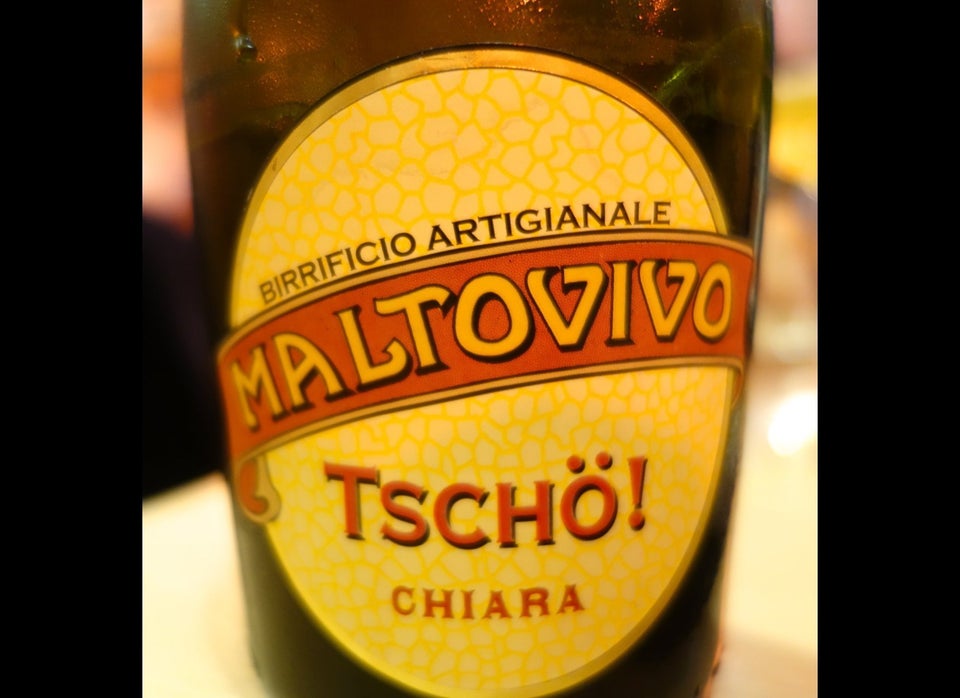 The basic pizza Margherita at 50 Kalò