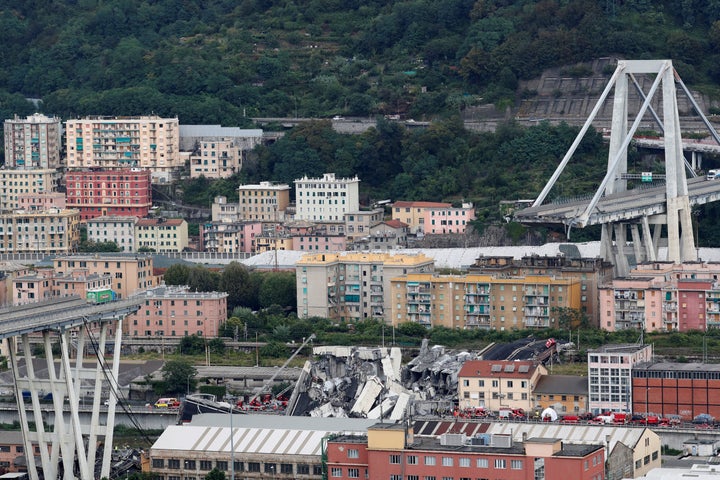 ROME — This is a typically Italian story made up of quick fixes. A structural solution — in other words, the most solid, necessary solution — was continuously put off, tangled up in delayed decision-making and calls for tenders. But above all, after the collapse of the Morandi Bridge on Genoa's A10 motorway in northern Italy, only now comes the hardest question: Whose fault is it?
Italians are demanding answers after the 51-year-old structure collapsed in driving rain on Tuesday, killing at least 38 people and injuring 15 others. Genoa's police force suggested the number of fatalities could continue to rise.
"This is a tragedy that poses questions for all of us. All of the relevant authorities, everyone in charge, should reflect on this matter," Italian Prime Minister Giuseppe Conte told journalists after surveying the area near the deadly collapse.
Infrastructure Minister Danilo Toninelli, along with Deputy Prime Minister Matteo Salvini, emphasised repeatedly that those responsible would pay. Names would be taken, heads would roll. Conte called the disaster an absurd situation, saying those responsible must be named.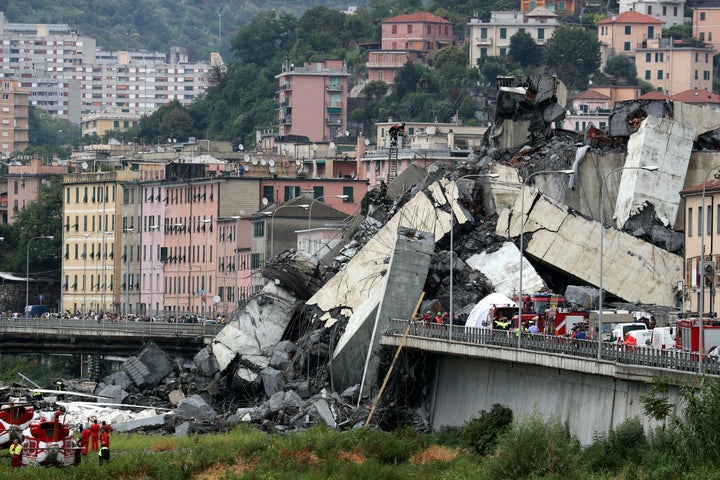 The bridge's deadly collapse is more than a unforeseen and freak tragedy in Italy. Rather, it is the culmination of half a century of controversy and public frustration. Warnings from experts that the bridge was not sound were seemingly ignored, residents complained and Parliament debated to no avail. Meanwhile, photos of an unstable bridge left no room for doubt about just how precarious it was. Ever since the bridge's completion in 1965, what had been celebrated as "Italy's Brooklyn Bridge" deteriorated into a symbol of a precarious, shortsighted practice, unable to meet basic safety requirements.
The bridge was patched up many times and seemed to be in a perpetual state of repair. In the 1980s and 1990s, imposing metal cables were attached to the bridge to avoid risk of failure. In the 2000s, what was supposed to be routine maintenance was transformed into piecemeal repairs that went on continuously. Two years ago, the barriers along the bridge were replaced and all of the concrete structures were repaired. As the Italian motorway firm Autostrade per l'Italia explained in a statement, maintenance work on the bridge was ongoing, including the installation of a crane to allow works to be carried out.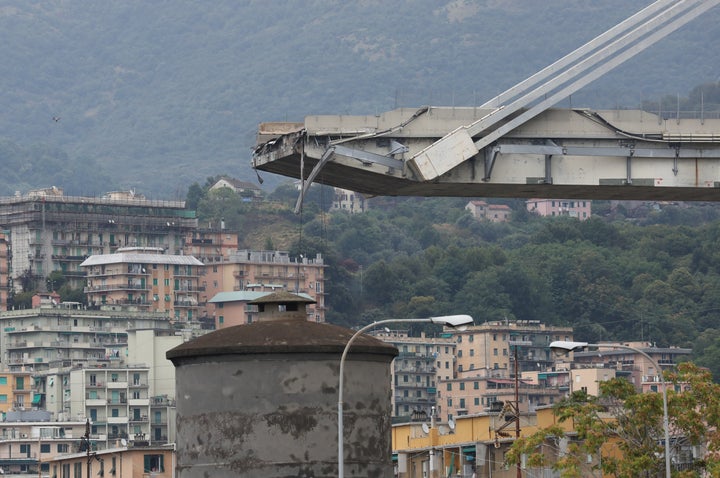 But getting the bridge fixed was a journey of authorizations and procedures that obviously came too late. Autostrade, which is responsible for that portion of the A10 motorway between the cities of Genoa and Savona, apparently understood earlier this year that the bridge needed reinforcing, and plans for structural work began four months ago.
However, long before this, there were many doubts about how sound the bridge was and many demands for a complete overhaul. In December 2012, Giovanni Calvini ― then the president of Confindustria Genova, the lead organization representing manufacturing, construction and transportation industries in Italy ― warned that "in 10 years, the bridge will collapse." He spoke of the need to go ahead with the creation of the Gronda di Ponente, an alternative structure that could handle the traffic. But politicians and authorities opposed this project, which today is only a collection of computer designs and simulations.
As years went by, the warnings piled up. On July 29, 2016, engineer Antonio Brencich, a professor specializing in reinforced concrete at the University of Genoa, published an article that stated: "From the beginning, the Morandi Viaduct presented various problematic issues, in addition to the increase in expected construction costs."
Brencich pointed out various critical concerns after analyzing the bridge, including issues with the concrete that resulted in a road that was not horizontal. The engineer emphasized that even back in the early 1980s, "those that traveled the viaduct had to deal with an annoying ups-and-downs," and that "only repeated corrections to making it more level led to the road being in the currently acceptable semi-horizontal condition."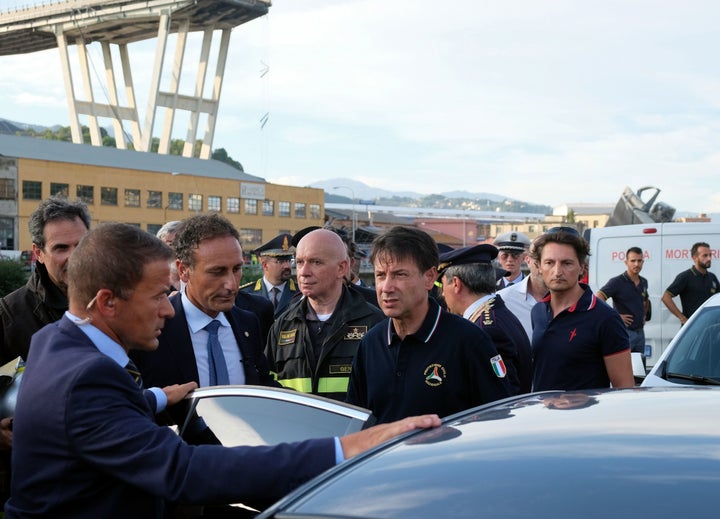 In a typically Italian story, the country is now looking for those responsible. Toninelli is pointing his finger at Autostrade: "Maintenance at all levels ― he emphasizes ― is the responsibility of Autostrade, the Ministry's technical experts carry out extraordinary works."
Autostrade is rushing to defend itself. When asked if the Morandi Bridge shouldn't have been closed years ago, CEO Giovanni Castellucci said, "I don't believe that to be the case." Stefano Marigliani, head of the Genoa segment of Autostrade, spoke of "something unexpected and unforeseen" in terms of how the bridge had been monitored.
Italy's newly elected anti-establishment government is placing the blame on "the past" due to work that was not carried out properly. The far-right Salvini is once again talking about European Union budget constraints that he says prevent Italy from becoming a safer place. It only took hours after the collapse for the political infighting to reach a fever pitch. This typically Italian story is repeating once again. And the ending here is always the same.
REAL LIFE. REAL NEWS. REAL VOICES.
Help us tell more of the stories that matter from voices that too often remain unheard.