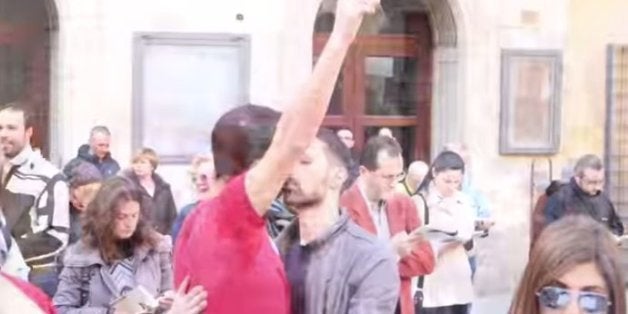 Two Italian gay rights activists have been charged with a public order offense for kissing at a protest in Perugia, Italy.

Irish news outlet The Journal reports that the men were among six LGBT activists to be charged for disturbing the peace as they expressed dissent for a March 29 protest of the Sentinelle in Piedi (Standing Sentries), a group that opposes the legalization of same-sex marriage.
The activists were notified of their charges on Oct. 7 and stand accused of calling Standing Sentries members "fascists" and "bigots," according to a police report obtained by various media outlets. Four of the six activists are also accused of holding an unlawful demonstration.
The police report states that when two of the male activists were asked to leave, they engaged in "a long and passionate kiss on the mouth … in front of many families with children and teenagers, many of them minors, leaving passersby disgusted at such a display."
The video below, posted by Perugia-based LGBT organization Omphalos Arcigay Arcilesbica, apparently shows the couple kissing during the Sentries' March protest. (Around the 0:50 mark.)
"The charges would be laughable if they didn't reflect exactly the anti-gay sentiment the activists are fighting against," Judith Sunderland, senior Western Europe researcher at Human Rights Watch, said in a statement released Thursday.
But there's still a long way to go.
Before You Go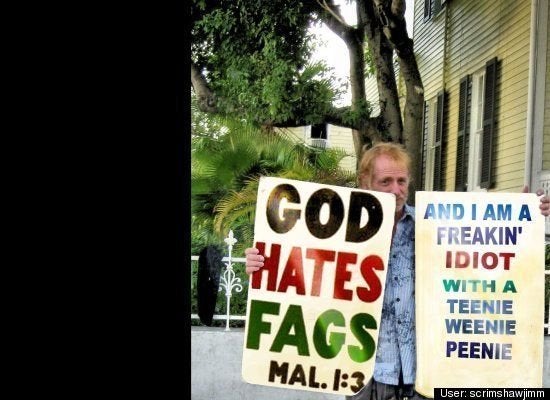 Anti-Gay Protesters Getting Owned
Popular in the Community