PESCARA DEL TRONTO, Italy, Aug 26 (Reuters) - Hopes of finding more survivors faded on Friday three days after a powerful earthquake hit central Italy, with the death toll rising to 267 and the rescue operation in some of the stricken areas called off.
Sniffer dogs and emergency crews continued to scour piles of rubble in Amatrice, a picturesque town popular with tourists which was leveled by Wednesday's quake and where 207 bodies have been retrieved so far.
But in nearby villages, such as Pescara del Tronto, rescuers pulled out after all the missing had been accounted for.
Italy plans to hold a state funeral for around 40 of the victims on Saturday, which will be held in the nearby city of Ascoli Piceno.
A day of national mourning was announced, with flags due to fly at half staff around the country for the dead, who include a number of foreigners.
The civil protection department in Rome said nearly 400 people were being treated for injuries in hospitals, 40 of them in critical condition. An estimated 2,500 people were left homeless by the most deadly quake in Italy since 2009.
Survivors with nowhere else to go are sleeping in neat rows of blue tents set up by emergency services close to their flattened communities.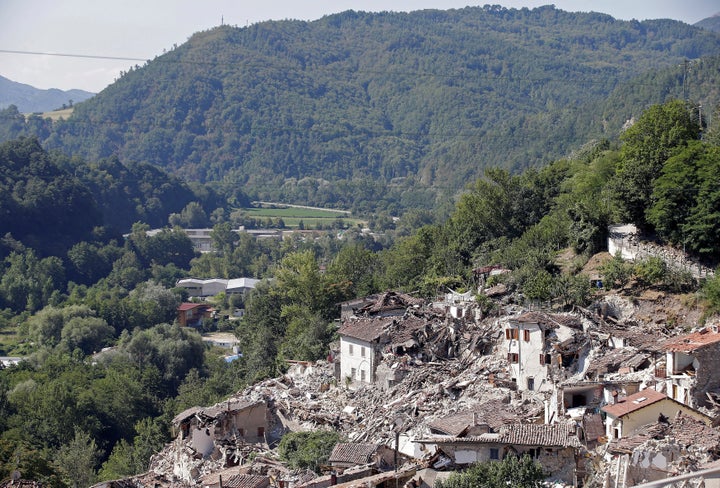 "It was quite a tough night because you have a significant change in temperature here. During the day, it is very, very hot and at night it is very, very cold," said Anna Maria Ciuccarelli of Arquata del Tronto.
"There are still aftershocks preceded by booms and, for those of us who have just lived through an earthquake, it has a great effect, particularly psychologically," she said.
More than 920 aftershocks have hit the area since the original 6.2 magnitude quake struck early Wednesday.
"We have removed the last bodies that we knew about," said Paolo Cortelli, a member of the Alpine Rescue national service who helped to recover about 30 bodies from Pescara del Tronto.
"We don't know, and we might never know, if the number of missing that we knew about actually corresponds to the people who were actually under the rubble."
The foreigners who died in the disaster included six Romanians, a Spanish woman, a Canadian and an Albanian. The British embassy in Rome declined to comment on reports that three Britons, including a 14-year-old boy had died.
The area is popular with holidaymakers and local authorities were struggling to pin down how many visitors were present when the quake hit. The Romanian Foreign Ministry said 17 Romanians were still missing.
Italy has a large Romanian community, and some of the victims were resident in the country.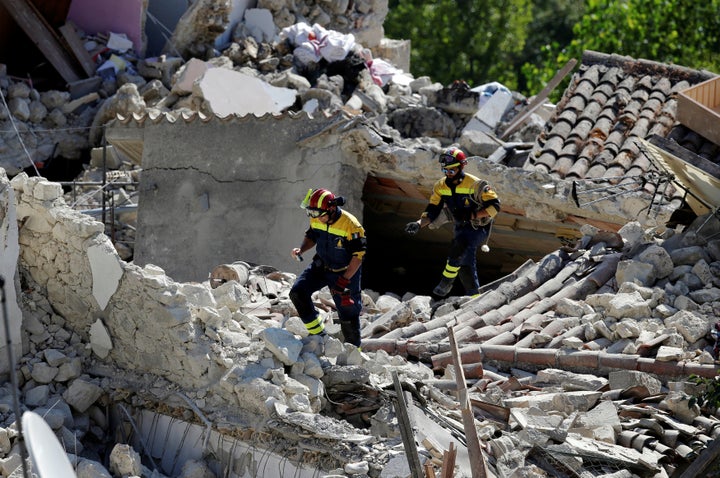 FUNERAL
The first funeral of a victim was held in Rome on Friday, for Marco Santarelli, the 28-year-old son of a senior state official, who died in the family's holiday home in Amatrice.
"I cannot find the words to describe the grief of a father who outlives his own children. Perhaps there are no words," Marco's father, Filippo Santarelli, told Corriere della Sera newspaper.
Hardly a single building was left unscathed in Amatrice, which was last year voted one of the most beautiful old towns in Italy and is famous for its local cuisine.
"Amatrice will have to be razed to the ground," said mayor Sergio Pirozzi.
Prime Minister Matteo Renzi has declared a state of emergency for the region, allowing the government to release an immediate 50 million euros ($56 million) for the relief work.
He has promised to rebuild the shattered homes and said he would also renew efforts to bolster Italy's flimsy defenses against earthquakes that regularly batter the country.
"We want those communities to have the chance of a future and not just memories," he told reporters in Rome on Thursday.
Italy has a poor record of rebuilding after quakes. About 8,300 people who were forced to leave their homes after a deadly earthquake in L'Aquila in 2009 are still living in temporary accommodation.
Renzi declined to predict when the homeless might be rehoused. "This is not about setting challenges and making promises. We need the pace of a marathon runner," he said.
Most of the buildings in the area were built hundreds of years ago, long before any anti-seismic building norms were introduced, helping to explain the widespread destruction.
Cultural Minister Dario Franceschini said all 293 culturally important sites, many of them churches, had either collapsed or been seriously damaged.
Italy sits on two fault lines, making it one of the most seismically active countries in Europe. Almost 30 people died in earthquakes in northern Italy in 2012 while more than 300 died in the L'Aquila disaster.
(Writing by Crispian Balmer and Philip Pullella, editing by David Stamp)
Related
Popular in the Community