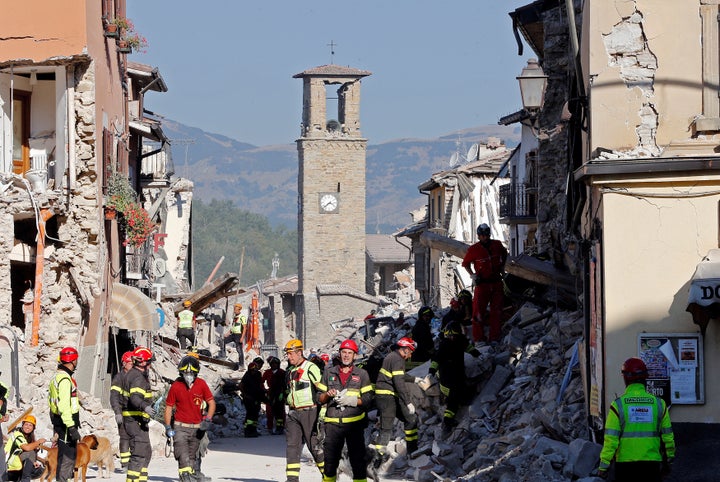 Pirozzi continues to monitor the death toll and to take questions from the press, trying his best to stay calm. About 200 people from Amatrice died, and the mayor told HuffPost Italy that his town's future lies in reconstruction.
"I want our city to be rebuilt here, with the same aesthetics, the same face," Pirozzi said. "I want it to be exactly the same, just as Cola Filotesio designed it in the 1500s."
He spoke with HuffPost Italy about his plans for rebuilding the town, what's been lost and what he has learned.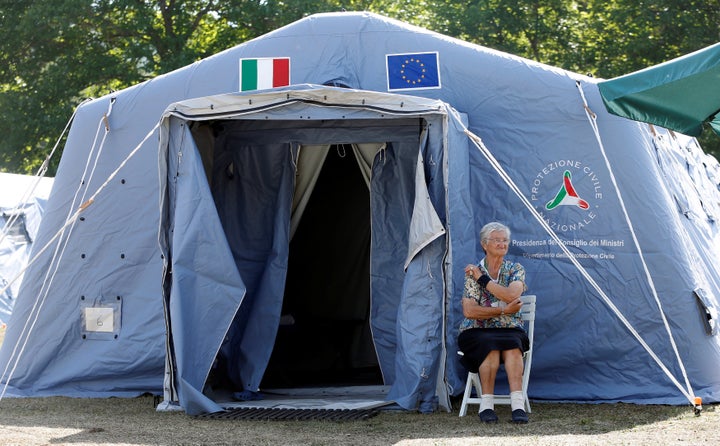 L'Aquila ― where a major earthquake struck in 2009, killing more than 300 people ― is a perfect example for how people can spend months waiting for their houses to be rebuilt. L'Aquila is synonymous with broken promises, and it casts a shadow over everything that's taking place and all the decisions being made right now. How will things be different in Amatrice?
There were 60,000 people left homeless in Aquila. There was an endless field of people. An entire city. Here, on the other hand, we can take comfort in the fact that our tragedy is of a much smaller dimension. The homes that were destroyed are essentially just the 400 buildings in the town's historical center.
Amatrice is surrounded by 60 small villages, and had a total population of 2,633 people before the earthquake struck, plus the summer tourists. We have a steep death toll, given this small population, but these are numbers we can handle.
Survivors must remain there, close to their villages. This risk is that the rather elderly population, where people are 49 years old on average, will slowly but surely move away. 
But even as things stand, with these small numbers, managing the rebuilding project will require set times and deadlines, don't you think? The reconstruction calendar is undoubtedly the first thought on the minds of everyone who has lost their homes.
Five months for the delivery of prefab wood houses that will be appropriate for the temperatures and conditions inherent to this elevated, mountainous environment.
Five months means that the current homeless population will have to stay where they are at least until January, living in extremely rigid weather conditions. That's not a very pleasant prospect.
That's right, and in fact I've requested sleeping bags. But I was told that this is the minimum timeframe required in order to get the job done. 
And how long will it take to rebuild the houses?
I'm dreaming it will take a year, but if I'm being realistic, I'd be happy if they are rebuilt over two years.
Are you ready to requisition vacation homes, given that Amatrice has a lot of those?
Many of the people who have vacation homes here have already made them available. But I'll need to ask for more, and I don't have a problem doing so.
Basically, if we were to sum things up: Despite all your energy, efforts and relative lack of sleep, the mayor of Amatrice has joined the swelling ranks of Italian mayors struggling to deal with a major disaster. How are you holding up?
I haven't lost any members of my immediate family, but I've lost every single citizen of this town who died. In the past few days, I haven't been able to find the town baker, Gianni. He was my good friend, and the only person who was already up and working at that hour of the night.
How is it possible you haven't found him yet?
It's simple. We're digging, but we haven't found anything. We know he has to be there, but it's as if he's vanished.
Was there anything you could have done differently? Could you have been more prepared?
A few months back, we presented an official request to reinforce and strengthen our bridges. Amatrice is surrounded by a network of downstream waters, including three rivers and a lake, that essentially form a circle around the base of the mountain the town is built on. Those bridges are the very same ones that have now been shut down because they are in danger of collapse.
So you must have been concerned even before the quake.
Yes, but I never expected all this to happen.
For me, the single biggest symbol of this disaster is Porta Carbonara, the 13th-century medieval gate that marked the entrance to Amatrice. It stood there for centuries: robust, strong, enormous. [It] survived despite all the damage and numerous earthquakes we've endured. And this time it was the first thing I saw during the night of the first quakes ― only this time it didn't survive.
It seems to me this this story has taught you the lesson that it's not possible to make everything in this fragile Italy of ours safe and secure.
In fact, it's not possible. It's impossible.
A version of this piece originally appeared on HuffPost Italy. It has been translated into English and edited for clarity. 
Calling all HuffPost superfans!
Sign up for membership to become a founding member and help shape HuffPost's next chapter