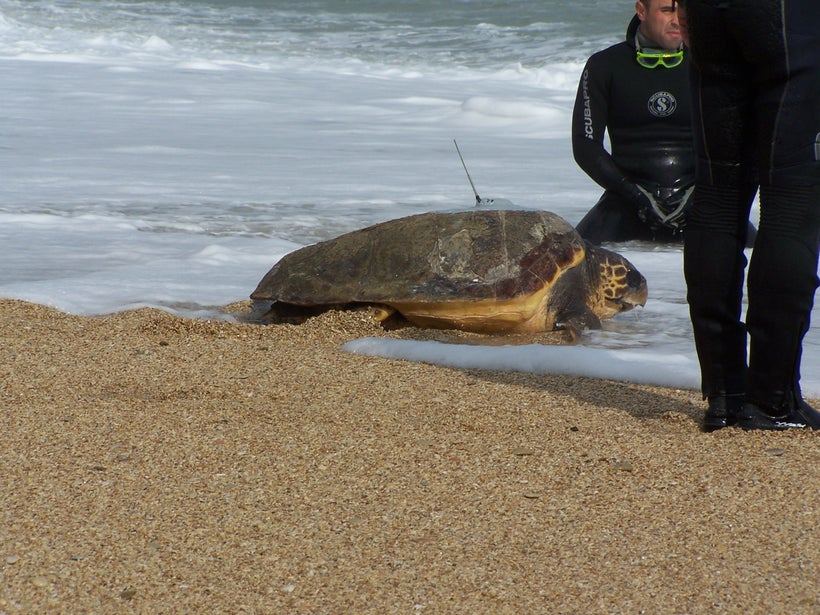 Saturday November 5th, 2016 marked a special day for Grace, Ben, Gigetto, Trudy, Livia, Archimede, Menne and Platone II . These eight loggerhead sea turtles returned home and are now free to plow the Adriatic Sea. This was possible thanks to the effort of many people and organizations committed to protecting the sea and all the living creatures who dwell within.
One of these organizations is based in the coastal Italian city of Riccione, in a region called Emilia Romagna. The Fondazione Cetacea has been in front line curing and rehabilitating stranded sea turtles since 1994. Over the past 14 years their " Sea Turtle Hospital " has managed to heal and release back into the Adriatic over 300 turtles. Sixty-one of these in 2015 alone. The organization also researches and collects scientific data from the carcasses of turtles who sadly, die. These ancient creatures are important bioindicators of the qualitative status of oceans and seas across the planet.
Although sea turtles do not nest along the Adriatic ,this body of water represents a vital feeding area for many marine inhabitants , that goes for loggerheads and, sometimes, for green sea turtles as well. It's abundance of food and shallow depths seem to make it the ideal place for our aquatic friends to spend the winter.
Sea turtles are at risk of extinction all over the world and the Adriatic Sea makes no exception.
During the month of October 2016, the Fondazione Cetacea counted 132 stranded loggerheads. A slaughter in front of which we are obliged to ask: what is killing these animals? Why are they dying?
Sea turtles are threatened by a number of human activities: pollution, the deterioration of nesting sites, tourism, accidental collisions with boats and intentional captures aimed at illegally selling turtle shells, all contribute to the depletion of the population. However, the accidental interaction that often occurs between sea turtles and fishing gear and equipment appears to be one of the biggest problems we are confronted with in the plight to save the species. Collaboration between the scientific community, fisheries, institutions and volunteer organizations is essential in this respect. Sharing ideas, proposing and finding sensible solutions is the ideal way to go!
The video below shows Gigetto's rehabilation before being released back into the Adriatic Sea. I found his story especially touching. I hope it help us think and remember that we are all an important part of this planet and that every single creature has the right to live and thrive in its own habitat, for that habitat is home.
REAL LIFE. REAL NEWS. REAL VOICES.
Help us tell more of the stories that matter from voices that too often remain unheard.
This post was published on the now-closed HuffPost Contributor platform. Contributors control their own work and posted freely to our site. If you need to flag this entry as abusive,
send us an email
.