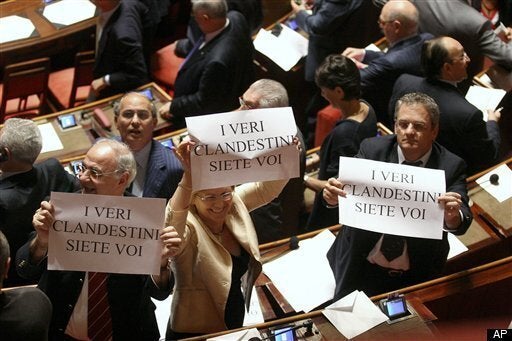 A new law in Italy seeks to impose harsh penalties on illegal immigrants in a country that has been considered a bastion for safe, illegal refuge in Europe in years past, Jon Rosen of the World Politics Review reports. Possible penalties include a fine of $14,000 and three years imprisonment, and it provides for unarmed civilian patrols--similar to the Minuteman Program in the U.S.--to work alongside immigration enforcement officers. According to Rosen:
The new law is only the latest in a series of measures by the government of Prime Minister Silvio Berlusconi to turn up the heat on illegal immigration. In February, in a bill condemned by the medical community, the Senate approved a provision that would authorize doctors to report clandestine patients to the authorities. In May, as part of a pact signed last year with Moammar Gadhafi, Italy began returning migrants intercepted in international waters back to Libya. Although the move has drawn heavy criticism from Italy's center-left opposition as well as the UNHCR and the Vatican, Berlusconi staunchly defended the policy, saying he didn't want a "multi-ethnic Italy."
According to an Associated Press report in May, when this particular legislation had first passed the lower chamber of parliament and moved next to the Senate, Berlusconi's conservative forces used a political ploy to force it through, despite strong opposition to the bill:
In a bid to ensure swift passage, Berlusconi's allies put the legislation to a confidence vote, which they easily won 316-258. Confidence votes force lawmakers to close ranks since defeat would force the government's resignation.
And as Rosen notes, the UNHCR is taking a strong stand against the harsh immigration policy reforms. According to Reuters:
UNHCR officials who interviewed 82 migrants intercepted on the high seas on July 1 and sent to detention camps in Libya found that a "significant number from this group are in need of international protection".

... The Geneva-based agency has repeatedly voiced concern at Italy's new "push-back" policy which it says can prevent access to asylum procedures and undermines international law.
Calling all HuffPost superfans!
Sign up for membership to become a founding member and help shape HuffPost's next chapter