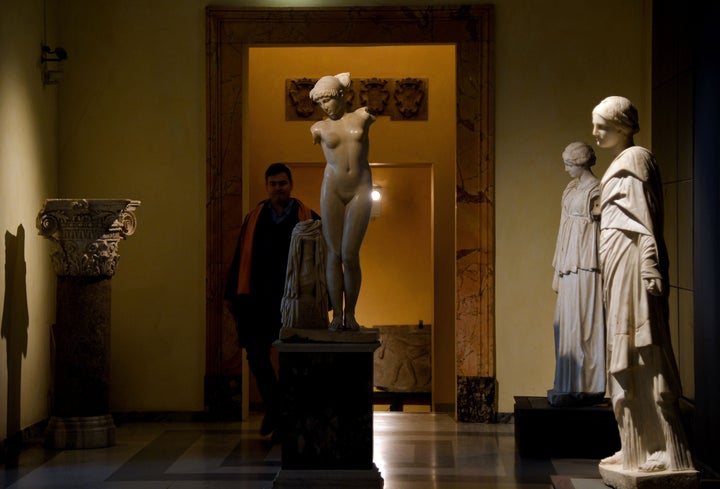 Iran's President Hassan Rouhani arrived in Rome Tuesday on his first European trip after the implementation of the landmark nuclear deal. But just hours after his arrival, Italian politicians were already up in arms about the visit.
Rouhani embarked on his European tour ready to reestablish economic relations after sanctions against Iran were lifted. In addition to meeting the pope, the Iranian leader conferred with Italian Prime Minister Matteo Renzi.
To avoid offending the Iranian leader, authorities at the press conference with Rouhani and Renzi at the Esedra room of the Capitoline Museum opted to cover up classic nude statues with large white panels.
Both liberal and conservative parties criticized the Italian government, accusing it of censorship and compromising Italian culture.
"The choice of shielding the nudity of several statues at the Capitoline Museum is worthy of the worst Islamic terrorist. It's a decision that offends Western culture, as well as the supremacy of art as a vehicle for culture and liberty," said Fabio Rampelli, leader of the right-wing Fratelli d'Italia-Alleanza party.
"It is a shameful act, and one that [Culture] Minister Franceschini will have to answer for," he continued.
Secretary of the right-wing Lega Nord political party, Matteo Salvini, was equally critical, calling the move "crazy" on his Facebook page. Barbara Saltamartini, a deputy with Lega Nord, called the authorities' decision "an act of submission."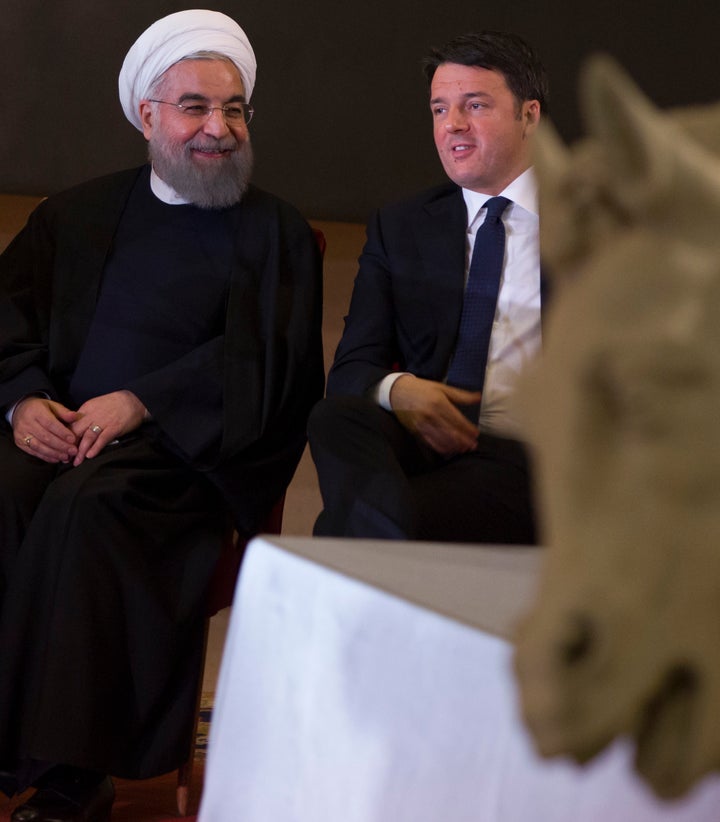 Some politicians from former Prime Minister Silvio Berlusconi's Forza Italia party also criticized the decision. For Forza Italia's Luca Squeri, "covering up statues in the Capitoline Museum for Rohani's visit is a demonstration of excessive zeal, and therefore cannot be supported. This isn't respect, it's a denial of differences and perhaps even submission," Squeri said.
"It's proof that when Renzi talks about identity and integration, it's pointless babble. Because people are not supposed to hide their identities, and without valuing identity, we'll never have true integration," Squeri added.
The statues were covered in a show of respect for Iranian culture and sensibilities, according to Italian news agency Ansa. Wine was also scrapped from the menu during the formal dinner hosted for Rouhani, Ansa reported.
When Rouhani was scheduled to dine with French President Francois Hollande in November he requested a wine-free table and halal meat. But Hollande declined saying that would sacrifice French secular customs. The visit, however, was postponed following the Paris attacks.
This post first appeared on HuffPost Italy. It has been translated into English and edited for clarity.
Related
Popular in the Community