Wander off the beaten path and experience la bella vita like a local. Hotel search trivago.com reveals the most sought after Italian villages according to Italians themselves. Each with less than 2,000 inhabitants, these charming borghi preserve the authentic culture and history of one of the world's most beautiful countries.
Encircled by towers and high fortress walls, Giglio Castello is a charming hilltop village in the middle of Giglio Island, off the shores of Tuscany. In the evening, sample the local aperitifs and robust wines before indulging in Tuscan delicacies such as wild rabbit or fresh seafood.
Avoid the tourist crowds and head to Orta San Giulio, a quaint city on the undiscovered Lake Orta. Browse the small shops and cafés of the central Piazza Motta or hop on a boat to the enchanted Isola di San Giulio, just a short distance away.
Taking a dip in the pristine turquoise waters of Vernazza, the pearl of Cinque Terre, is a must. Terraces cut into rocks and cliffs, mountainsides filled with vineyards and its stunning harbor are just a few examples of the natural beauty of this unforgettable seaside village.
Grand Palazzos and churches with impressive frescoes will inspire you to get lost among the cobbled streets of Scanno, a traditional Italian town surrounded by the forest-covered hills of the Apennines. During summer, picnic along the sandy shores of Scanno Lake and come winter time, enjoy some of the finest skiing the country has to offer.
San Lorenzo in Banale (northern Italy, near Trento)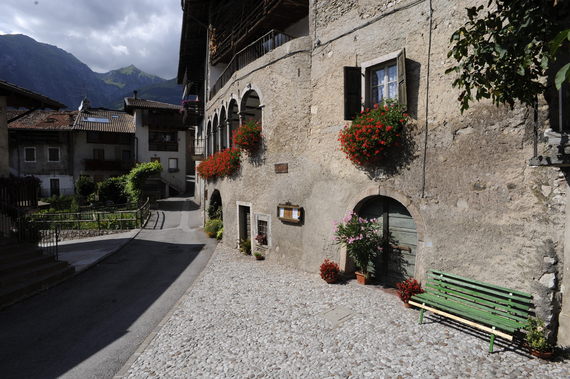 © Archive APT Terme di Comano Dolomiti di Brenta
Known as one of the most beautiful villages in Italy, the borough of San Lorenzo is the perfect place for a relaxing mountain retreat. After wandering the stunning Adamello-Brenta Nature Park, savor the famous regional dish, ciuìga, a delicious sausage cooked with local white turnips.
Once an old fishing village, the colorful coastal village of Laigueglia is now a quiet resort town dotted with white sandy beaches and seafront cafés. For the best views of the the city, stroll along the promenade and onto the pier overlooking the Ligurian Sea.
Perched on top of a hill, San Casciano dei Bagni is a small town in Tuscany abundant with breath-taking panoramic views and ancient thermal springs. Explore medieval architecture among the narrow winding streets before taking a dip in one of the famous Roman baths.
For more travel tips and inspiration, visit the official trivago blog Checkin.