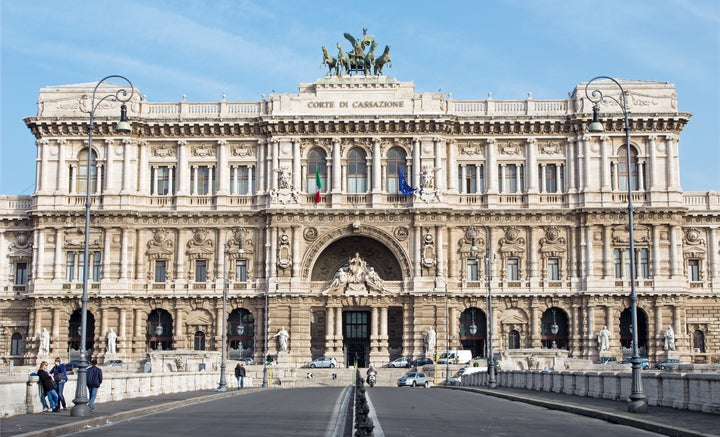 Italy's highest court, the Court of Cassation, ruled this week that two men convicted of rape last year be granted a retrial because their victim willingly drank alcohol on the night she was assaulted.
The two men were initially acquitted of rape in 2011 by a district court but were retried on an appeal and convicted in 2017, The Guardian reports. The assailants, both in their 50s, were each sentenced to three years in prison for the assault, which took place in 2009 after the three ate a meal together.
The judge determined in the 2017 conviction that the men "committed the act with the use of alcoholic substances," resulting in a more severe punishment, under what are termed aggravated circumstances. The perpetrators appealed the verdict on Monday, arguing that because the victim drank alcohol willingly, they should not receive harsher punishment.
Although the Court of Cassation agreed that the defendants took advantage of the woman because she was drunk, it ruled that aggravating circumstances were not applicable because she willingly drank alcohol. The court ordered a retrial to determine new sentences.
The Guardian pointed out that the judge presiding over the 2017 trial convicted the two men because hospital records showed the woman attempted to fight back during the attack. (Although women don't need to fight back to prove sex was nonconsensual.)
"The ruling from the supreme court takes us back decades ... It is a sentence that risks nullifying years of battles," Democratic Party member Alessia Rotta said, according to Italian outlet The Local.
Italian women's groups condemned the appeal in a statement to The Guardian.
"It makes it even more difficult for a woman to come forward and report a rape," Lella Palladino, the president of Italy's Women Network Against Violence, told The Guardian. "When they do find the courage they are regarded as not being credible and in many cases they are the ones victimised ― it's a very alarming decision for women in our country."
Popular in the Community