Summer is a time for gathering with friends and family. The sun is shining, and it makes people feel all kinds of social. Sometimes those gatherings are planned -- like the epic grill outs this season is famous for -- and other times they're impromptu affairs. Those latter occasions can leave a host feeling a little frazzled: What are you going to serve these folks?
Fear not. With a little foresight and a well-stocked pantry, you can be prepared for any kind of shindig life might throw your way.
Here are some ideas that'll make hosting last minute a breeze. Stocking any of these items will help next time someone comes knocking on your door -- but having all of them on hand will make you a hostess with the mostess, no doubt.
1. Artichoke hearts. Pepperoncinis, marinated olives or roasted red peppers will also do. These jarred goodies can elevate a piece of bread into fancy hor d'oeuvres in no time. It's like magic.
2. A bottle of wine. A few bottles of wine. No need for explanation really, but a glass of wine is almost always welcome. And it can be softened into a spritzer with some club soda and citrus too, if that's more appropriate.
3. A box of mixed nuts. Serious live savers. They're savory, filling and don't take up too much space in the pantry.
4. Tortilla chips, black beans and cheddar for quick, simple nachos. You will win hearts and minds with this simple recipe up your sleeve. And even though cheddar doesn't have the longest shelf life, we find that it never goes to waste in our fridge.
5. Something sweet (that you'll refrain from eating before people arrive). A box of wafers or a bar of chocolate -- those things will last forever. If you really want to up the ante, you can stash cookie dough in the freezer ready to bake up for unexpected guests. Nothing beats the smell of freshly-baked chocolate chip cookies wafting from a kitchen. It's the easiest way to let your guests know you heart them.
6. Ravioli in the freezer, pasta sauce in the pantry -- in case your guests want to stay for dinner. Also, Parmesan. Parmesan is one of those ingredients that's often overlooked, but can quickly elevate a meal from an afterthought to a special affair (that's why it's so dang expensive.)
7. Non-alcoholic drink choices aside from water. Like lemonade, iced tea or some sort of sparkling fruit juice. You never know.
8. A nice jam goes a long way. It can make a quickly assembled plate of cheese and crackers feel like a lux treat. Fresh fruit can acheve the same effect, but it doesn't have the same kind of shelf life.
9. When all else fails, a couple of good take out menus. No shame in that game.
Now relax and go enjoy your guests! That's what entertaining is all about anyway.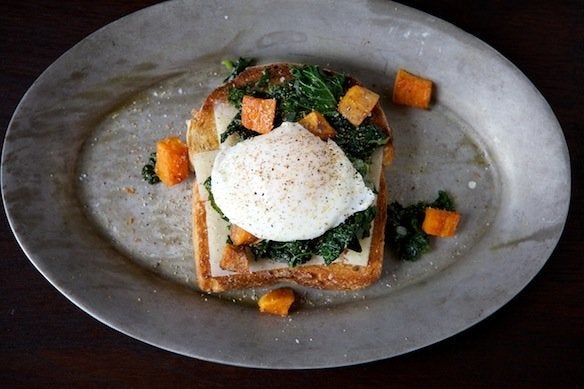 The Best Toast For Dinner Recipes