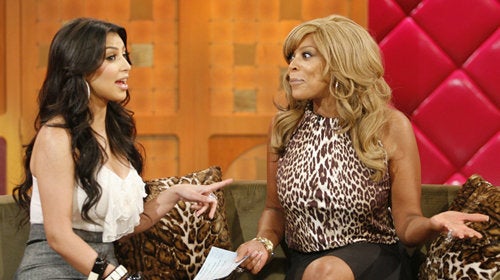 Wendy Williams has had her daytime talk show only five weeks, but she's already getting boiled on The Soup.
The New York radio DJ is finishing her test run on five Fox stations—including the affiliate in Dallas, where I've been watching it—and has received a full series order. Her hour replaces the departed Montel Williams Show.
The Wendy Williams Show is the first syndicated talker from the production company Debmar-Mercury. Fox said this week that the show would enter daily production in mid-2009, jumping the gun on the usual start of the syndication season.
In New York, the show has posted decent ratings for its timeslot with a household rating of 1.9 and a 7 share of the viewing audience, above Montel for the same slot during May sweeps. It ranked higher among women 18-34, with a 2.9 rating/19 share of available viewers in that demo—67 percent higher than Montel, according to published reports. Among women 25 to 54, Wendy earned a 1.9 rating/13 share, triple the Montel ratings.
Wendy did not perform as well in Los Angeles or Dallas, but it still showed gains over Montel.
So why is the talk show host becoming one of the regular Soup nuts? Because she's really, really bad at talk show hosting. Joel McHale is having a rolicking good time introducing clips showing Williams floundering and fumpfering. And she out-Tyra's Tyra for self-referential narcissism.
Built like an over-the-hill stripper (thanks to post-pregnancy cosmetic surgery she discusses all too frequently), with a wig wardrobe that rivals Sherri Shepherd's and Tyra's, Williams bumps and grinds onto the set to the noisy "whoo-hoo" hoots of her audience. Planted on a stool for "Hot Topics"—a segment title The View uses for its opening convo among its lady hosts—Williams launches into disconnected rehashes of whatever Page Six, Gawker and other gossip sources have spewed forth that day about the usual boldface names in Hollywood. Nobody's bothered to provide punchlines for these items. "Did you hear about Janet Jackson gaining weight again?" she'll say. Followed by…nothing. Or "What about Morgan Freeman and that divorce?" Crickets. It's as if Williams expects that her live audience and viewers at home are going to answer back.
I do, actually. "Yeah, what about 'em, lady?" I mumble at the TV.
Ill-prepared for interviews, Williams mostly talks about herself and her fascination with QVC with her visiting guests. She seems unfamiliar with the specifics of pop culture—except for what she reads in the tabloids—and even if she did know enough about someone's movie or TV series, she wouldn't be able to stop talking about herself long enough to let them talk about it.
The high point—or low, depending on your POV—came when she engaged in a bit of contentious palaver with reality demon Omarosa. Always ready with her meticulously scripted defensive gambits, Omarosa immediately got the better of Williams, who was struck speechless by O's attack on her. She tried to steer the topic to the neutral territory of shoes, but Omarosa stayed on the attack, drawing "oohs" from the audience.
On another episode, Williams performed a skit involving a giant dildo. Last week she pulled a scrap of paper from under her wig on which she'd scribbled something she wanted to remember. Even ditsy Sherri never does that.
One day Williams started the show with a big wad of gum in her mouth. Handing it to someone off-camera, she revealed that the set has a backstage "gum wall" containing other spit-out balls of the stuff.
That's emblematic somehow. The Wendy Williams Show is another hour of empty chewing—with its host throwing out meaningless blah-blah-blah to see what sticks.
To communicate with or to be contacted by the executives and/or companies mentioned in this column, link to the JackMyers Connection Hotline.
Calling all HuffPost superfans!
Sign up for membership to become a founding member and help shape HuffPost's next chapter