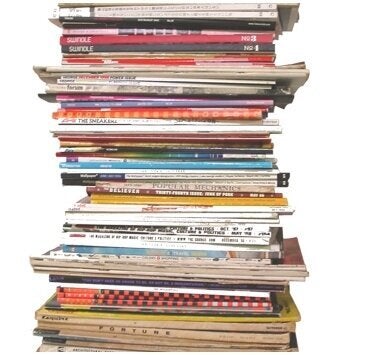 Now let us all sing happy 100th birthday to the Progressive.
The April issue may prove that amid the industry's escalating revenue travail, there can be hope, even if you are, as editor Matthew Rothschild concedes, "woefully undercapitalized" for what amounts to a full century.
A left-leaning bastion founded by U.S. Senator Robert M. La Follette of Wisconsin and based in (the People's Republic of) Madison, it offers a wonderful compendium of its 100 years, with appetizers from each and every one. They include its distinctly isolationist 1940-1941 era. "America, Wake Up!" was the headline on a call to avoid war by architect Frank Lloyd Wright, who harrumphed, "Off we go again on the bloody trail to Nowhere and Never. Forever."
For sure, Rothschild's note to reader indicated that the 1940-1941 volumes prompted him to squirm as his predecessors "woefully underestimated the horrors of Hitler, and opened the pages of the Progressive to disreputable figures such as Charles Lindbergh."
But, overall, such missteps were ultimately overwhelmed by an admirable passion and ideological consistency, whether the issues be segregation, women's suffrage, the power of big business, McCarthy-era red-baiting, union, privacy, environmentalism, improved health care, the Vietnam War or a then-high-profile 1979 court battle about publishing an article on the making of an H-Bomb.
"The mobbing of harmless, helpless Negroes in the capital of this country is the nation's everlasting shame," La Follette wrote in August, 1919. "Peaceable, unoffending colored men and boys were beaten up and murdered by brutes who boast of our white civilization."
And the bylines are a who's who of great thinkers, journalists, politicians and activists, including Bertrand Russell, Theodore Roosevelt, Supreme Court Justice William O. Douglas, union leader Walter Reuther, Theodore Dreiser (on what he saw as a "destructive phase" for American individualism circa 1932), Rev. Martin Luther King Jr., I.F. Stone, Ralph Nader and Saul Bellow, among many others.
For sure, you may wind up occasionally shaking your head and wondering just exactly what somebody meant, as with Bellow's 1959 "Manifesto for Now."
"Now that we stand on the threshold of out space, our self-absorption reaches the most grotesque stage of its development. We look inward, we look backward."
You'll also see how the dissident voice has persevered. At minimum, this is a rich primer on the issues which struck a nerve among men and women of the left over 100 years. If financial creakiness proved an avoidable threat, then one can only hope that similar fragility holds the Progressive in good stead for the rest of this century. You can check them out online at www.progressive.org.
---The Council on Foreign Relations website, www.cfr.org, is worth "Afghan Defense Chief Unhappy with Obama Plan," a sobering interview with Gen. Abdul Rahim Wardak, Afghanistan's defense minister. He clearly needs more troops from the U.S. and elsewhere than the 4,000 U.S. troops to be added to train the nation's army and police. But if he did get the numbers he craves, he concedes, the country can't afford to sustain those levels, given economic woes. And not only does he underscore the challenges of recruiting soldiers to serve within their home districts, due to reluctance to investigate family or tribal members, there's also the economic challenge of retaining troops. Get this:
"The Taliban pays $300. Our soldiers, when they come in, their salary is only $100. They have some incentives, but still, the maximum they will make is $150 or $160."
---National Journal's "Region or Nation?" is Ronald Brownstein's suggestion that "building a low-carbon, clean-energy economy" could well reshape the nation as did the transcontinental railroad but that we'd best remember the very sectional differences impeding construction for the railroad (mostly between North and South). "Today, the regional conflict endangering national progress on energy is the clash between the states that rely heavily on coal for electricity (mostly in the Southeast and industrial Midwest) and those that don't (largely on the East and West coasts). He concludes with the hope that we learn from the "key lesson" of the transcontinental railroad," namely that after the sectional standoff, "all Americans benefited from its completion."
And, getting back to railroads, the website of the New American Foundation, www.newamerica.net, is worth Philip Longman's, "Running Late: The missed opportunity of the Obama high speed rail plan." He finds the plan, unveiled by the president, Vice President Biden and Transportation Secretary Ray LaHood to be "long on process and short on specifics." And "don't expect to be whisking across the country at 160 m.p.h. anytime soon like French rail passengers have been doing since the 1970s. One of the biggest challenges in implementing the plan, as it notes, is that few Americans know anything about building and operating passenger trains these days tend to be approaching retirement, if not flat out elderly already."
---Architecture critics will surely be cranking out reams of analysis of the new, billion-dollar Yankee Stadium. For now, Sports Illustrated's Tom Verducci raises one good question in "New Stadium an instant classic," to be found on www.SI.com. "It succeeds wonderfully as an homage, one that looks back more than it looks forward. It is an attempt -- and it is executed skillfully and exactingly -- to reflect what was rather than redefine what it." Should the architects have shown more nerve and vision?
Meanwhile, the "Spitzer in Exile" cover of April 27 Newsweek (which is the current issue, as opposed to a week-old issue some nincompoop columnist referred to here last week!), is the most vivid rollout so far of disgraced former New York Gov. Eliot Spitzer's obvious image rehab, including going jogging around Central Park with a reporter as his shame and ego continue their internal battle. But this also his its own architecture-related opinion piece on a New York landmark, namely, "A Masterpiece in Jeopardy" by historian David McCullough, concerning a subject of one of his own impressive works, namely the Brooklyn Bridge.
"The sanctity of its own space has been unviolated by and large. Until lately. Now, alas, plans are proceeding to build an 18-story luxury apartment building within a hundred feet of the bridge on the Brooklyn side. (A vote in the process is expected this week.) The building, as proposed by the Two Trees Management Co., would stand 184 feet high and just about ruin the view of the bridge from on shore, as well as the view from the bridge looking toward Brooklyn--in other words, the view for just about everyone except those living in the apartments. To permit such a project so close to the bridge would be a shameful, inexcusable mistake. There is no other way to say it."

"Would we wish to see an 18-story building go up beside the Statue of Liberty, or next to Independence Hall in Philadelphia, or beside the Washington Monument? Of course not."

"Would the city of Paris permit an 18-story building beside the Arc de Triomphe or Notre Dame? Unthinkable."
---April 16 Economist is worth the cover, "Africa's next big man" about soon-to-be-South African President Jacob Zuma, "a scandal-ridden charmer and chameleon."
"Hardest of all for Mr. Zuma to accept is that, in the longer run, South African democracy needs a sturdier opposition. The liberal Democratic Alliance, led by a brave white woman, Helen Zille, has good ideas but has failed to expand its appeal beyond a white core. The new Congress of the People, a black-led breakaway from the ANC, has able leaders, yet several are tainted by association with Mr. Mbeki. With luck the opposition parties may stop the ANC from getting the two-thirds of parliamentary seats that would let it override the constitution."

"Mr. Zuma could yet prove to be the right sort of Big Man: big enough to hold his party back from creating something akin to a one-party state, big enough to accept that no one, himself included, is above the law. If that is how he chooses to spend his five years in power, South Africa would indeed serve as a model for the whole continent. But will he?"
--April 15 Nation's "A Lexicon of Disappointment" is a droll look at all not being well in "Obamafanland." Naomi Klein offers words for an Obama acolyte to cling to if they just don't think the candidate they craved is proving to be the president they desire:
"Hopeover. Like a hangover, a hopeover comes from having overindulged in something that felt good at the time but wasn't really all that healthy, leading to feelings of remorse, even shame. It's the political equivalent of the crash after a sugar high. Sample Sentence: 'When I listened to Obama's economic speech my heart soared. But then, when I tried to tell a friend about his plans for the millions of layoffs and foreclosures, I found myself saying nothing at all. I've got a serious hopeover.'"

"Hopebreak. Like the heartbroken lover, the hopebroken Obama-ite is not mad but terribly sad. She projected messianic powers onto Obama and is now inconsolable in her disappointment. Sample sentence: 'I really believed Obama would finally force us to confront the legacy of slavery in this country and start a serious national conversation about race. But now he never seems to mention race, and he's using twisted legal arguments to keep us from even confronting the crimes of the Bush years. Every time I hear him say 'move forward,' I'm hopebroken all over again.'"
---Spring Ms. includes its "2009 Guide to Women's Studies," which is largely a listing of the mushrooming programs, with the most critical component being Duke law professor Katharine T. Bartlett's "Feminist, Esq." She cites various external and internal challenges for feminist legal theory, including opponents of reproductive rights having "grabbed the rhetorical high ground and political momentum on many important issues. Internally, she contends that "questions have arisen about whether feminist legal scholarship and teaching are sufficiently attentive to differences between women based on race, class, culture and religion---or to issues of gender identity, masculinity and the societal limitations placed on men."
---May Martha Stewart Living's "25 Colors We Love" includes Kate Betts' "The Culture of Color," a look at what's in, what's out, and why that might be.
"For centuries, color has represented individual moods while also reflecting and expressing the broader cultural zeitgeist. For example, Michelle Obama's choice of a lemongrass wool-lace dress and matching coat for the inauguration "was rich with symbolism," especially since it seemed alternately yellow and greenish from different perspectives, with "yellow being the color hope and optimism and green introducing the idea of change and resuscitation."

And, at recent high-fashion shows in Paris, "the noncolor, white, reemerged on runways, especially at Chanel, where designer Karl Lagerfeld said he was influenced by white paper and the idea of the blank page. So white, which represents a fresh start, just might be the new black."
"The explosion of user-created media content on the web (dating from, say, 2005) has unleashed a new media universe. (Other terms often used to refer to this phenomenon include social media and user-generated content.) On a practical level, this universe was made possible by free web platforms and inexpensive software tools that enable people to share their media and easily access media produced by others, cheaper prices for professional-quality devices such as HD video cameras, and the addition of cameras and

video capture to mobile phones. What is important, however, is that this new universe is not simply a scaled-up version of twentieth-century media culture. Instead, we have moved from media to social media. What does this shift mean for how media functions and for the terms we use to talk about media? What do trends in web use mean for culture in general and for professional art in particular? These are the questions this essay will engage with."
Along the way, he notes some of the sites he checks out regularly: xplsv.tv (motion graphics, animation), coroflot.com (design portfolios from around the world), archinect.com (architecture students' projects), and infosthetics .com (information visualization).
"In my view, the significant percentage of works you find on these web sites represents the most innovative cultural production done today. Or, at least, they make it clear that the world of professional art has no special license on creativity and innovation. But perhaps the most important conceptual innovation has been happening in the development of the web 2.0 medium itself. I am thinking about all the new creative software tools--web mashups, Firefox plug-ins, Facebook applications, and so on-- coming from both large companies such as Google and from individual developers. Therefore, the true challenge posed to art by social media may not be all the excellent cultural work produced by students and nonprofessionals, although I do think this is also important. The real challenge may lie in the dynamics of web 2.0 culture--its constant innovation, its energy, and its unpredictability."
All I can say is keep Twittering.