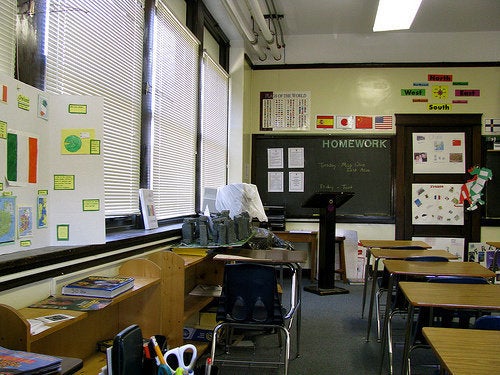 With President Barack Obama's nomination of Judge Sonia Sotomayor to the Supreme Court, there is much debate about what this selection would mean for the future of United States law. As debate continues and the Senate confirmation process moves forward, young students across the country have the opportunity to follow the historical process firsthand. Moreover, teachers now have a unique opportunity as well -- provided they have the resources available to support their curriculum.
At DonorsChoose.org, we've been following related classroom requests that aim to engage high-need public school students in creative and innovative ways. In light of Judge Sonia Sotomayor's recent nomination, here are a few examples of many classroom requests that exemplify the imagination of our public school teachers -- in the form of grant proposals -- that can be brought to life by you, the citizen:
In a high-need Illinois classroom, Ms. R is looking to teach her fourth grade students about the judicial system in a way that is both engaging and meaningful. Her classroom request, entitled The People vs. Goldilocks, will provide her students with materials to simulate due process of law: "In order to help my students make sense of the judicial process, and begin to build their civic vocabulary, I would like to have my students perform a mock trial. In my classroom, Goldilocks will stand accused of breaking and entering."
A few hundred miles east of Illinois, a New York City teacher is hoping for materials that will help to prepare his students for a nationwide policy debate. Mr. F is the Debate Coach for a group of nearly 70 students ranging from grades 7-12, making up the largest urban debate team in the country. He explains that "debate is one of the most challenging academic opportunities out there. Students learn valuable skills in public speaking, writing, researching, logic, philosophy, current events, economics and so many other subjects." Next year's debate topic? Resolved: The United States Federal Government should substantially increase social services to persons living in poverty in the United States. This request will help to start a small classroom library so that relevant books are easily accessible, an excellent resource for students to advance their education both within and outside of the classroom.
In Florida, Mr. C has a similar request designed to teach his high-school students to think critically about arguments made by political figures. Stating that "an engaged and educated citizenry is essential for our democracy," this classroom request will provide his students with textbooks that utilize a five-step methodology designed to interpret political argument and develop personal opinion.
Whether to support the fundamental understanding the judicial system, or to inspire a career in politics or law, each project reflects one teacher's hope for the future of his or her students. As a citizen philanthropist, it's up to you to decide which classroom requests should be realized.


DonorsChoose.org is a nonprofit website where public school teachers describe specific educational projects for their students, and donors can choose the projects they want to support. After completing a project, the donor hears back from the classroom they supported in the form of photographs and student thank-you letters.

Related