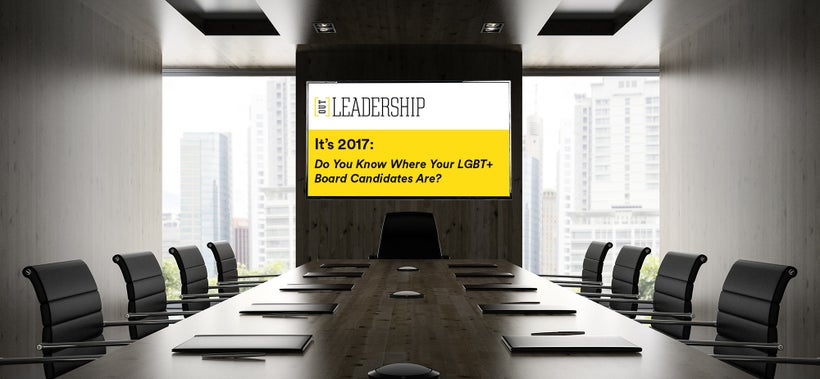 This piece was co-authored by Susan Angele, Senior Advisor, KPMG's Board Leadership Center and Stephanie Sandberg, Managing Director, Out Leadership.
The corporate boardroom is one of the last areas in which LGBT+ individuals continue to have almost no representation or visibility. There are currently fewer than 10 openly LGBT+ directors on Fortune 500 companies—less than 0.03 percent.
Investors pay a price for this failure of vision, because placing LGBT+ people at the most senior levels of leadership can have big positive impacts on bottom lines. A 2016 Credit Suisse study demonstrated that investment returns are 10 percent higher at companies with policies inclusive of LGBT+ people.
This gap represents an opportunity for forward-thinking organizations, as many companies overlook extant potential in the LGBT+ community when selecting corporate directors.
KPMG is the founding sponsor of Quorum, Out Leadership's initiative to identify and place LGBT+ executives on corporate boards. Last month, we hosted the Quorum Directors Summit, where we gathered more than 50 senior leaders to hear insights on the board search and placement process from experts in the field.
The KPMG Board Leadership Center's 2016 study Building a Great Board found that directors see much room for improvement in their board composition processes; only 36 percent said they are "satisfied," and 49 percent "somewhat satisfied" that their board has the right combination of skills, background, and experiences.
Diversity in leadership is widely accepted as a business imperative – McKinsey's Diversity Matters report demonstrates that global firms in the top quartile of racial and ethnic diversity outperform their industry peers by 35 percent; those in the top quartile for gender receive a 15 percent bump.
Further, it is well documented that board diversity enhances corporate performance and mitigates risk – and LGBT+ board diversity could potentially help companies maximize the significant buying power of the LGBT+ market.
Nevertheless, LGBT+ people are rarely considered in the conversation around board diversity. Just two companies in the Fortune 500 reference sexual orientation and gender identity in their board's diversity statements.
Shifting the frame could have major impacts for boards seeking to differentiate themselves. Because LGBT+ people have spent their entire lives developing heightened sensitivity to social interactions, negotiating a range of environments and circumstances, LGBT+ executives can leverage unique people skills that help at the board level.
As Keith Wetmore, chair emeritus of Morrison Foerster and board member of North Highland, notes, successful LGBT+ people often develop "survival skills" that can make a difference in boardrooms. "We learn some skills about how to get along with all people. I bring that into many aspects of my professional life and it is an asset."
The intersectional nature of the LGBT+ community also creates the opportunity for businesses to diversify their boards in more than one way at a time, embracing the need for greater gender and ethnic diversity in the boardroom while also including the LGBT+ perspective.
So, given the clear case for LGBT+ diversity in corporate governance: where is everyone? Why are LGBT+ people so severely underrepresented on boards?
We see a few key drivers:
Lack of awareness. Few companies even include LGBT+ in their definition of diversity, and the fact that more than half of senior executives remain in the closet at major companies doesn't help either.
Pipeline homogeneity. More than 60 percent of successful board searches result from existing directors working their network; this process works to perpetuate the status quo at the board level.
Board search firms don't see LGBT+ diversity as a priority.
At last month's Director's Summit, panelists discussed key strategies LGBT+ executives should employ to break through:
Ensure that you have the skills boards are looking for. "Every board search begins with: I want a lawyer who has overseen a tech P&L who can drive my strategy in China," said Alexander Saint-Amand, CEO of GLG.
Position yourself appropriately. Lead with the governance skills are looking for, not necessarily your technical expertise. Remember – boards are most often looking for audit committee members.
Ask CEOs to lunch, and be helpful. Don't talk about board service – "It's important to be sensitive, because ultimately you're trying to convince them that you should be their boss," noted Wetmore.
Target fast-growing businesses – a good metric is companies that have been invested in by leading VC firms.
Beat the drum about the importance of LGBT+ leaders on corporate boards, and help build the pipeline. "It is a team sport," said Sally Susman, Executive Vice President of Corporate Affairs, Pfizer, and board member, WPP. "And systems that allow us to be alert to opportunities are very important."
Calling all HuffPost superfans!
Sign up for membership to become a founding member and help shape HuffPost's next chapter
This post was published on the now-closed HuffPost Contributor platform. Contributors control their own work and posted freely to our site. If you need to flag this entry as abusive,
send us an email
.