Across the country as the clock strikes 5:29 a.m. and p.m. each day, if you're listening to the radio, you may hear a Public Service Announcement that begins by posing a timely and important question: "It's 5:29, are you saving for college?" In an informative and encouraging manner, the PSA, playing on hundreds of stations across the country, seeks to educate listeners about what 529 college savings plans are and how these plans can play a valuable role in helping families prepare for higher education expenses.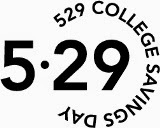 With another creative "529" connection upon us, (Friday, May 29 - National 529 College Savings Day), awareness is also being raised in countless additional ways across the U.S. The College Savings Plans Network (CSPN), the nation's leading objective source about Section 529 College Savings Plans and Prepaid Tuition Plans, encourages states to utilize 5/29 and the week leading up to it as an appropriate time to conduct focused 529 plan outreach.
To help conveniently communicate in one place what has been planned by states and the District of Columbia, CSPN has developed an interactive U.S. map detailing the wide range of special events and activities in connection with 5/29.
Across the nation, events will be taking place with the goal of raising awareness about the many benefits of 529 plans and the importance of planning ahead for higher education expenses. One of the primary messages will be that any amount saved in advance can reduce amounts that may need to be borrowed for college, trade or technical school down the road. Also, by demonstrating just how easy it is to get started and how little is actually needed as an initial investment, it is hoped that many will take the important first step of establishing an account...this week.
At this wonderful time of year with kindergarten through college graduations occurring all around us, take some time to consider how you can best assist the future students in your life with obtaining higher education in the years to come.
Whether it's 5:29 or 5/29 when you are next posed with the "Are you saving for college?" question, think how good it may feel to proudly answer with a resounding "yes"! And, when you look back on "5/29 Day" in years to come, you may recall with appreciation the particular event, form of outreach, friend or trusted advisor that helped get you started.
This blog post is part of the 'College 101' blog series, curated by the editors of HuffPost Financial Education to provide parents with the best advice for financing their children's college educations. To see all the other posts in the series, click here.
PHOTO GALLERY
States With Highest Average Student Debt - TICAS - Class Of 2012
REAL LIFE. REAL NEWS. REAL VOICES.
Help us tell more of the stories that matter from voices that too often remain unheard.