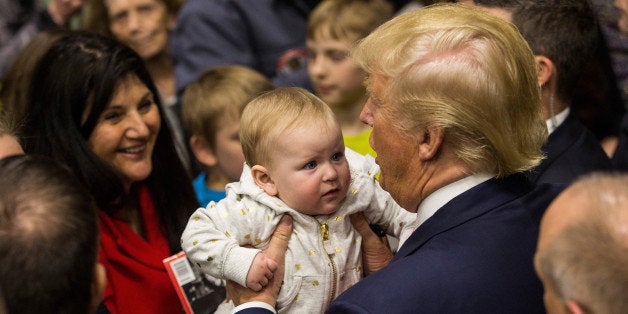 "It's a big subject, darling." Those are the condescending words Donald Trump used at a campaign event several months ago as he dismissed a child care policy question. This week, Trump came out with a "child care plan" that gives breaks to the wealthy (surprise, surprise!) while leaving out the rest of our nation.
Families across the country are struggling to find accessible, affordable, high-quality child care. It's a national emergency. Parents need safe, enriching places for their children to be so they can work; children need safe, enriching early education so they can thrive; and child care workers need fair wages and professional development opportunities so the child care system works for everyone.
But Donald Trump's child care proposal doesn't improve access, doesn't improve quality of early education, doesn't support child care workers, and mainly improves affordability for the wealthy who need that lift the least.
The fact that our child care policy lags behind our modern labor force is hurting children, families, businesses, and our economy alike.
To be clear: America is in crisis. Right now, millions of families don't have any viable child care solutions at all -- and this has rippling negative impacts in our families and businesses. According to a new report by Care.com, 74% of parents believe their "jobs have been impacted because their child care plans have fallen through." The current system is failing on many levels.
It's not just low-income families that are struggling with the high cost of child care: Middle income families, who don't qualify for child care subsidies but still make too little to make ends meet between household bills and the soaring cost of child care, are often pushed into poverty or have to make sacrifices between work and caring for their children. This too often ends up putting families in a downward economic spiral from which it's very hard to recover. It should be noted that a quarter of young families are living in poverty.

But the child care system is broken in more ways than just the high costs. While cost remains a barrier for families across the U.S., a lack of access to high-quality early learning programs like child care and preschool also remains a persistent problem for families. Many families get on waiting lists for high-quality preschool and child care before a child is even born.
Fewer than 3 in 10 working families have access to high-quality preschool opportunities. For African American and Latino families, lack of access to high-quality early childhood care and education is another example of the pernicious barriers that structural racism forces into our community. Research has shown that African American children have made substantial and continuing academic gains with access to high-quality early childhood care and education, yet according to a 2013 study, there are still alarming disparities between the quality of care for African American children and other children.
Yusdivia, a mother from Aurora, Illinois explained:
I am the mother of two girls ages four and one, and I am one of many mothers who were denied child care assistance by several agencies. My first little girl was looked after by my family and friends for a year, until they said they could no longer care for her. I went to seek child care assistance at centers and places like Head Start, and their response was always that my "income was very high to receive help." I also had to choose a day care center that had flexible hours for me, my work hours were from 6am to 3pm and all centers or most opened at 6am so we struggled a lot to find a childcare agency but above all we struggled with the cost! My work income went completely and directly to the child care center with nothing to spare, so my husband had to look for two full-time jobs, to buy food and other things for the house. He only slept 4hrs per night to get by with our expenses. When the second baby was on the way we decided it was more economical for me to stay at home to take care of the two and my husband would continue with the two full-time jobs. It's been a year since I've been at home with the girls but the thought that I need return to work to pay for my daughter's' child care again only to have nothing left over for expenses saddens me very much, it saddens me to not be able to better myself and provide for my family.
Yusdivia isn't alone. Families across the country are facing similar crisis. Suffice to say that we have a serious problem in America that impacts our workforce, our economy, and our families.
And that brings us back to this week: Instead of addressing the child care crisis with meaningful policy solutions that would lift our nation's families, businesses, and our economy, Donald Trump proposed a regressive plan of tax deductions that would mainly benefit wealthy families while leaving working families in the dust.
Trump's proposal would not only force families to pay-out up front child care costs beyond their budgets, it also appears that the type of tax deduction Trump proposed wouldn't even be available for most low- and moderate income families -- either because they are part of the majority of people who don't itemize their taxes when they file them (which is a necessity for this type of tax deduction), or because they don't meet the overall tax threshold.
This means that tens of millions of working families -- the families for whom investments in child care bring the most critical returns to our economy -- would be left out. However, expert analysis has found that Trump's plan would save a family of millionaires, those in the top tax bracket, 33% of their child care costs.
By way of comparison, Hillary Clinton's plan, released several months ago, has a specific focus on opening doors for middle- and low-income children to thrive by capping child care expenses for families by a percentage of their income through tax credits and subsidized child care; as well as boosting pay for child care workers and other improvements in quality of care.
Solutions are possible, but it isn't what Trump proposed. The child care crisis needs comprehensive national policy advancements on multiple fronts including around increased access, affordability, and quality that includes fair treatment, pay, and professional development opportunities for child care workers.
It's worth our time, attention, and investment to get to these solutions. One thing is clear: The return on investment is sky high for early learning opportunities like child care and preschool. Studies show that excellent child care policy -- which involves improving the quality of early education and care, affordability, and access -- brings an 8:1 return on investment because of fewer later grade repetitions, less future involvement in the criminal justices system, and lower later need for government support. Trump's regressive child care proposal doesn't meet the standard to bring the return on investment we all need for our children, families, businesses, and economy to thrive.
With most families struggling to make ends meet, we need solutions that makes high-quality child care affordable and accessible for all American families, not misguided and regressive plans that are great for the wealthy, but leave the majority of parents in America behind.
Donald Trump's regressive new proposed child care plan falls far short of a solution. In fact, it falls so short that it's a condescending dismissal of a real economic crisis in our nation.
Calling all HuffPost superfans!
Sign up for membership to become a founding member and help shape HuffPost's next chapter