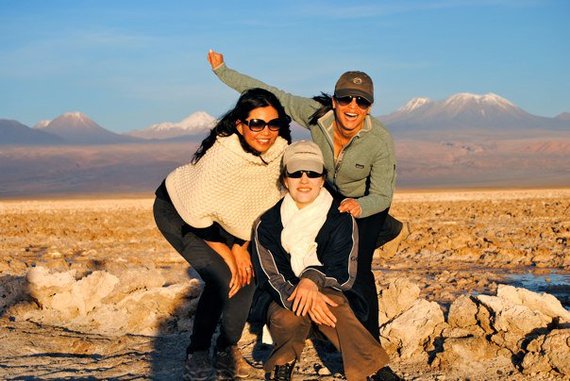 Who you travel with, is as important as the destination you travel to. When I first married, technically with one class left to complete my university degree and when it should be illegal for children to wed that young, I couldn't imagine traveling without my husband. There is no one I would rather drive with like Mario Andretti through the winding roads of Italy, sip rosé with in St. Tropez on the beach at the 55, or take in the most stunning sunsets in the world in Montenegro, when the mountains, like the name of the country, turn black and the sky erupts into vibrant colored pinks and purples like nowhere I've experienced. But as two kids from the Midwest began to grow up, we allowed ourselves an annual girls trip for me, and guys ski trip for my husband.
At first, my girls trips in my early twenties started out with my college crew of friends, where there would be debauchery at the hottest clubs in Miami, and eventually graduated to international trips to Buenos Aires, where we'd tear through the mini bar and eventually break into the pool at our Four Seasons for a 4am swim. None of my girlfriends were married at the time, but for me as a young wife, it was my way to prioritize female friendships. In retrospect, I was lucky to have a husband who never limited me on travels with my girlfriends.
Eventually, inspired by my wanderlust, I started Galavante, a luxury travel company for the Working Jet Set, with an online magazine, an exclusive community of luxury travelers to share recommendations, events in NYC, insider perks and a full-service travel concierge. Today, I've been to over 65 countries, and I spend about 100 days annually on the road. It became impossible for my husband to travel with me everywhere, and I find myself nowadays traveling more with our photographer Brook or my girlfriends. And some of these experiences would never have been the same, unless it was a girls trip.
In Nicaragua, my friends Franziska and Keiko were with me for Cinqo de Mayo during the Super Moon, which we celebrated by dancing on a platform over the Pacific Ocean on repeat to Rihanna's "We Found Love." I also found that traveling to physically challenging places was better with my girlfriends. My husband is naturally athletic, and me -- well not so much. With my fear of heights and very sad ski abilities, I would try to use him as a crutch, which hampered our enjoyment. Our compromise was to split up during these active trips, which defeated the purpose of a vacation together.
Instead, what I found was when I traveled with my girlfriends, I was a braver, more adventurous person. There's something unique about the support among close female friends, and also the need to rise to the occasion during scary situations. I began to manage my fear of heights during a trip to Easter Island and the Atacama Desert, when my girlfriends and I stayed with Explora in their luxury ecolodges. I credit Explora for adding a whole new type of adventure vacation to my repertoire of travel. Before this, I was admittedly a luxury accommodation traveler, enjoying the hotels more than the environs. But Explora took me to some of the most remote, beautiful places in the world, which were complete game changers for how I looked at travel and life. I was able to open myself to these experiences because my girlfriends talked me through the hikes along the sheer cliffs, which plunged into the ocean. They took my hand when the passage was too narrow to steady my shaking legs, and they let me know they were there to catch me if I ever fell. They didn't know it, but it was the first time in my life anyone was a safety net for me.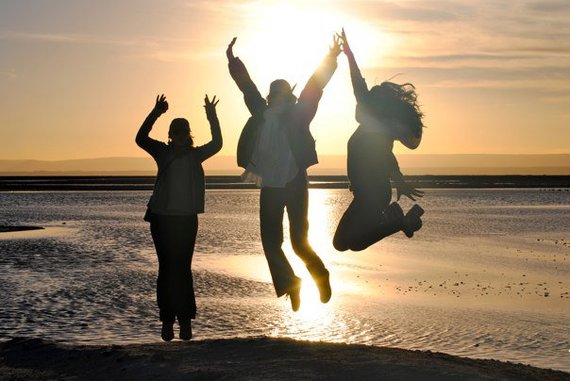 Sometimes, a girls trip has nothing to do with whether or not your significant other has time off work or a void of athletic ability. There was a time in my personal life that I experienced tragedy, which I could not share with anyone. Not that I didn't have friends or a husband to confide in, but my introverted, painfully shy and private nature makes it difficult for me to share with those even closest to me. I had limited my travel for a number of reasons, but with two of my dearest friends, known as the "triplets" from our business school days, we embarked on an adventure to Russia.
Among us, we have traveled to over 14 countries combined over the past 5 years. We operate like clockwork. On the first night in St. Petersburg before exploring the town, we were relaxing in our bathrobes, drinking wine and catching up. I have no idea what we were talking about at the time. Perhaps it was our experience in the Russian bath, where I was stripped down forcibly by the burly female masseuse, and locked for what felt like hours in the steam room. Maybe it was picking up the phone, and hearing our triplet's significant other, cooing his pet name for her. Whatever it was, I had this completely unfamiliar feeling in my body, and a sound I couldn't recognize. I found I was laughing uncontrollably, and I don't think I stopped laughing with the triplets for those next five days. I never shared the personal events with them, but they brought laughter with friends back into my life. And that's why for me, I'll always be grateful for the girls trip.