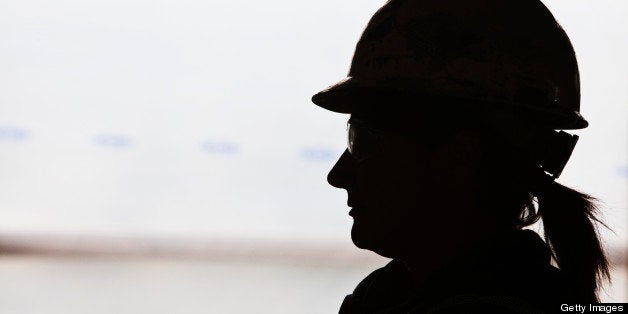 Hard Hats. Strong Women. Building the Future.
Follow our blog to hear the stories of women working in construction in New York City at every level as we ask 20 questions to women working in construction.

Belinda "boomboom" Barreiro, Carpenter, NYC District Council of Carpenters, Local 157
What is your trade?
Carpentry
What was your first job in your trade?
It was with a furniture company called TOPS, I worked 12 hours on a Saturday and walked home barefoot, my feet were toast. I wore Timberlands... no bueno.
What is your current job?
I am a second-year carpenter's apprentice for Jacobson & co, current job site 101 6th ave.
What job do you want in the future?
I want to master my craft first, and then the options are endless.
Are you in a union? What is the best part of being in a union?
Yes Local 157. For the most part, it's a great feeling knowing I am a part of history, and that I am paving the road for future females to build and conquer....
Why did you choose this trade? What led you to this trade? When did you realize you wanted to work in this trade?
I've always wanted to get into the trades, but, never found a way to go about it. I was led to the trade due to being laid off as a mortgage broker. I chose this trade because there are many avenues for a carpenter; unlike other trades that specialize, we can do a variety of work indoors as well as outdoors.
Is there someone in particular in your life that led you to this career?
Not really, just me... I always knew I could do this job if only given the opportunity.
Who inspires you?
All the nay-sayers, that'd rather I stay home.
What has been the most surprising part of being a woman working in a nontraditional career?
The support I get from a lot of the men, even the men in other trades. I get a lot of encouragement and praise for being a female in my field.
What is your favorite part of your career?
Learning how to build something out of a blank canvas using small tools and my brain.
What is your most memorable moment working in your trade?
My accident. Although it was painful, it was not career-ending. I realized no matter how alert you are on a job site, it does not mean that others are.
What is the best company you have worked for?
That would be my current company, Jacobson & co, I have learned a lot and they have vested their time and energy in my career.
What is your favorite project you have worked on?
When I framed and rocked a wall alone, I did need assistance with smaller matters, but I was able to complete the job. Everytime I walk by the finished room, I say to myself... that was all me!!!
What is the biggest challenge of being a woman working in your trade?
As a female, I need to be at 100% at all time. I have to prove myself twice as hard as any male, even a male of a lesser or equal skill set.
What is the biggest change you have seen in the field since you started?
I have not been in long enough but, I would say the strict safety rules enforced on worksites.
What is your favorite tool?
My mind.
What is your favorite hard hat sticker?
My NEW sticker.
What is your most valuable certification? What was the most challenging?
At this time it would have to be my Flagger Cert, I've been asked to work a whole lot of weekends and overtime since I got it.
What would surprise us about you?
My age...
Calling all HuffPost superfans!
Sign up for membership to become a founding member and help shape HuffPost's next chapter