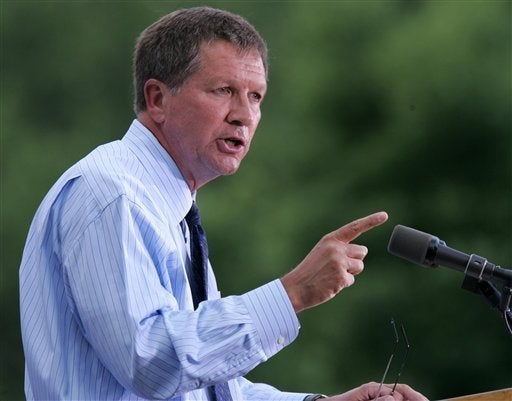 Lee Fisher and Jennifer Brunner are the two democratic U.S. senatorial candidates on the ticket for the upcoming May primary in Ohio. The winner will face off against Republican Rob Portman. If Brunner wins, she will be the first woman from Ohio ever elected to the U.S. Senate. However, if money is the sole indicator of the winner, it will be Fisher/Portman in the general, and Portman will win the seat.
Money does matter, but Americans love an underdog and Ohio Secretary of State Jennifer Brunner is running a Seabiscuit race. She is running on a shoestring budget with little support from Democratic leadership and yet continuously finishes strong in the polls.
Her opponent, Ohio Lieutenant Governor Lee Fisher, is a talented orator with a long record of political experience and the ability to bring people to the table and get things done. He is the consummate statesman: a true thoroughbred, elegant and polished, with the air of a political leader. Fisher was promised the endorsement of the governor, and has used that golden pat on the back to great advantage. He is running an insiders campaign, gathering money from high profile donors who predictably play the odds. (In politics, everybody likes to back a winner, and more than a few politicos are going public for Fisher because he is the safe bet...which if he wins is...*BONUS*...good for their own interests too.) For some voters though, this kind of politics is a huge turn off.
Fisher has done extremely well in comparison to Brunner in fundraising, because according to Brunner, the Governors nod has effectively scared off many of her donors. Brunner alluded to this on the campaign trail several times without citing specifics. Of course, even if such allegations are true, citing those specifics is almost impossible. The game is too subtle for that.
It may be just a coincidence that The Ohio Democratic Women's Caucus changed their mission statement at the start of this primary. When they reworded their charter document from "working to elect democratic women", to "working to elect candidates who support women's issues", it may not have had anything to do with this primary. The women involved in the caucus may have decided to broaden their mission without any pressure what so ever from the leadership of the ODP. They may have independently decided the purpose of a women's caucus involves more than simply supporting women candidates, and remaining neutral in primaries is the best way to serve Ohio women's interests. It may also be a mere coincidence that Lee Fisher's wife was tapped to serve as thee emcee for the Fist lady's luncheon at The Momentum International Women's Day Conference, or that many of the high profile advocates known for stumping to women's groups have remained unusually silent about this race. It might be, these little tid-bits are all just happenstance and chance...or it might be an insider's game of hard ball pressure politics. The voters will never know for sure.
The leaders of various women's groups are split in their support. Some say Jennifer Brunner did women a great disservice by insisting on running for this seat at this particular time. They see the angst it is causing within the party and suggest the wiser part of valor, would have been for her to run again as Secretary of State, ensuring a democratic win at a critical time when new districts are being drawn. They suggest her ambition has overshadowed the goal of service, and is hurtful to the cause. Other women are tired of constantly being told to "wait their turn"; a turn that often never comes. They feel if women want representation in government, then by golly, they need to get out there and fight for it head on. They are tired of back room cigar politics and want real change now.
Jennifer Brunner is building a coalition of these scrappy minded mavericks- the people willing to cheer on the underdog. She is a Seabiscuit candidate; the long shot bet of dreamers all the pros scoff at. She is the down ticket racehorse who continues to win the hearts of voters, as she crosses the finish line of every poll neck in neck with the favorites in spite of all the odds.
If Lee Fisher wins the primary his race against Portman will be an old fashioned money battle. Portman will launch ads pointing the finger at Fisher on the jobs issue, (a debate that Fisher would be wont to win under current economic conditions no matter how much good work he has done.) With the unemployment rate as it is, Fisher will enter the general election on the defensive. Brunner on the other hand, has the ability to face Portman on a different playing field, one that highlights her achievements. As Secretary of State Jennifer Brunner earned the John F. Kennedy Profile in Courage Award, the highest honor an elected official can receive, for protecting fair and open elections. This sparks high contrast with the nationally reported problems regarding Ohio elections under the last Republican Secretary of State, Kenneth Blackwell. Portman will have more difficultly with Brunner as an opponent because the debates will refer to memories most Republicans would rather forget. Fisher on the other hand represents classic party in power politics at a time when the Republicans have the edge of voter unrest and discontent. He has the muscle and the money to be a strong contender, but the question is; will he have the votes?
Post Script: In response to this article the new director of The Ohio Democratic Womens Caucus who came on after this event occured, has asked that I include her statement:
"Your statements regarding the Ohio Democratic Women's Caucus (ODWC) are false and misleading. While you are certainly free to express your opinion and interpretation; it is important to accurately reflect on the leadership and mission of the ODWC. Please take note of our current mission statement:
The mission of the Ohio Democratic Women's Caucus is to educate, empower, and energize Democratic women; increase women's leadership in Democratic politics; and to impact elections at the local, state, and national level."
Ohio Democratic Women's Caucus
While I give Erin all due credit for defending a fine group of activist women, my view still stands. If the group says they are working to increase the number of women leaders, then they need to do just that.
Calling all HuffPost superfans!
Sign up for membership to become a founding member and help shape HuffPost's next chapter