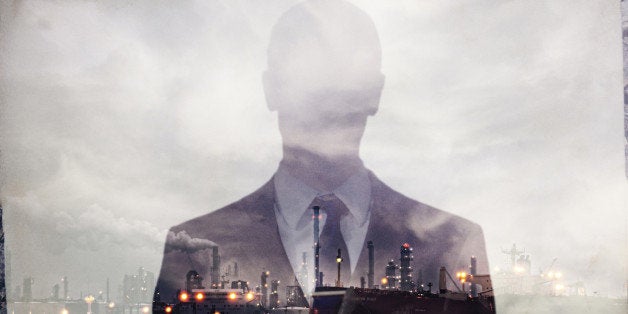 Leonardo DiCaprio's new documentary, Before The Flood, debuted October 30th on National Geographic. DiCaprio and Director Fisher Stevens should be applauded for completing this excellent and much-needed film. However, there is an elephant in the room regarding the relative absence of women in this and most other media efforts to address climate change. Before the Flood features three women (out of DiCaprio's 28 interviews) whose voices comprise a total of seven minutes of the film. While unintentional in its lack of female representation, Before the Flood illustrates the wider problem of a disturbing gender imbalance at the highest levels of the climate crisis.
This week, Glamour magazine exclaimed "climate change is sexist." The headline may be emotive, but evidence shows women are disproportionately affected by the negative impacts of climate change because they are over-represented among the poor and more vulnerable to natural disasters than men. Women also contribute significantly to feeding the world, producing over half the food grown globally, and are more responsible for tasks that become difficult in a warming world, such as water and fuel collection.
When it comes to solving climate change, women are key to implementing solutions, making the decisions in 94% of household purchases. This is relevant to climate-related decisions such as buying seasonal, local food or reducing meat and dairy intake. Women guide decisions on whether to spend money on household energy retrofit, solar panels, or other home improvement projects. Women are often the "taxi drivers" of their families, deciding what type of car to purchase, where the family goes on holidays and how to get there. Ultimately, women have the final decision on whether or not to bring children into this world -- a decision that movies like Before The Flood starkly confront us with as they unveil the horrors of a changing climate.
It is indisputable that women, as both climate victims and decision makers in the home, are essential to solving the climate crisis. Yet, their voices are mostly absent from global climate decisions. This was most apparent to me at the United Nations' Paris Climate Summit in 2015, where I witnessed a sea of men speaking on and deciding the fate of our climate among a handful of women. A 2013 report prepared by UN Women, the Mary Robinson Climate Justice Foundation, the Global Gender and Climate Alliance and the UNFCCC confirmed that women constituted less than 20% of delegation heads and less that 30% of delegation members at UN climate conferences, arguing women are marginalized in international climate negotiations.
It should not matter that the climate crisis is represented primarily by men, but unfortunately it does. We live in a post-factual society where acceptance of science and evidence has as much to do with the relatability of the presenter than the facts in which they present. If the female half the world's population struggle to relate to the world's mostly male climate communicators, we risk losing the battle before its begun. When women see predominately male voices discussing climate change, it becomes a man's problem. When girls see movies with only male climate scientists, it perpetuates the lack of women in the science and engineering fields that are so essential to climate action.
The battleground for climate action resides on our television screens and radios. We won't act on climate without the media's encouragement. They have the ultimate and awesome responsibility to generate the public support needed to make the transition from our industrial past to a fossil fuel free future. Studies show women make up less than 15% of media interviews on climate change, but the enormous transition we need to undertake will not happen if half the world's population feels they are not an integral part of the decisions.
Finding women to speak publicly on climate is not easy. They remain relatively silent for a variety of reasons. Some experts cite a lack of confidence or a fear of harassment as reasons women are less likely to speak publicly on certain topics. Childcare responsibilities, which generally fall on women, present another obstacle to usually last minute requests for media appearances. There is also a tendency for media to call on spokespeople they know will deliver (typically male) rather than take a risk on a new unknown person in the field. Then there is the legacy issue that any climate programming must include the top climate actors (mostly men) if it wants to be taken seriously on the global stage, thus leaving less available airtime to more junior female counterparts. However, there are plenty of fascinating female climate communicators the media could call upon if they wanted to represent the voices of the other 50%. -Road to Paris highlighted the top 20 women making waves in climate last year; Loreal and UNESCO award five women their prestigious Women in Science award every year; even Wikipedia has compiled a list of over 50 notable female climate scientists with details on their expertise --just to name a few sources out of hundreds available. Climate change does not have to be a man's world if we simply make the effort to look for the ladies.
Without a concerted effort to include more women in media portrayals of climate change, we fail to apply the lesson that inclusivity is an essential ingredient to winning the fight on climate action. With inspiration from legendary singer James Brown, it may be "a man's world" when it comes to climate change, but climate action will be nothing without the voices of women and girls.
Dr. Cara Augustenborg is an Irish-American environmental scientist; climate lecturer at University College Dublin; and Chairperson of Friends of the Earth Ireland. She blogs the award winning 'Verdant Yank' and was recently named 'one of the 20 most influential people shaping Ireland's response to climate change'. More at CaraAugustenborg.com.

Related
Popular in the Community