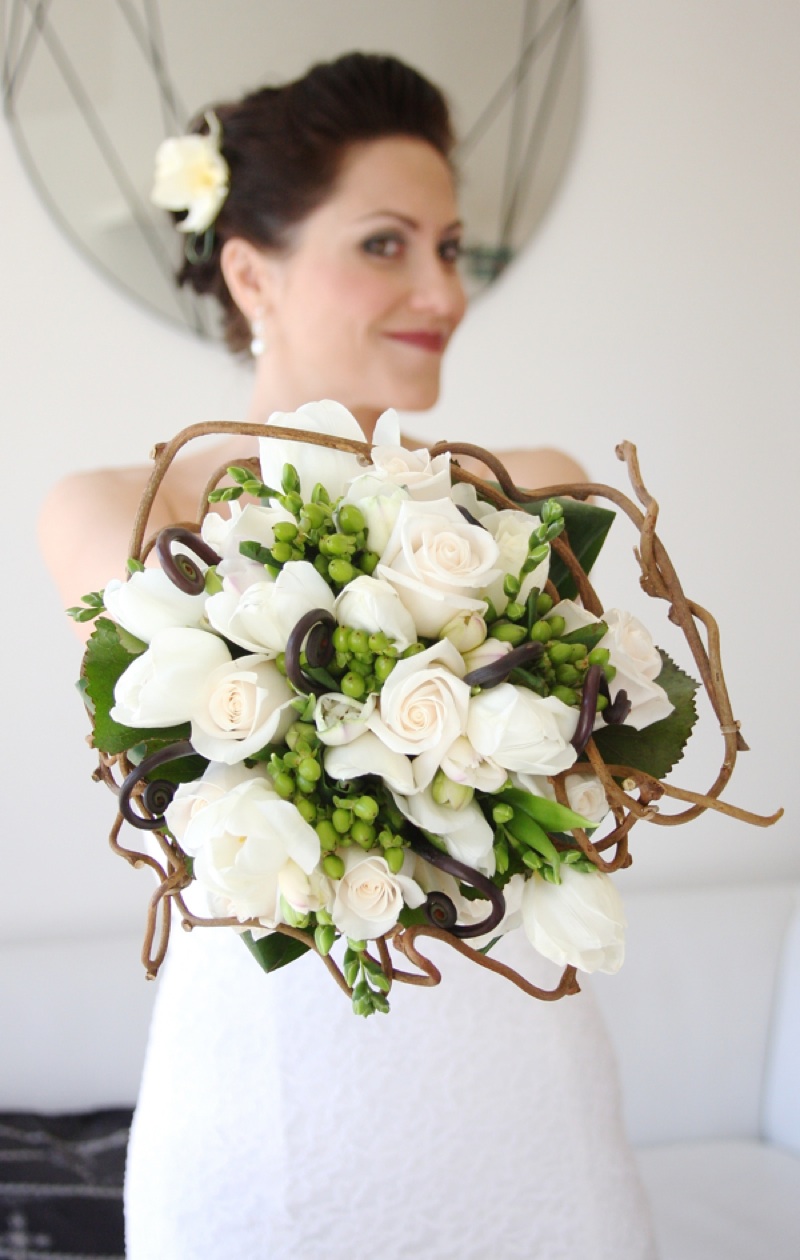 Being a former wedding planner that just planned my own, the challenge was stretching our limited budget to host the most eco-friendly and affordable weddings I had ever planned, without missing any of the elements of a larger event. So with wedding season approaching, I figured I would share some insider tips in the case that you or someone you know is headed down the aisle, is frantic about finances and/or their carbon footprint!
Plan Ahead & Be Flexible - Depending on the size and style of your wedding, I typically advise on a year to 18 months to plan. More often then not, the perfect date and venue is pricey or won't be available at the same time. Consider off season dates or weekdays as venues charge less. Also, think outside of the box as traditional venues charge for convenience and have many rules. Think of having your ceremony at a park or beach and ask a friend to use their house for the reception. String up some market lights in the backyard, making it look simple and elegant for the cost of dinner & a movie, if not less.
Pool Your Resources & Get Creative - You might find out that you've got a handful of amateur vendors within your circle of family and friends. Then fill in the blanks with vendors you don't have covered. Make your own play list, add it to your ipod, hook it to a rented a speaker system and add a microphone for toasts. Make your dress or tweak one you find at a second hand store (my 100% green Annatarian dress was made from fabric she already had in her eco-studio). Just get creative and don't be afraid to ask.
Make a list of what you can and can't live without - You may find that there is quite a bit you can shave off. Having a friend officiate may not cut it so make sure a church wedding makes it on the must have list. But if you can skip programs, do it. Just because a wedding check list says you need x,y and/or z, doesn't mean you need the entire alphabet, customize your day so you can save in some areas and splurge on more important ones!
Reuse, re-purpose, recycle & re-imagine - If you're crafty, have friends over for wine and craft night. Instead of buying an expensive card box I would never use again, I cut a slit at the top of a box, and wrapped it with wrapping paper that matched my wedding colors. Instead of a traditional sign in book, I used an old photo album, decorated the pages with wedding stickers, and used recycled paper for guests to write messages on and stick to the pages. Lastly, I created a recipe and printed it on construction paper for our guests to take home as their gift. All of this cost us about $15 total, if not less, and it took 1 evening.
Have a potluck meal or a cocktails & cake reception - If you're spending a third to half of your budget on catering, it's time to re-think it. Many people enjoy potlucks because guests have been able to contribute to your celebration. Because we opted for cocktails and cake instead of a meal, we had more time to spend with our guests, dance and enjoy all the reception events without rushing, saving about $10,000 on food, rentals and deliveries.
Borrow - Many single use items are part of a wedding so why not borrow? Many brides rent or borrow their dress so they are able to wear the gown of their dreams without the hefty price tag. For a home wedding, borrow furniture from friends and neighbors instead of renting. Create lounge, standing and table areas with mismatched furniture. Tie it all together with items such as candles, centerpieces, fire pits, etc.
Make it a collaborative effort - You will learn that what is meant to be YOUR day is really everyone's day, especially family. So instead of resisting because you want things just so, take them up on offers to help! If delegated well, you will have a stress free, beautiful day that everyone involved will enjoy. What if Aunt Tilly did the flowers and Uncle Joe made lasagna? Bringing friends and family into planning the day not only makes it more personal and unique, but all the more memorable.
All in all, it's your day and you want it to be special. But remember that the most important thing is the marriage and the wedding day is a celebration of that. Don't miss the fun of getting to the altar worrying about details. Make the most of what you've got happily, cheaply and green!
Support HuffPost
The Stakes Have Never Been Higher
Related
Popular in the Community