Growing up in New York, I had a view of the world similar to the old Steinberg poster: after Broadway and Columbus and Central Park came 5th Avenue and then came California and then China and Australia in the distant horizon.

It's easy to be a myopic New Yorker and think that the world revolves around the issues that concern us: the travails of our embattled Mayor or the battle over taxing plastic bags or the farcical Republican presidential nominating process that New York's most famous tycoon won in a hostile takeover.

So to get far away from the City, as I did last week, is refreshing. It gives one a broader context and a realization that some problems are universal but there are also some very different perspectives on the global situation.

Last Thursday I took an overnight flight to Munich, Germany, a beautiful large city that is home to my 93-year-old uncle and a place where I spent a momentous 18 months of my childhood; I had not been back there since 1975 and, not surprisingly, much has changed.

I was struck by how much nicer the Munich airport is than our rundown Kennedy International airport; arriving to a clean, spanking new facility made me realize once again that our aging and crumbling infrastructure is a bigger problem than we are acknowledging. When we talk about losing our edge in the global economic race, our subpar transportation grid is one reason we are losing.

The Lufthansa airplane that I took to Munich provided the most efficient aviation experience I've ever had. The interior was vast and even the coach seats were comfortable. Bathrooms were located in a lower level of the plane and there was plenty of room to move around. With the winds at our back, the entire overnight flight was a mere seven hours and with an impressive menu of newly released films in my private screen, the time flew by -- literally.

Once in Munich, I was immediately struck by how many people were commuting by bicycle; Munich is truly a biker's paradise - the lanes for cycling are as wide as many driving lanes in Manhattan and in some places I visited the riders outnumbered the drivers. Other than Amsterdam, Munich is the city we should emulate for its bike friendly grid and rules of the road.

The people of Munich are incredibly helpful and friendly. In the few days I was there, the street traffic seemed orderly, the locals and tourists mixed gracefully and the city exuded a sense of calm. Maybe it was the perfect 75 degree sunny weather with a refreshing breeze, but I suspect that the dog-eat-dog nature of New York is in short supply in Germany's large cities.

My cousin was my gracious and entertaining tour guide who brought me on a whirlwind tour of the new hotspots in Munich as well as my old haunts from the mid-1970s. The outdoor dining was delectable and the omnipresent conditoreis (dessert stores) dotting the streets gave the city a festive feel.

The biggest surprise for me was how much had changed around the American military base on the outskirts of town; in the 1970s, tens of thousands of American military personnel were stationed all around Germany and now there are but a few left. In Munich, I attended the American military school in a place called Perlacher Forest. Today, there are no longer any Americans there and instead my old school has been converted to a German kindergarten and the housing for military personnel is now affordable units for the German middle class.

This made me wonder: why wouldn't it be a good idea for America to maintain a strong military presence in a region that is strategically located near to the Middle East, the heart of Europe and just a few hours from the resurgent Russia? I know the Cold War is over, but isn't soft American power still necessary to monitor and keep the peace for our allies?

A big topic of discussion in Germany is the flooding in of Syrian and African refugees and the controversial open door policy of German Prime minister Angela Merkel. The million refugees that are being acclimated are an expensive government project and it seems like German citizens are concerned whether the economy and tax base can afford to absorb this huge influx of needy citizens.

It is quite an ironic situation that the country responsible for much of the destruction and misery in the 20th century, has become a paragon of immigration enlightenment in the early 21st century. While Germany has become the national embodiment of our Statue of Liberty's hopeful message, America has not only taken in fewer than 2,500 Syrian refugees (many times fewer than Germany), but one of our presidential candidates is talking about deporting more than 10 million immigrants and banning an entire religion from our shores.

I never thought I'd be living in a world where America could take lessons in compassion and humanity from our Teutonic allies. As I discussed the horrors of the Holocaust with my 93-year-old uncle, a survivor of Hitler's death camps, I was overcome by the enormous burden our generation bears for trying to repair the world and ensuring that this century's history is one of hope and healing rather than world war and genocide.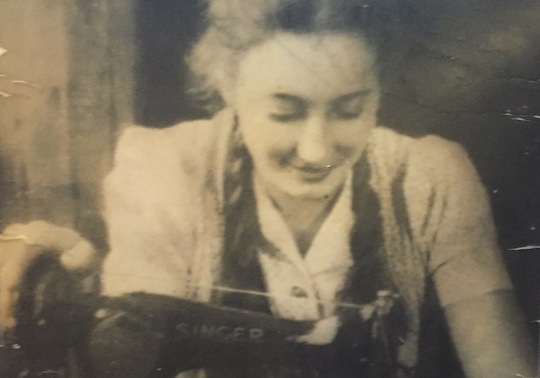 Photo: My father's sister, Mitzi, 16, pictured just before she was killed by the Nazis.

It was almost exactly a century ago that our European ancestors began a bloody, epochal-changing world war that set in motion the tragic events of the next four or five decades. My family lost dozens of people in the Nazi genocide and the reverberations of those horrors still play out in subtle ways in my life and in lesser ways in the next generation.

It's good to get away from New York now and then to see how the rest of the world is doing and how they view our sometimes embarrassing culture. How other urban centers are tackling transportation, housing, jobs and inequality.

Munich may be a world away - but a quick hop over the Atlantic opened up a wide, wide world to me last week.

Tom Allon, the president of City & State, was the Liberal Party-backed candidate for Mayor in 2013. He can be reached at tallon@cityandstateny.com.
Calling all HuffPost superfans!
Sign up for membership to become a founding member and help shape HuffPost's next chapter