Whether you're snapping a pic with Santa or heading out to a family party, it's that time of year to get the kids gussied up without the fuss. From the latest trends to clothes they can still goof around in, here are clothes that will add some sparkle to their holiday!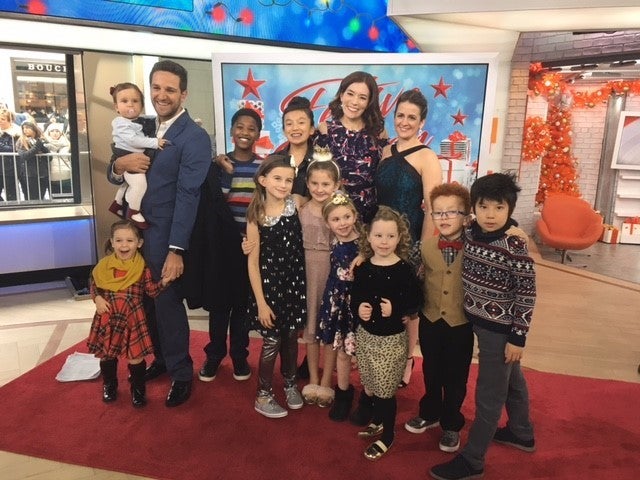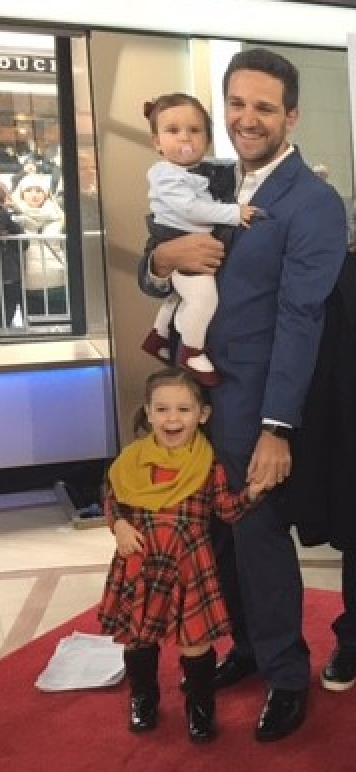 There's hardly a print that looks more wrapped up like a present than tartan. It ruled the designers' runways like it's charming our mini-mes, here in separates and a handmade twirly frock that instantly looks festive. The weight of the fabric provides added warmth for cold-weather play and paired with a knitted scarf, patent boots and tights, these girls might just skip their outwear when running out to play.
Daddy looks sleek and sophisticated in a modern blue suit that bears a stunning resemblance to Prince Harry's engagement ensemble. We've ditched the tie so he can chase after the little ones, but keep the fancy pocket square so he looks polished—yet perhaps can still dab wet noses.
Ruffle Bow Top, $32, janieandjack.com
Ruffle Plaid Skirt, $42, janieandjack.com
Classic Tights, $16, janieandjack.com
Sueded Lace Up Ballet Flat, $14.99, oldnavy.com
Rosette Barrett, $14.99, janieandjack.com
Valerie Twirly Dress, from $30, rennyanddot.com
Handmade Scarf, from $18, rennyanddot.com
Patent Boots, $17.48, childrensplace.com
Modern Subtle Texture Suit Jacket, $74.99, perryellis.com
Modern Subtle Texture Suit Pant, $31.80, perryellis.com
Gradient Dot Silk Pocket Square, $29.50, bananarepublic.gap.com
Everson Italian Leather Oxford, $158, bananarepublic.gap.com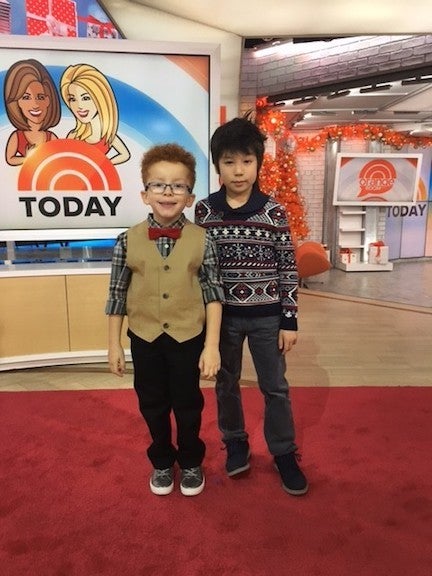 These fine young gentlemen represent two globally trending styles—first the Western camel-hued vest and American-made bowtie versus the Nordic sweater trend. Additionally, stretchy, slim-fit corduroy pants that are so super comfortable make for easy games of tag and the navy brogues a snappy finish.
Herringbone Vest, $14.99, Gymboree.com
Plaid Shirt, $12.99, Gymboree.com
Limited Edition Velvet Red Bow Tie, $28, StinkyMcGee.com
Herringbone Pants, $12.99, Gymboree.com
Pewter Crackle Foil Lenny Sneakers, $45, Toms.com
Shawl Collar Sweater, $17.99, hm.com
Grey Corduroy Pants, $9.99, hm.com
Navy Aviator Twill Brogues, $39.99, TOMS.com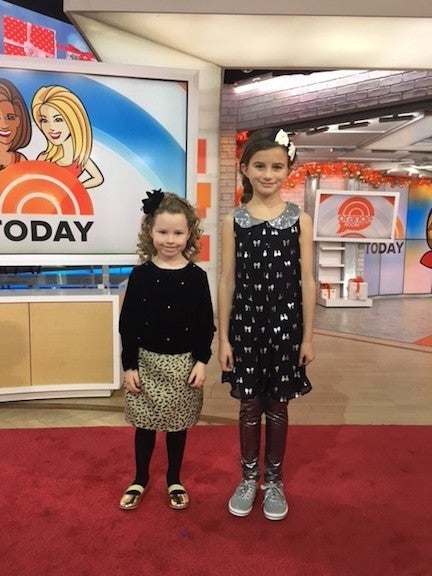 From embellished jewels to leopard, sequined collars to silvery bows (and even lamé pants!), these girls highlight the glitz and bling that makes holiday fashion as shiny as the Rockefeller Christmas tree.
Crinkle Flower Wide Headband, $3.47, childrensplace.com
Gold Ballet Flats, $14.99, hm.com
Scallop Bow Headband, $18, katespade.com
Silver Bow Dress with Sequin Collar, ~$15, kidbox.com
Silver Lamé Pants, ~$18, kidbox.com
Champion Glitter Silver Keds x Kate Spade New York $60, keds.com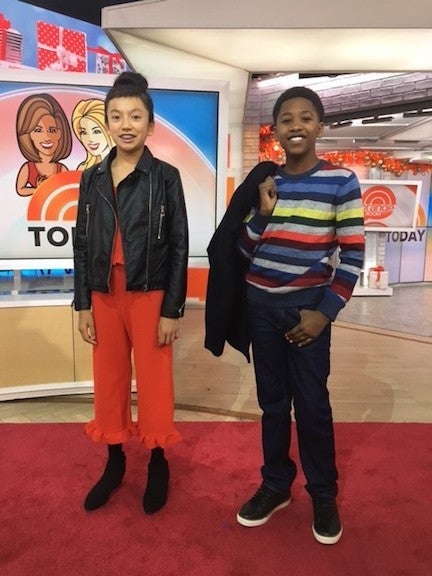 Hold the horse reins because tween fashion is getting mighty bright this season. Look for bold reds and every color of the rainbow to coalesce into a kaleidoscope of stripes to keep it playful and fresh. A trendy jumpsuit with a wide pant and a ruffled edge is offset with an edgy faux leather jacket. And then, see a touch of the 70's in a classic sweater that has longevity beyond its era. If you wear denim for the holidays, make it dark, wear it crisp and with clean lace-up sneakers!
Girls Frill Front & Bottom Jumpsuit, $10, boohoo.com
Girls Faux Fur Lined Biker Jacket, $34.50, boohoo.com
Black Ankle Boots, $39.94, oldnavy.com
Crazy Stripe Crewneck Sweater, $39.95, Gap.com
Melton Wool Pea Coat, $88, Gap.com
Stretch Straight Jeans, $34.95, Gap.com
Lace Toe Sneakers, 49.95, Gap.com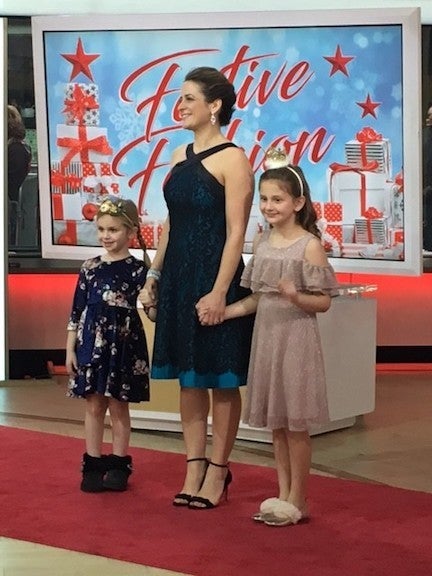 Dark florals dress up velvets to invigorate a holiday staple while cold-shoulder dressing and ruffles give a grown-up look to girl's fashions. Pompoms adorn everything from the top of her crown to the tippy toes of her shoes!
And mom looks glamorous in a black lace overlay dress atop a vivid holiday green with crisscross straps that show off her shoulders.
House of Monroe Handmade Headbands, $35 and up etsy.com/shop/houseofmonroe
Crushed Velvet Sophia Dress, $58, Goldybelle.com
Warm Lined Boots, $17.99, hm.com
Crown Headband, $5.99, H&M
Cold-Shoulder Sleeve Ruffle Metallic Woven Dress, $15.98, childrensplace.com
Metallic Ballerina Flat with Pom, $29.90, zara.com
Reese's Limited Edition Store Opening Dress, $325, draperjames.com
Ankle Strap Heels, $128, anntaylor.com
Calling all HuffPost superfans!
Sign up for membership to become a founding member and help shape HuffPost's next chapter
This post was published on the now-closed HuffPost Contributor platform. Contributors control their own work and posted freely to our site. If you need to flag this entry as abusive,
send us an email
.