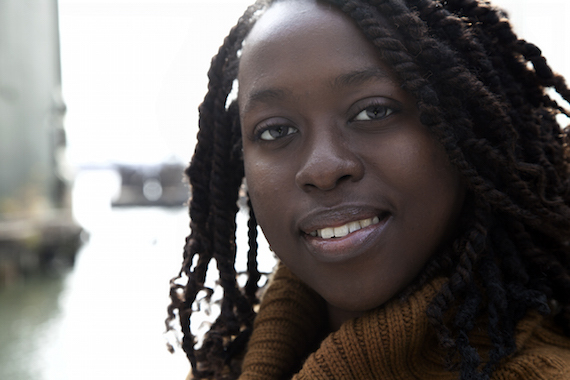 Yassi Tamdji, photo courtesy of Julie Hassett-Sutton/Frantic Studio via Global Kids
Before Global Kids, my life was more narrowly focused on my community in Queens, New York, but not so much on the world beyond. In my neighborhood, there were vices: school dropouts, teenage pregnancy, and violence. I wasn't very outspoken, but I was always involved when it came to academics. Education was my saving grace.
I went to the Academy of American Studies, a school largely concerned with American history, so I was happy when I found Global Kids in the 10th grade so I could learn about international affairs.
Every year Global Kids has an annual conference and there's a theme. At the conference on global health, I designed and ran a workshop on access to clean drinking water that I had developed with another Global Kids student. I tend to be timid and introverted, so being a facilitator and speaking publicly definitely pushed me out of my comfort zone, but we had workshops leading up to the conference to prepare us.
During high school, two Global Kids peers and I started our own non-profit called Spread the Peace. We came up with this whole curriculum and wanted to take it to different high schools. We presented it at a youth conference at the U.N. and won first prize. Global Kids gave us the knowledge to want to do something like that.
Being in Global Kids convinced me that I wanted to study international affairs. I ended up studying at Georgetown's School of Foreign Service. The essay on the application required us to write about an international issue that we were passionate about. At Global Kids, we had talked a lot about Darfur. I wrote an essay about Darfur, incorporating facts about the Universal Declaration of Human Rights, which I had also learned about at Global Kids.
At Georgetown I got to study abroad in Cape Town. Once I graduated, I returned to South Africa on a fellowship. I worked in Johannesburg with an organization that empowered high-achieving, low-income South African students to get into the best high schools. I reached out to Global Kids and tried to pull on my experiences to develop a program for the South African context.
Currently, I work at Community Resource Exchange, a non-profit management consulting firm that advises New York City-based non-profits. Global Kids motivated me to stay within the nonprofit sector.
Global Kids made it clear that you have to be passionate about what you're doing. Money is important, but ultimately, it's about making an impact and personal fulfillment. For me, that comes from other people being fulfilled and feeling empowered.
Popular in the Community