It has been two weeks since my last post on Playing House. It still has not been renewed. Last week, as part of TV Line's regular "Burning Questions" feature, the site asked: "Isn't it about time Playing House got renewed?" Yes, it is. Yet there has been no word.
Meanwhile, I've upheld my tradition of watching at least the first episode -- and usually the first two episodes -- of every scripted show. Let me tell you, none of the new comedies this summer are as good as Playing House. Despite Rory O'Malley's welcome presence, Partners is one of the worst sitcoms I've seen in years. Seriously. Absolutely charmless. FX's other comedies fare better. Married is fine. As it stars Judy Greer, I wanted it to be better than fine, but it's fine. (It may improve when, and if, it focuses more on Greer. Right now it feels very Nat Faxon heavy. On a semi-related note, I highly recommend Greer's book, I Don't Know What You Know Me From: Confessions of a Co-Star.) You're The Worst is actually the best of the summer crop. I'm not sure where it is going -- I can already feel it getting slightly tired -- but I've been entertained by it thus far. I very much wanted to support two-time Tony winner Andrea Martin (soon to return to Pippin) by watching Working the Engels. Sadly, she has to push too hard to carry the material, which is simply not funny. Welcome to Sweden has potential, but half of the humor is in subtitles. Is it wrong that I think that requires too much commitment? A show has to be really funny to be worth that much focus. This one is okay, but not worth the energy. I also tried out The CW's Backpackers and Seed and I think maybe one or two others. Playing House was superior to all of these.
Of course, like Playing House,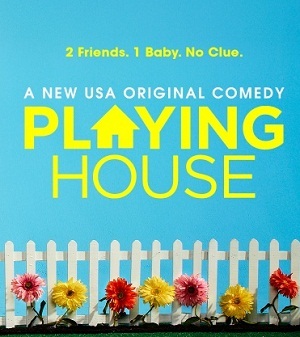 none of the above have been renewed yet. Thankfully last week it was announced that Black Box (which was not a comedy, but was hilarious for about five minutes) will not be returning, so there is hope that someone controlling decisions on at least one network has some sense. If another person with sense is at USA, Playing House will be renewed. The others can suffer whatever fate they will. I only bring them up because they are each not as successful as Playing House.
What makes Playing House more effective in my mind? The ability to find humor in honest relationships. Of the new summer comedies, the show that feels the most fundamentally honest is Married. But that just isn't that funny. (Welcome to Sweden is second in this respect.) Even with the over-the-top scenarios in Playing House, the fundamental relationships all seem very real. (In an odd juxtaposition, when you search "Playing House" on Google news, you get my last post first and then a story about "The Playing House Project," which involves mannequins and one real woman posing as a typical family.) I have always believed the thing that makes Modern Family so successful is that it is somehow relatable. We all think we have that family, or at least some aspect of it. Lennon Parham and Jessica St. Clair are best friends and it shows in the comedy. Many people have friends they would totally move in with if they were pregnant and needed someone. Many people have a goofy sibling (though possibly not one as sympathetic as Zach Woods). Many people have a boy they left behind (played brilliantly in this case by Keegan-Michael Key). As I stated in my last column, I think the audience for this show will only grow next season when the characters are experiencing motherhood. I know when Modern Family's Cam and Mitchell were experiencing certain things with Lily, I told my best friend, who has a young son, to watch. As for Playing House, I've basically made all my friends watch every episode already. But, for the one pregnant friend who isn't watching, I did make the birth episode required viewing. After all, that is so something my friends would do. Most of us do not lie (I personally could never go into sales for this reason), but we're not opposed to going along with something we know isn't true... to a point.
This will hopefully be my last Playing House post as I am confident by the time I return from vacation it will be renewed. USA Network, do it. TV Line and countless others are right -- it is about time.
Read my latest New York Times Story here. Tweet me your comments to this post and more @CaraJoyDavid or email me at carajoy@gmail.com.
REAL LIFE. REAL NEWS. REAL VOICES.
Help us tell more of the stories that matter from voices that too often remain unheard.