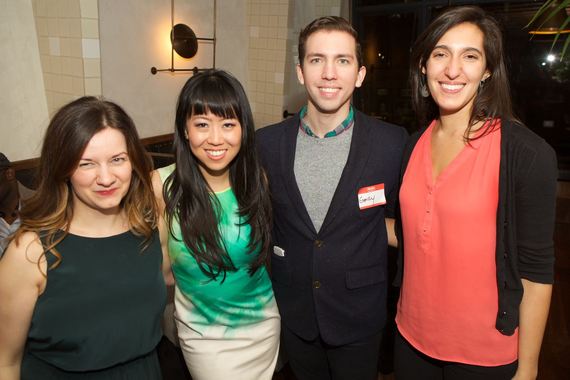 Doreen Winkler, Leiti Hsu, Gary Duff and Kiran Malhotra post for a photo at All'onda. Photo by Clay Williams.
I'd heard great things about All'onda, the Venetian-inspired restaurant on East 13th Street and seen the two-star review from Pete Wells in the NY Times last March. So when I dropped by All'onda for a friend's birthday party, I was expecting the place to be full, not packed to the brim.
I barely squeezed past chef Elizabeth Falkner who was near the bar, and spotted several of the evening's guest chefs both in and out of the kitchen as I made my way to the restaurant's second floor in search of Leiti Hsu from the Heritage Radio Network and who happened to be this evening's hostess.
"I have to get you some soup!" she told me, then a kiss on the cheek and a hug. She'd just returned from a trip to Italy. I was curious to hear about her recent exploits.
Moments later All'onda chef Chris Jaeckle appeared with another jug of "Hsu Soup," a spicy Taiwanese beef noodle soup. Jaeckle had made a sarde in saor and mozzarella en carrozza; an homage to Italian street food.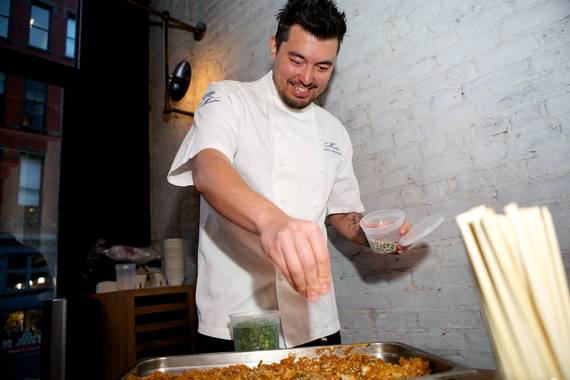 Downstairs Marta and Maialino chef Nick Anderer, greeted guests and served a plate of kimchi fried rice with house-cured pork belly, while chef Falkner prepped a salad tartar with quinoa, lentils, pickled red onion, root vegetables, egg, Turkish chilies, and yogurt.
"You'll love this," a friend said passing me a glass of red wine, which I sipped for the next hour. The dishes and drinks had been paired by Yana Volfson, the Beverage Director at Cosme.
Right before I left but after I said my goodbyes, I snuck back downstairs to quickly sample an Oddfellows Ice Cream Company ice cream cone courtesy of Sam Mason (after overhearing that they'd nearly run out of sweets), and snapped a photo with Heritage Radio Network's Executive Director Erin Fairbanks.