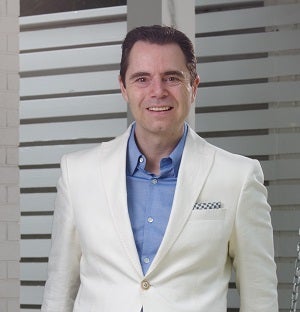 It's All About Being In The Room - Interview with first-time author, certified professional coach & Senior Social Editor of The Society Diaries, Rob Giardinelli
As an author, I attend numerous book signings and they are invariably full of anticipation and intrigue! Recently, I attended the book launch at Estilo for a promising first-time author, certified professional coach and Senior Social Editor of The Society Diaries magazine, Rob Giardinelli. Rob has just published his first book Being In The Room: Essential Life Lessons From Experiences With Celebrities And High Society.
Rob deftly chronicles the life lessons he's learned through his experiences in Texas social scene as he transitions from high-tech executive to expert social chronicler. Below are some questions along with his candid responses and insight into the his world of high-society.
What was the purpose for writing your excellent book?
When I first began attending galas and parties with my then-boyfriend (now-husband), Lance Avery Morgan, I had my own unfulfilling career in the hi-tech industry. This field could not be more different from the world of high-stakes events with celebrities. It was the ultimate fish out of water experience. All of us have had experiences where we've felt like the proverbial fish, and we all want to find our space in the pond. I wanted to tell my story and share how we can navigate situations successfully.
How were you able to find your place in the pond that is the high-society world?
I was fortunate in that Lance has a larger-than-life personality that can carry a room. That allowed me to be myself from the beginning, be in the moment and observe my surroundings. I have always been fascinated by what makes people tick. For the first year in the high-society world, I really did not say much. Not because I was an introvert, but because I was fascinated with witnessing things many people don't have an opportunity to experience. Over time, I realized the high-society world was filled with people just like me – they experience the same things I have, perhaps in a different context.
How did a person with a career in the tech industry wind up chronicling fabulous parties and events?
I am a true believer in the phrase "doors open by saying yes." After attending high-society events for about a year, I asked Lance Avery Morgan of The Society Diaries to cover a charity event I had supported for years. To my surprise he not only said yes, but also asked if I would write about the event for the magazine.I agreed because as a creative person, I was offered a creative outlet that the tech industry couldn't provide. What started as a one-shot deal has turned into my new life and career where I write about the great work of charities and entertainers that give back at a high level.
What is the one thing you want readers to take away from this book?
Opportunities come from having an open heart and equally open energy. The easy route would have been to stay inside the comforts of the tech industry. So, the biggest takeaway from this book is that if you pursue opportunities that may be a more natural and satisfying fit for your skill set and abilities, you too can have the personal and professional life of which you've always dreamed!
To purchase a copy of Rob Giardinelli's book Being In The Room click here. Stay tuned to our blog for future interviews with successful authors.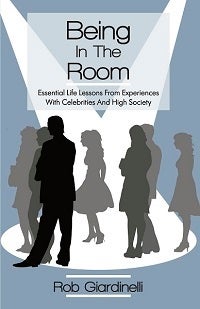 Sharon Schweitzer, J.D., is a cross-cultural trainer, modern manners expert, and the founder of Protocol & Etiquette Worldwide. In addition to her accreditation in intercultural management from the HOFSTEDE centre, she serves as a Chinese Ceremonial Dining Etiquette Specialist in the documentary series Confucius was a Foodie, on Nat Geo People. She is the resident etiquette expert on two popular lifestyle shows: ABC Tampa Bay's Morning Blend and CBS Austin's We Are Austin. She is regularly quoted by BBC Capital, Investor's Business Daily, Fortune, and the National Business Journals. Her Amazon #1 Best Selling book in International Business, Access to Asia: Your Multicultural Business Guide, now in its third printing, was named to Kirkus Reviews' Best Books of 2015. She's a winner of the British Airways International Trade Award at the 2016 Greater Austin Business Awards.
Related
Popular in the Community