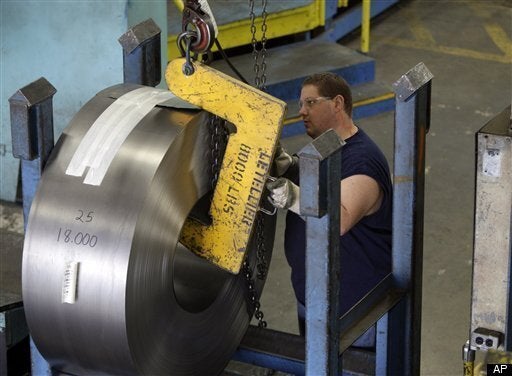 What brings together the President of the United Steelworkers from Pittsburgh, a Corporate CEO now living in New York, and the former senior U.S. Senator from Michigan?
It's all about jobs -- and the urgent need for millions of new ones.
While President Obama has spoken forcefully about laying a new foundation for the economy, one that creates good jobs and rising incomes and that moves us from an era of borrow-and-spend to one where we save and invest and are able to produce more at home than we consume, we believe that the Administration still needs to address two glaring shortcomings in its economic program.
First is the failure, aside from the emergency restructurings of Chrysler and GM, to enact an all-of-government national manufacturing and industrial policy designed to simultaneously ensure the competitiveness of US-based businesses and grow high-value jobs in America. And second is the need to begin the promised reform of our trade policies with those economies, particularly China's, that do not play by the same rules we do and occasionally even cheat.
It is also by now very clear that the economic stimulus plan passed by Congress in February will not move us toward anything approaching full employment, since by the Administration's own estimate, the plan will "save or create" (but mostly just save) only 3.5 million jobs over two years, which are just a quarter of the 13.3 million jobs effectively lost since this recession began in December 2007 and just 12% of the workers already effectively unemployed.
Even in past recessions, the number of unemployed workers not included in the official Bureau of Labor Statistics monthly figure -- that is, workers who are either part-time of necessity, marginally attached, or have quit the labor force out of frustration -- has almost never exceeded a third or so of that official number. Now, however, there are nearly a million more uncounted unemployed than counted ones, making the total number an unprecedented 30.2 million workers, instead of the official 14.7 million, and the effective unemployment rate is a staggering 18.7%, instead of 9.5%.
When, 19 months after this recession began, nearly 19% of the nation's workers are still effectively unemployed and when even the nation's current full-time employees are working only an average of 33.1 hours a week, which are the fewest hours on record since the BLS began counting in 1964, it is clear that we are already deep into a jobless recovery. And by now it is just as clear that this jobless recovery will be particularly susceptible to a new downturn, because of the way it is already feeding back on itself, and that there will be little relief for the 47 out of 50 states, whose budgets have been absolutely blasted by falling tax revenues.
Significant and timely job retention and creation overall must be an urgent priority, certainly on a par with health care reform, but these dismal macro unemployment numbers tell only the big picture part of the jobs deficit story.
Importantly, we need to be just as worried about the fact that our economy has mostly hemorrhaged jobs in the very sector -- manufacturing -- that must grow in order for us to move permanently away from debt-financed consumption as the principal engine of economic growth. And it is the current and now decades-long persistent manufacturing jobs collapse that unites the three of us as friends and as colleagues, despite coming from very different backgrounds.
Just since this recession began, manufacturing has lost 13% of its workforce; manufacturing industries now represent a meager 11.7% of GDP; people working in manufacturing now account for only 8.7% of the jobs in the country; a quarter of the nation's 282,000 remaining manufacturing companies -- 90,000 in all -- are now deemed severely "at risk"; and we have run an average annual trade deficit in manufactured goods of more than $500 billion over the past five years.
Congress and the Administration, working together, need to immediately enact a robust industrial policy that puts American workers first and is comparable to the policies of our major trading partners. And then we need to integrate this policy with efforts to be the world's dominant manufacturer of green technologies and components, which offer us such enormous opportunities.
Perhaps the biggest example today, in dollar terms, of what the failure to have our own manufacturing and industrial policy has wrought is California, which has just confronted the largest annual budget deficit in the history of the Union. California would have had a dramatically smaller deficit, or maybe even none at all, if in the state manufacturing workers today simply represented the same share of total workers as they did in the year 2000, which was 12.8%. Instead, California lost, over this period, more than 400,000 manufacturing jobs which, after considering multiplier effects, would have benefited its budget on the order of $300 billion of cumulative income taxable wages.
The need for an elaborate American industrial policy was first widely observed as far back as the early 1980s, and by 1993 some in the Clinton Administration and especially some enlightened members of Congress tried to enact such a policy. Regrettably, against great opposition from the country's major multinational companies and the "free traders," they failed, and now 16 years later, we still don't have one.
Even if some in our political leadership today still don't understand and accept this basic imperative, America's main trade competitors sure do. Each of the other members of the G-20 has such a policy, and together they are using them now to great effect to resuscitate their broken economies and further weaken ours. Germany, Japan and South Korea are doing everything possible to preserve their significant manufacturing bases, while China, which consistently accounts for 60% of the US trade deficit in manufactured goods, is particularly accelerating its efforts to grow its manufacturing sector.
We believe that two things are currently holding us back from having our own manufacturing and industrial policy -- and both need to be quickly disabused.
First, some in the Obama Administration, along with others of influence, wrong-headedly believe that one job is as good as another, whether it is in manufacturing or service. This is simply not true, and even the simplest comparison of the two sectors shows that:
Compensation in manufacturing jobs is 20% greater than in non-manufacturing jobs;
Service jobs do very little to help America's balance of trade, and mostly just move incomes around the country; and
Manufacturing has by far the largest multiplier effect of all job sectors, creating 1.40 of additional economic activity for each 1.00 of direct spending, 2.5 other jobs on average for each job in it, and, at the upper end, 16 associated jobs for each high-tech manufacturing job.
Second, these same individuals assume, again with no supporting evidence, that new jobs associated with exported services will make up for past and future manufacturing job losses. One Administration official even said recently that America's export future resides in exporting "consulting and legal services, software, movies and medicine," which is simply impossible in dollar terms. In fact, in the future, high-quality service jobs are at least as much at risk of being offshored as are manufacturing jobs, as India and China are especially keen on seeing such jobs domiciled on their own shores.
In addition to throwing its full weight behind an all-of-government manufacturing & industrial policy, the Administration must also be willing to:
"Pick winners" from Main Street and then support them, because all other developed nations and China do so every day, to great competitive effect. (Right now, the only "winners" being picked and seriously supported seem to be those residing on Wall Street, which is sadly ironic since it was largely these very same financial institution that just brought our economy to its knees.) The Administration has moved modestly in this direction with proposals to encourage private investment in wind and solar energy and by making certain modest targeted federal investments. However, it needs to do much more if we are to create new comparative advantages in these and other industries.
Fund a 10-year (not the current two-year) program of significant public investment to upgrade and rebuild our nation's infrastructure, which will provide the much-needed foundation for higher-value added production and advanced business services.
Adopt "Buy American" requirements related to all federal procurement, which now makes up about 20% of the US economy. America appears to be the only nation among the major developed nations and China without a significant "buy domestic" procurement program, and we need one desperately for our own economic recovery and global competitiveness.
Enact major corporate tax reform to incent corporations to create jobs here and to eliminate the current incentives for them to relocate manufacturing and service jobs abroad. This reform should include reducing the corporate income tax and payroll tax and moving to a value-added-tax or VAT to replace that lost revenue.
Make loans and credit facilities readily available to the nation's small and medium size businesses and manufacturers, which desperately need them while the likes of Goldman Sachs and the major banks are succoring off of US Government guarantees and TARP monies but not lending to these smaller companies. (How foolish indeed was it to let CIT, which every day loans money to 950,000 small and medium size businesses, essentially fail for lack of an "angel" in the Treasury Department, while Treasury continues to resuscitate but barely reform the errant Wall Street banks that precipitated this financial crisis.)
However, not even a broad new national industrial policy can right our economic ship without there also being complementary trade policies that prevent other economies from gaining unfair competitive advantages.
The Administration and Congress also need to immediately move away from our past decades of misguided trade policies and demand trade agreements that have meaningful labor and environmental standards and forbid illegal subsidies and currency manipulation. At the same time, we need to dispense with "one size fits all" trade agreements that ignore significant differences in levels of development, forms of government, and reciprocity.
But most immediate and most important, we still need the fundamental reworking of our trade relationship with China that was promised during the Campaign, which despite two major Administration encounters already with them has yet to occur.
China's massive trade surplus with the United States -- a staggering $277 billion of manufactured goods just in 2008 -- is mostly the result of its severely undervalued currency, massive legal and sometimes illegal subsidies to its own manufacturers, and very aggressive policies to induce foreign corporations to shift their production facilities and technology to it. These policies have already cost us millions of jobs, and they will keep costing us jobs until they are fixed.
Challenging China over its unfair trade practices is not just necessary for the future of US manufacturing jobs -- it is also critical for the world economy. The global economy simply can't function if the third-largest individual economy runs current account surpluses on the order of 8 to 10% of GDP, as China has done consistently for the past few years.
These are truly unprecedented times, and thus looking at past business cycles and responses for the answers is likely to be of only very limited relevance and utility, as too many in the Administration and Congress seem to do by ideological reflex. Instead, we need, as soon as possible, an Emergency National Summit on Manufacturing, to be attended by relevant Cabinet officers, the bipartisan leadership of both Houses of Congress, and a small number of the top corporate and labor leaders on this issue. We also need an activist executive branch and Congress willing both to turn around the excessive laissez faire and deregulatory approaches of the last eight and, in some cases, the last thirty years, and to enact that national manufacturing & industrial policy we are calling for.
Our national goals, in the medium term, must be to near fully employ those 30 million currently unemployed American workers, and in the process to more than double the number of Americans working in manufacturing, which is the least amount needed to get our economy back on track sustainably. It's all about jobs -- whatever it takes!
Leo Hindery Jr. is chair of the Smart Globalization Initiative at the New America Foundation and an investor in media companies. He is the former CEO of AT&T Broadband and its predecessors, Tele-Communications, Inc. and Liberty Media. Leo W. Gerard is international president of the United Steelworkers and a member of the executive council of the AFL-CIO. Former Michigan Senator Donald W. Riegle Jr. is also a member of the Smart Globalization Initiative and chair of government relations at a global advisory company. He was chair of the Senate Banking Committee from 1989 to 1994.
Related
Popular in the Community