Like a lot of teachers Amanda Lodermeier frequently dips into her own pocket to buy materials for the fifth grade class she teaches at the Andersen United Community School in Minneapolis. Some two thousand children attend the Pre-K to 8th grade school where a majority of them qualify for free or reduced cost lunch. Last year, while scouring the internet for resources to help engage her students, Lodermeier did a Google search typing in the words "books for classrooms" and the words: "BookMentors" came up. It was the start of a beautiful friendship.
BookMentors is a non-profit whose website connects teachers and librarians seeking books for their students with individuals who would like to donate those books. The organization was founded two years ago by a reading specialist who worked in high poverty schools and was frustrated by the scarce, tattered and uninspiring books available to her."Having high quality materials is really important for all students no matter who they are or where they come from," Ms. Lodermeier, the Minneapolis fifth grade teacher, told me. Many of her students are new to America, having come from places like Nepal, Somalia, Mexico and South America. "I just think it makes learning more engaging to have nice things that have not been around for 40 years," she added.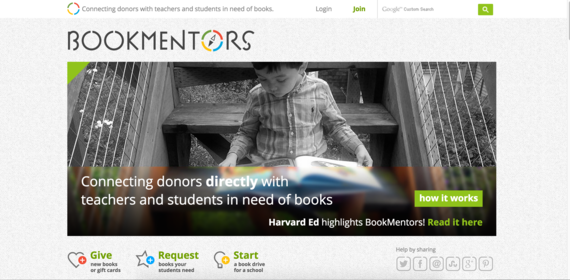 A donor can become a Book Mentor by purchasing a book for less than $5 .The average cost of a book on the site is $17.

The way BookMentors works is teachers post requests for books on line after choosing from a selection of educator recommended and award winning titles. Donors, who are the book mentors, can elect to fulfill a teacher's request by purchasing one, or as many copies of the book requested, or any number in between.. However, since this is a community of, by and for people who love books, both donors and teachers can suggest additional books for inclusion on the recommended list. The bottom line is donors do not send or mail the books. That's done by BookMentors, and whatever the donor spends is tax deductible. So far more than 1,000 books have been donated. The average cost of a book on the website is $17 but you can become a BookMentor by buying a book for less than $5.
"When you get that book that is when the real fun starts," says Lodermeier who recently requested and received from BookMentors the Warrior series, a six book set about cat clans which has captivated a group of boys in her class. "They hated to read. They hated it at the beginning of the year," the teacher said. But this month when the books came the excitement was so intense, Lodermeier told me, the students played "Rock, Paper, Scissors" war to decide who would get to read the books first. "And there is lots of negotiating like, 'I'll let you borrow this one if you let me read that one first,'" she added.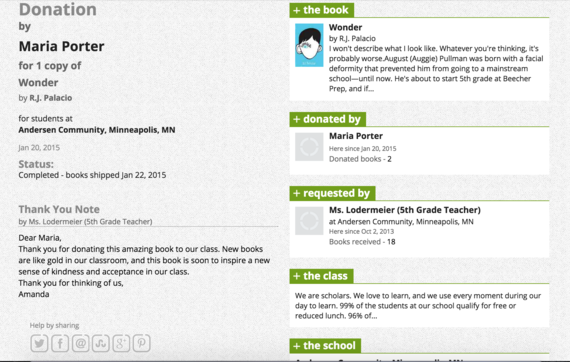 A thank you email from fifth grade teacher Amanda Lodermeier to BookMentors donor, Maria Porter, for purchasing the book Wonder.
"It is kind of like Christmas and Chanukah cause you put it up there and you don't know when someone is going to purchase it for you, and then all of a sudden you get an email," said Leda Mares, a second grade teacher in California describing the experience of a donor responding to her book request. " It just is a great feeling that somebody out there thought enough of your community and your school to help a child," Mares added. Ms. Mares teaches at the Searles School in Union City which is considered a "high poverty" school on the BookMentors site because more than 40% of the students receive a free or reduced cost lunch.
Studies show access to books is the gateway to learning and a student's overall academic success. In middle income neighborhoods a child typically possesses an average of thirteen books. However, in poor neighborhoods the average is estimated to be one book for every 300 children. That's why it is critically important for schools, especially schools in poor neighborhoods, to be the access points for kids to connect with books.
Thus far Mares has received eleven books from BookMentors. "I like the premise of it being people that love books," she said. Another plus, she told me, is the site does not require a big investment of a teacher's precious time filling out lots of paperwork. Ms. Mares teaches a class of 29 children. "There are not a lot of hoops to go through. Basically once you write your thank you note and acknowledge that you got the email that someone bought it, they ship the book and you have it in two days, "she said.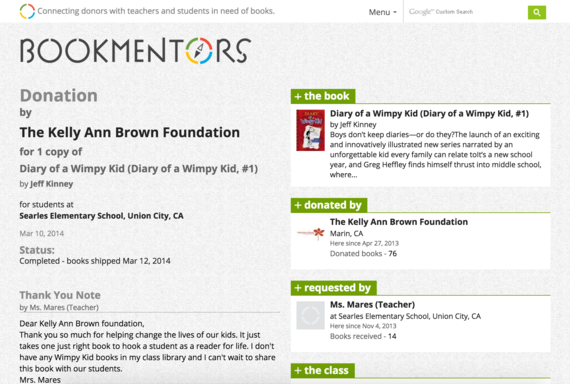 A thank you email from teacher Leda Mares to the Kelly Ann Brown Foundation for buying the book, Diary of a Wimpy Kid for her second grade class.
With so much national debate focused on holding teachers accountable for the sorry state of public education, Deborah Stipek, the Dean of Stanford University's School of Graduate Education says a group like BookMentors places the focus where it should be. "My experience is most teachers really do care deeply about teaching their students well and the problem is not so much that they don't have the right incentives or don't care, it's that they don't have either the skills or the resources they need," Dean Stipek told me.
As an example Stipek told me she worked with a school in a low income neighborhood of Palo Alto where the students coming into sixth grade had never read a book from cover to cover."They had never read a whole book . They had only had these readers that have stories in them. You know, there are like 20 stories and then you answer the questions at the end. And they are pretty lame for the most part," she added. Stipek ended up raising the money to buy books for the school. However, that school had the benefit of working with Stanford, the Dean told me, adding," But, not that many schools have that kind of opportunity or support. "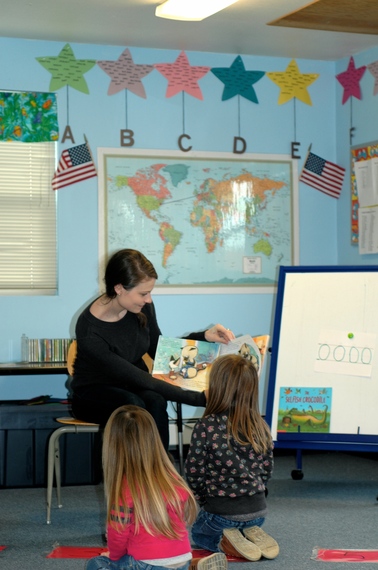 BookMentors allows teachers and librarians in need of books for their students to connect directly with donors.
Book donor Esther Patrick peruses the BookMentors site looking specifically for books that will interest African American children."So that children can read and see pictures of people who look like them. If they see someone that looks like them, they might pick it up," Patrick said. She works as a social worker and parenting counselor. Her own childhood as a young African American girl was troubled. She grew up in a home of abuse and domestic violence which sapped her attention at school. But then at the age of 23 she learned to read. It started when she picked up a book that held her interest because she could decipher the slang words. "You have to teach people how to read like I did, based on what their interests are. And when you don't have books of interest and the reading material, you are lost," said Patrick who went on to earn bachelor and master's degrees.
Debra Hannula is BookMentors President and Executive Director. She is passionate about the group's mission and the good it can do. Hannula has practiced law for 30 years and is a former juvenile public defender. Bearing witness to how the criminal justice system can often destroy young lives, she is convinced BookMentors is one way to save them. There are currently 2,000 requests for books on the site. I asked Hannula what her vision was for the number of books she would ultimately like to see flowing from donors to teachers."Tens of thousands really, " she answered, adding, "if this thing got off the ground and really got people paying attention as donors."
Related
Popular in the Community