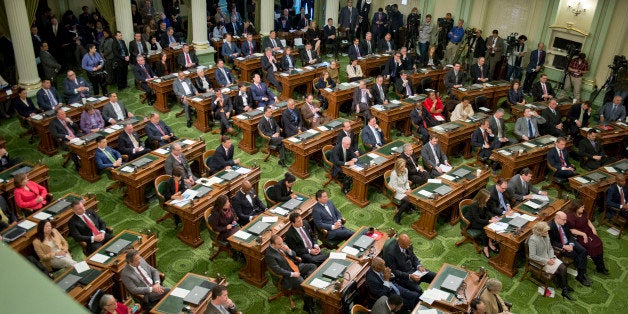 It's no secret that not much gets done at the federal level, where partisan stalemate is nearly insurmountable. Policies no longer seem to be weighed by their merit, if families will be better supported, or if the economy would benefit, but rather by whether political points can be scored. As the daily back-and-forth of the 2016 presidential primaries reinforces such partisan gamesmanship, Washington is likely to be gridlocked for years to come.
But states have always been the laboratories for policy innovation -- more nimble and willing to try to make progress for their constituents. There continues to be a demonstrable shift away from Washington and to our state capitals for effective debating and legislating. Those state capitals, where immediate and long-term problems are met with serious solutions and the default position isn't delay or do nothing, now have become the center of our democracy.
I got my start in public service as a state legislator in the Kansas House of Representatives, where I served for eight years. As a state legislator representing Topeka, I saw first-hand the struggles that Kansas working families faced to make ends meet and the direct impact of state policies on the people I served. While I went on to be elected first the insurance commissioner and then the governor of Kansas, and eventually served the president of the United States, my tenure as a state legislator showed me the power of fighting for progressive values at the state level, particularly for women and working families.
Today's families look much different than they used to, often with two working parents and a female breadwinner. In fact, in most cases, women's earnings are vital to their families' economic security -- roughly two-thirds of mothers are either breadwinners or co-breadwinners for their families. But our current out-of-date workplace policies fail to reflect this reality, leaving many parents struggling to meet the demands of both work and family and forcing many families to the economic margins.
Our public policies must be updated to help build strong, successful families, with flexibility and equal treatment in the workplace. And state legislators are our best chance to move these policies forward.
This is why I was excited to recently speak at the Center for American Progress for the launch of the Women's Opportunity Network, or WON, a new network of state legislators fighting for policies that will give women and working families a fair shot to get ahead. The network is giving lawmakers a space to interact with colleagues from across the country to share best practices and common obstacles, and a platform to work collectively to pass legislation to put economic security within reach, such as paid family leave, high-quality child care, paid sick days, and equal pay. My own children were 2 and 5 when I first entered the legislature, so those policies have always been priorities to me.
As federal policy continues to be gridlocked by Congress, states have become a hotbed of activity where substantive policy debates are actually taking place and being settled. This shift is not lost on either side, which is why individuals and organizations are not only increasingly investing in state legislative races, but also weighing in on policy fights during legislative sessions. It's in state and local government that change is being made, especially when it comes to economic policies for women and families, issues I started fighting for back when I was in the Kansas legislature. While winning beltway debates remains important, it's clear that the way to create change and influence the debate in Washington is to succeed on the state level and have those successes radiate back to the beltway.
However, progressives need to build the infrastructure and the foundation at the state level to lay the groundwork for policy wins -- now is the time to dig deeper into the states. We must make progress now and over the long-term to help families make ends meet. Fighting now for paid leave, child care, and higher wages in key states over the next year will impact the 2016 national debate, ensuring that presidential candidates are held accountable for their stances on policies for working families.

Today's political reality, and in turn our policy reality, is that it's all about the states. Policy always matters and impacts people on the local level, which is why state legislators cannot be crippled by politics, instead needing to answer their constituents with real solutions. Too often policy "solutions" are making it more difficult for families to make ends meet, not less; we need to change that. With state legislators now at the forefront of the nation's policy debates, American families, especially women, are depending on their action. This was true to an extent when I was a state legislator, but it could not ring truer today.

Kathleen Sebelius, 21st U.S. Secretary of Health and Human Services, is a former Kansas governor, insurance commissioner, and state legislator.
Popular in the Community