It takes several key skills and commitments to succeed as an entrepreneur. You need to work hard, you need to trust your gut, you need to be ready to see the writing on the wall and adapt to it. But sometimes it is about being at the right place at the right time.
The founder of McDonald's, Ray Kroc, famously said: The two most important requirements for major success are: first, being in the right place at the right time, and second, doing something about it. From actors and celebrities, to bankers and billionaires--it often comes down to being in the right moment, and seizing it.
For Cameron Porter, a former computer science major at an Ivy League school, his chance to be his own boss--even his own enterprise--came when he landed on the professional soccer team, the Montreal Impact. And timing and good luck really started to surprise him on March 3rd, at 9:30pm.
I made my professional home debut in the closing minutes of the match and with seconds left, I scored my first goal for the team. When we went behind in the 80th minute of the match, you could feel the ~40,000 hearts in the stadium all sink together, including mine. When the ball crossed the goal line in the 94th minute, those same ~40,000 hearts were simultaneously lifted from the depths in a single glorious uproar. As I ran down the field celebrating, I have never felt so present. We made history.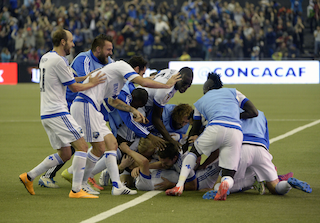 Courtesy: Eric Bolte/USA TODAY Sports. The Goal.
Cameron explains how he got to Montreal, the magic of good timing, and how he sees his future both in soccer and social enterprise.
Steve Mariotti: How did you go from the Princeton computer science department to a Montreal-based professional soccer team?
Cameron Porter: Injuries to other players landed me an opportunity to play in front of professional teams and I was drafted by the Montreal Impact. Even though I didn't have a contract with them yet, I dropped out of Princeton to move to Canada. I worked hard when I got there and by the end of pre-season, I had my contract.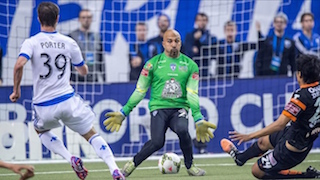 SM: You are at the beginning of your career now but I know it has been a highly competitive ride. Was there ever a moment when you doubted you'd get there?
CP: A moment...there were many moments. When I was recruited to play soccer at Princeton, I was far from the top recruit and even farther from thinking about professional soccer. During freshman year I was just excited to be training at the D1 level. It was someone else's injury that made room for me as a starter. It's crazy how things work out. By senior year, I led the nation in goals and points, and we went on to win the Ivy League Championship.
Later I assumed I would be invited by Major League Soccer to try out at the combine as a top college prospect, but I never got an invite. Out of the blue I received a last minute call that there was a place for me due again to another player's injury. Following the combine, I was drafted to the Montreal Impact. Third pick. Third round.
SM: It cannot all be down to chance! What tips would you pass on to younger players aspiring to a position like yours?
CP: My first piece of advice is what my dad tells me before every game. His advice is to always work hard and have fun. It has become a life motto of mine and is as valuable on the field as it is off it. If you are not working hard, the first person you are letting down is yourself. Never sell yourself short. If you are not having fun, then stop what you are doing. Life is too short to spend doing things that don't make you happy.
On a more practical level, my advice would be to challenge yourself to learn something new every day. In soccer terms, whether it be a new dribbling move or juggling trick, spend 30-45 minutes a day pushing yourself to learn something new. In only a month you will be amazed with the results. Just imagine the difference it makes in a year.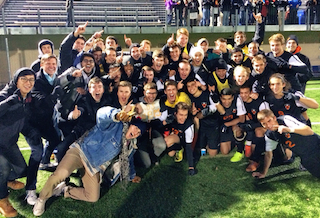 Post Game: Careers are made of moments (Courtesy: Eric Bolte/USA TODAY Sports)
SM: Tell us about your other hat--that of an entrepreneur.
CP: The summer following my junior year (2014), I partnered with 3 of my friends/fellow students at Princeton to run a startup we called Ivy Research Council. We ended up hiring 4 other Princeton students for the summer and provided custom research for companies ranging from NRG to Teach For America. We were even hired to put together a presentation for Congressman John Delaney.
It was an amazing experience for all of us. We had the opportunity to interact with top level executives in an incredible range of sectors. The experiences from that summer have proved invaluable. Over the past year I have had to limit my work with IRC as I have split my time between professional soccer and finishing my degree at Princeton. I will hopefully be able to spend more time in the future with IRC as well as a few other startups for which I have already begun to lay the groundwork.
SM: What are some of the social entrepreneurship ideas you are working on?
CP: I live near our training facility in Montreal so I often walk there, even in the winter. One particularly cold day, I could not get my mind off the fact that there are people, families, without a home surviving in this weather day in and day out. I had the idea for a charity that I would like to start here in Montreal. This idea is still in the early planning stages, but ideally will happen this coming fall. It will be called Run For Warmth. Runners will be asked to either wear winter clothes that they buy at a thrift or that they are willing to donate. As they run and warm up, runners can shed their layers right on the road, with each layer shed being donated to individuals without a home. Inspired by the effectiveness of Utah's housing first, employment second model, my hope is that the proceeds from the event could then be used to sponsor housing for a family without a home.
I started 2015 on top of the world. That would all change by the end of March. I was given the most painful test of my life, a year-long struggle that has pushed me to grow in ways I never could have predicted.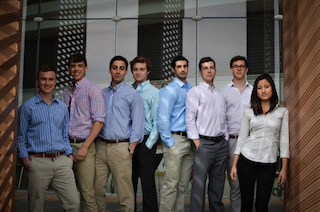 Calling all HuffPost superfans!
Sign up for membership to become a founding member and help shape HuffPost's next chapter