The more I watch and write about fashion, the more I realize how deeply related looking great is with feeling great. And when we feel good about ourselves, in every way, we can pay that forward, by being kinder, more open to the world around us, better to our fellow human beings.
I wanted to meet Zeina Nabulsi while she was in Cannes, not only because her Zeynah collections are dreamy and gorgeously made but also because of something beloved Elie Saab wrote about this talented designer, based in Beirut:
Zeina proved to be very special. Whilst working with me, I saw that her attention to detail was second to none, and she had a particular eye for embroidery. She always captured my attention when she walked into my office, by the way she dressed and put her pieces together. She portrayed both a feminine and powerful image of herself, and that delicate blend is emblematic of her collection. I always knew she would become a designer in her own right. She was so keen on gaining experience and I could not be more proud.
Nabulsi worked with Saab during her formative years in fashion and later on in our chat she also discloses something about his presence in her life. It was one of those goosebumps moments I live to discover, while getting to know someone I'm interviewing.
Following is a quick interview with the beautiful, kind and intelligent Nabulsi. And don't forget to check out the slideshow below for highlights of her latest collection, as well as images of her atelier, catching the designer at work.
What is your background, where did you learn fashion design?
Zeina Nabulsi: I am based in Beirut, but am originally Jordanian and Palestinian. My father is Palestinian and I was born in Jordan.
I studied in Jordan until I was 18, then went to Central Saint Martins to do their foundation course. I took the fashion course and some photography courses. Then I moved to the American University in London because Saint Martins mentors generally focus on creativity, they don't really give you the technical way of doing things. They expect you to know things, they give you an assignment and tell you to come back next Tuesday. This was tough for me given I came from Jordan and had no background. So I took another course at the American University that had the same tutors but a different technique. An American way of doing things, hands-on. That's where I learned the technical way of doing things. How to make a sleeve, what to do with a collar. Familiarized myself with pattern-making.
Where do you produce your dresses?
Nabulsi: My workshop is in Beirut, in an area called Gemmayzeh which is like the Notting Hill of Beirut. It has all the artists, restaurants, boutiques. I have an atelier and my tailors are based there. From beginning to end these dresses are made in Beirut. Everything happens in front of me. I have a total of six tailors, two of whom help with embroidery.
When you design a dress, do you have anyone in mind?
Nabulsi: I do, most of the time it's Grace Kelly, I love the fact that she was a movie star and a princess at the same time. When I think movie star I think dramatic, red carpet ready. But it depends on the mood I'm in, I think of Nicole Kidman as well in Moulin Rouge.
What makes your dresses extra special?
Nabulsi: I look at a woman's body and I try to complement her figure. I learned a way to have certain cuts in my dresses, even if they don't show, even if they are stitches that you can't really see but it's the way the fabric is put together... It makes your waist very slim, your bust a bit bigger, whatever you need to enhance I can do that through my cuts.
When you were growing up who was your dream designer to wear?
Nabulsi: I remember my mom was a very good friend of Elie Saab, one of the first people to wear his dresses at the time. I was a kid, I was so young, and I looked at my mom, I would always watch her get dressed. One dinner, I was with her and we met Elie Saab, and I asked her who the man was. She said "this is Elie Saab, he's the man who made my dress." And I said, OK when I grow up I want to be him. Finally I found myself working with him, so it was a natural.
Who is the celebrity you would most like to dress?
Nabulsi: I would love to dress Nicole Kidman, I have her in mind as I work. I'm a big fan of a lot of actresses, like Penelope Cruz, Angelina Jolie, several others...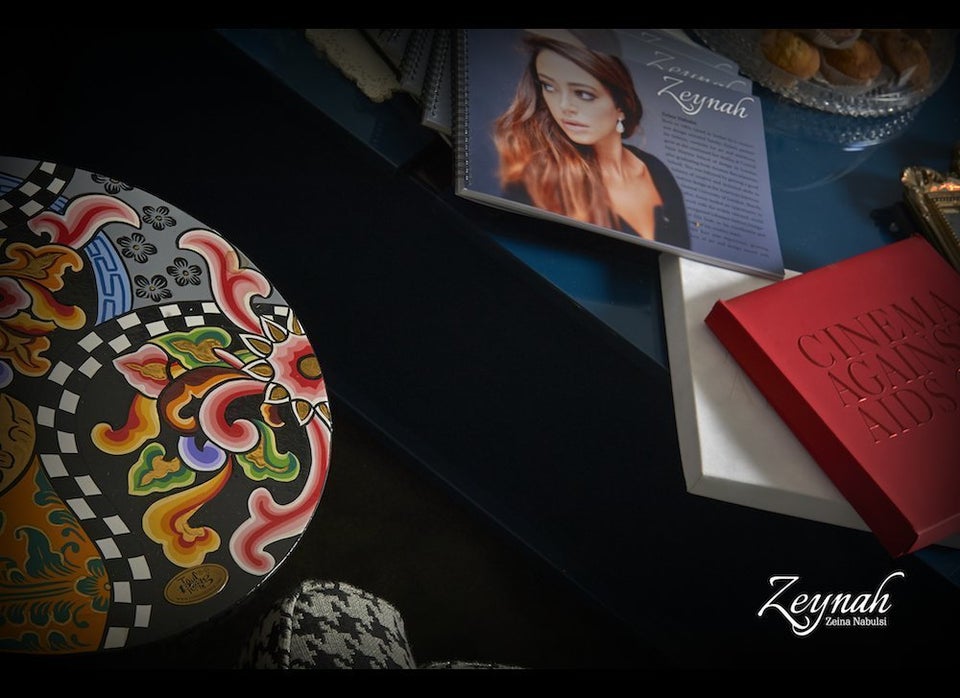 Check out Zeina Nabulsi's Instagram: @zanz_n
All images courtesy of Zeina Nabulsi, used with permission.