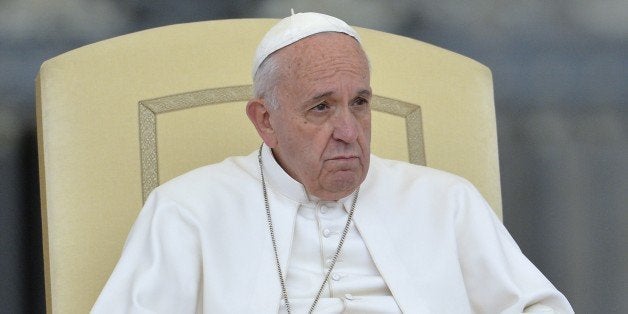 When my pastor announced that our New York parish was running a lottery for giving away the two tickets apportioned to our Roman Catholic parish, he disclaimed: Ticketholders would have to line up several hours before mass. Getting to a restroom might be a problem. One might have to take off work. Those attending the mass would have to be in their seats a few hours before the introit.
The priest wanted to be sure that frail persons in devout desperation to be in the presence of the Holy Father would not receive non-transferable tickets and die trying to see Francis in the flesh. How many devout Catholics People stood in the streets, traveled miles and miles, contested with urban parking and incurred expense just to catch a glimpse of the pope?
It was difficult, no doubt, for the pope to grant many private audiences, yet the did have time for Kim Davis.
Who is not even Catholic.
Who -- though unemployed -- flew or was flown from Kentucky to D.C. on someone's nickel, possibly her own.
Or maybe the president of USCCB (United States Conference of Catholic Bishops,) Joseph E. Kurtz, Archbishop of Louisville, helped out. The USCCB, under Timothy Dolan's leadership, devoted much time and effort to fighting same sex marriage.
Pope Francis may be the "who am I to judge?" pope, but he still opposes same-sex marriage and has not said otherwise. "His Holiness" may be "a breath of fresh air" but he still views LGBTQ Catholics as undeserving of marriage. The pope's meeting with Kim Davis is disgraceful, in that he strung those who thought he might make change, along. But again, it should not surprise.
Kim Davis did what saints do. She sinned in her female weakness, took a stand, found Jesus, threw down with God, lost her job as a direct consequence of her devotion, and found herself in jail for upholding God's law. She's a perfect totem now, for the DOMA true believers.
Don't be surprised to see her convert to Catholicism.
Granting Kim Davis an audience was the pope's way of looking over his shoulder and winking on his way out the door -- at the old guard.
Non-Catholics need to recognize that the "breath of fresh air" pope presides over a misogynist and homophobic hierarchy and is doing little to change that.
Catholics need to know that there is one way to make change in the leadership of the church: cash.
"It's all so calculation/she's such a calculator." That's Elvis Costello's line. If we want to see change, we should boycott the collection basket and Diocesan Appeals.
I wish Pope Francis had devoted Kim Davis's 15 minutes of Catholic fame to seeing some of those lovely rosary-clutching ladies at my church who adore him. It would have required little effort for me to catch a glimpse of the pontiff. I didn't care to try.
I'm the daughter of a NYPD cop. I know a Good Cop, Bad Cop scenario when I seen one.
REAL LIFE. REAL NEWS. REAL VOICES.
Help us tell more of the stories that matter from voices that too often remain unheard.