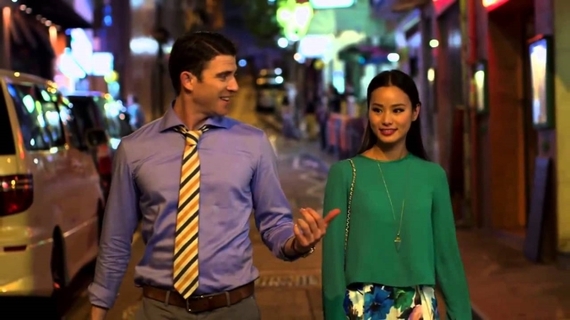 The warning signs appeared in the first five minutes of this film about two young expats who meet cute in Hong Kong's trendy Soho arrondissement. Chinese American girl from L.A. has no GPS on her phone (inconceivable for a millennial) and is attempting to meet up with some friends at a bar in nearby Lan Kwai Fong. Jewish guy from New York, who has lived in Hong Kong for 10 years, has just stepped out of a restaurant for a smoke. He gallantly offers to walk disoriented L.A. chick down to Lan Kwai Fong -- which, as many of us know, involves a brief ride down the famed Mid-Levels Escalator, a right on Hollywood Road, and a left down the steps to D'Aguilar. All told, about seven minutes.
Instead, Josh takes Ruby on a gratuitous two-and-a-half kilometre hike over to Hong Kong Park, back across Garden Road, around Cheung Kong Centre, down to Queen's Road Central, then up the hill again to Lan Kwai Fong.
Alarm bells go off in my mind -- and no doubt in the minds of many other viewers who actually know the way to Lan Kwai Fong. "Avoid this guy like the plague!" we are telegraphing her. He is up to No Good, and may have Evil Designs.
This is not a slasher film, however. Nothing happens on this walk, or on any of the other long walks this couple takes. Which is a perfectly acceptable -- even beguiling -- premise for a film; Academy Awards have been won by films in which people take long walks and nothing happens. Josh and Ruby are not in one of those films. They chat primly, drawing little cardboard sketches of their lives and dreams -- he is an investment banker who longs to be a writer, she is a toy designer who longs to be a fashion designer. (Though you would never guess this from her humdrum wardrobe.)
Jamie Chung (Ruby) and Bryan Greenberg (Josh) may well be terrific actors but they are given nothing of interest to say or do, beyond registering a constant, mild embarrassment. They do take us on lovely jaunts through the picturesque streets of Hong Kong and Kowloon. Chung totters around in high heels that seem to be killing her, and whines about a local co-worker who, like 99% of Hong Kong's population, lives with her parents and yet somehow can afford to buy Louis Vuitton handbags. Which does nothing to endear Ruby to us. The couple pick at some chili crab at a humble sidewalk dai pai dong, and noodle anxiously over whether they are betraying their significant others by savoring these strolls together (an exceedingly quaint conversation for a hip young couple in the era of Tinder and hookups.)
The vivid cinematography by Josh Silfen is about the only thing that is alive in this film -- that, and the few bars of song by Hong Kong indie-folk rock band "Noughts and Exes," who play at a club where Josh and Ruby show up.
A momentary glimpse of a beggar on the street, and a visit to a tailor in the seedy ChungKing Mansions are supposed to hint at the desperate lives of ordinary people in the city. But the script is so damp, so devoid of oomph that the most canny cinematographer cannot light a spark with it. We would much rather roam the streets of Hong Kong with the irreverent Anthony Bourdain, poke our heads into fusty doorways, and suck on crab legs alongside him in search of authentic thrills.
The sensitive hand of director Emily Ting was entirely superfluous. Turns out she wrote the script as well. She may want to assign that job to someone else on her next outing.
Related
Popular in the Community