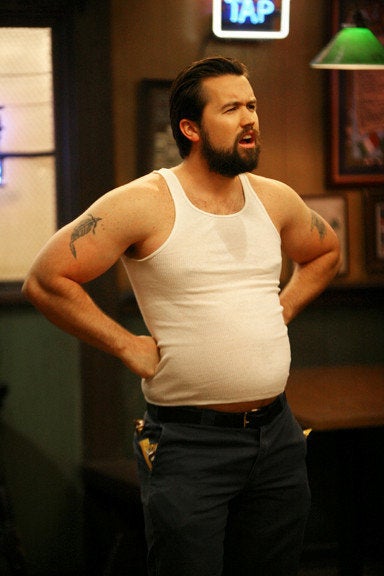 "It's Always Sunny In Philadelphia" has broken a lot of television rules over the years, with its assault on societal mores, racial boundaries and religious taboos. Like a demented, extreme "Seinfeld," its stars are all fundamentally selfish, and, in pushing past its bourgeois New Yorker predecessor, must seem inherently unlikable to any prudish stranger to masochism.
Now, the next frontier: getting fat.
Series co-creator Rob McElhenney, who stars as the self-absorbed, very vain Mac on the show, gained 50 pounds for the upcoming season, creating a juicy storyline which sees his character try to deal with the sudden onset of obesity. But his intention wasn't just to nail some easy fat jokes; at the Television Critics Association tour over the weekend, McElhenney said he was trying to make a statement with his expanded waistline.
"It came when I was watching a very popular sitcom, and I noticed the people were getting better and better looking as the seasons were going on," McElhenney said (via TV Guide). "I always thought that what we were trying to do on Sunny was the deconstruction of the sitcom."
To get there, McElhenney said that he ate 5,000 calories a day; he has since lost 20-25 pounds, but is still a far ways from his old weight.
Its a similar sentiment to one he gave to Collider in July, and part of a larger theme for the show. Operating on a tight budget, the crew, which also includes Charlie Day, Glenn Howerton and Katilin Olson, tried to bring the sitcom back to its basics.
"Our philosophy from the very beginning is when you're making a situation comedy that it really is just a group of people sitting in a room talking to each other," McElhenney (via The Hollywood Reporter). "We thought, 'Well, let's just figure out a way to do that as cheap as possible... we just wanted to break it down to its basics."