I have seen the future and it has everything to do with Universal Design and Wayfinding, or, in other words: accessibility for the masses.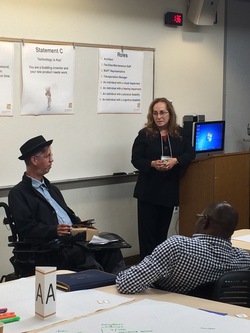 Coming back from the 2016 Pacific Rim International Conference on Disability and Diversity where I presented on Universal Design in Honolulu, I was raring to go, firing on all cylinders and excited to spread the news of the advances in ADA accessibility and Universal Design from around the globe. In my business, life doesn't get much better than this... or, so I thought. And, then I received another invitation to present on the subject, replied yes, and life got even better!
It was my privilege to participate, most recently, as a Breakout Session leader at the 2016 BART [Bay Area Rapid Transit District] AccessTech Conference held at Berkeley City College. This conference, the first of its kind, drew BART officials, persons with disabilities and other interested members of the commuting public. Focused on identifying the major challenges that people with sensory and/or mobility impairments experience when traveling to, riding and getting from transit, the sessions explored how to make transit station environments more user-friendly to everyone who uses the BART system.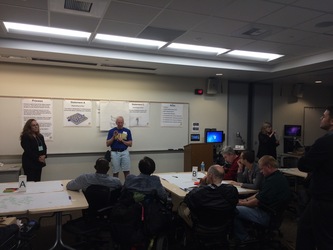 This was an exciting opportunity to extend my professional practice and share my passion with an entirely new and enthusiastic group of interested attendees. There were more than 30 present so I knew I needed to be engaging and on point. It is my intent to share the proceedings of that day with you as if you were present, so let me begin.
After a brief introduction, I launched into my PowerPoint presentation titled "The BART Experience, Universal Design and Wayfinding" which was fully accessible to this particular audience as I read aloud the content of each slide -- twice. First up I introduced the Seven Principles of Universal Design, leading off with a brief profile of Ron Mace who actually coined the term "Universal Design", followed by a discussion of each of the seven principles which include: Equitable Use; Flexibility in Use; Simple and Intuitive; Perceptible Information; Tolerance for Error; Low Physical Effort; and, Size and Space for Approach and Use.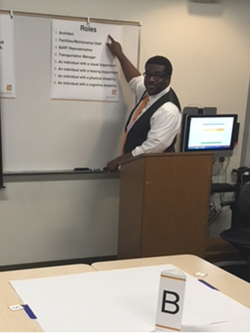 But the fun part had yet to start, the linchpin of the session's activity was a collaborative brainstorming activity in which all would participate. There were three tables labeled A, B, or C and seating for up to ten participants at each table. The participants were instructed that whichever table they chose would be their seat for the duration of the breakout session activity. At each table were numbered squares each one representing the role each participant would assume during the activity. The roles included: Architect, Facilities/Maintenance Staff, BART Representative, Transportation Manager, an Individual with a visual impairment, an Individual with a hearing impairment, an Individual with a physical disability and an Individual with a cognitive disability.
This dynamic exercise was designed to stimulate out-of-the-box thinking and forming new bonds in the pursuit of accessibility solutions. The materials may have been simple butcher paper and colored markers, but the thought process would hopefully spark a moment of genius. Our group presented three situational guiding statements (and please feel free to play along as you read): Table A. Wayfinding is Key! You have a destination in mind and are concerned about meeting your deadline; Table B. Communication is Key! You are new to the City of Richmond; you have a job interview in Walnut Creek and this is the first time you are taking BART; Table C. Technology is Key! You are a budding inventor and your new product needs work. Each table was then tasked with producing two (2) positives, two (2) challenges, and one (1) solution. One person at each table would be that table's representative responsible for reporting their solution.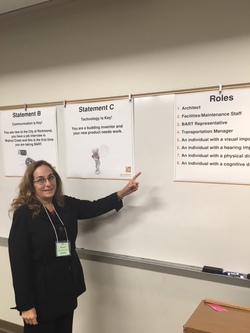 Breakout Leaders circulated the room to encourage creativity. The activity was fast paced with only 15 minutes devoted to each table's collaboration. The excitement was palpable and everyone's energy well directed. In the thick of the process, I sensed that the task at hand was being taken as seriously as a day at the office and I felt enormous pride in my chosen line of work and particularly inspired by the contribution of everyone's positive spirit. The table representatives as if on cue enthusiastically scrambled to write their solutions on whiteboard just in the nick of time. And, with rapt attention the participants leaned in to hear from the Breakout Leaders as to how their "solutions" either worked...or didn't.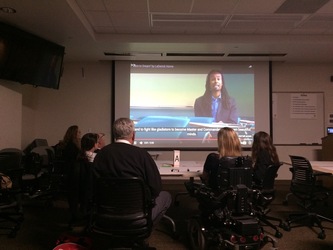 Job well done by all! But, the day wasn't over quite yet. I had one more thing in mind to share with the session participants for further inspiration and thought. Back in Hawaii I was introduced to a remarkably talented young poet, LeDerick Horne, and shared a few of his captivating words via a YouTube video of one of his poems "Dare to Dream" before the session's closing remarks. (Visit https://www.youtube.com/watch?v=JWxqbxCc4SQ to view LeDerick Horne's video of "Dare to Dream")
And so, at the end of the day, whether in Berkeley or Hawaii or home the sun sets vividly in the Pacific. Here's to another vibrant and thought-provoking day with like-minded folks.