As a woman who is used to breaking down barriers, I am especially worried about setbacks for women that may result from a Trump administration.
The years pursuing my architecture degree were the hardest in my life, but also prepared me for life's hard knocks.
Let me tell you about my recent trip to Chicago which raised a minefield of emotions. In town to attend my 50th year reunion at the University of Illinois (U of I), it was at once, a celebratory occasion in which to reunite with old friends and acquaintances, and bitterly uncomfortable physically in this windy, cold and rainy city whose climate I had forgotten about as weather of this nature is rare in the Bay Area where I live now.
At our Welcome Dinner I was surprised to see how old everyone was and started to go into a panic only to laugh at myself for not acknowledging how old I really am! Several glasses of wine took the edge off my internal discomfort and dismay.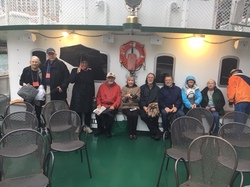 Perhaps the best part of the reunion, however, were the feelings that emerged. I was sad to hear that many of my classmates had passed away or were not physically able to attend this important event. And, as I shared stories of how my practice has fared in the intervening years, many shared that they had retired having grown weary of the rat-race and were beginning to learn how to relax and enjoy life. Several classmates and I had a very different take on this, though, as we felt our best work lay ahead and we would need to be taken out of the office on a stretcher before we stopped working. Two very different perspectives!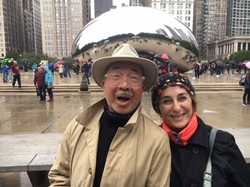 Might this be the last time I would visit with my U of I classmates was a nagging feeling that pervaded the weekend. An important reason for attending this year was to visit with an old friend, Wai Nung, who has been a friend from the start of our studies. Upon graduation, I longed to get a master's degree from an Ivy League college and be a professor. Long story short, Wai Nung and I attended the Master's Program at Columbia University together, went our separate ways, but remained close friends.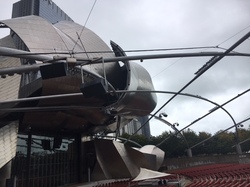 As I reflected on the difficulty of the U of I architectural curriculum and the struggles I faced as the only woman in the program, my eyes welled up and I, surprisingly, began to cry. Sexual harassment was rampant at that time, and broader forms of sexism simply weren't talked about. Moral support for women was certainly lacking on campus. Which is why our recent election has chilled me to the bone, as I fear that our country may return to a time when this sort of aberrant behavior was taken as a norm.
My education challenged and primed me to live a fulfilled life. And, what a gift it has been to be a practicing architect with a thriving firm of my own. Education is the great equalizer between women and men.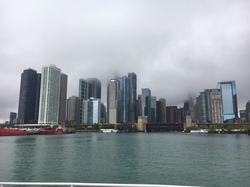 I especially looked forward to the planned curriculum for our class reunion which included visiting downtown Chicago to experience the city's world-renowned architecture. With each visit I'm reminded how important good architecture is to any city. The harsh weather of this visit, however, became a metaphor for how I experienced Chicago as a student, for I was always fearful at the start of the school year. Warm idyllic summers would fade and winter arrived sharply with a chill spun off the lake. Changing seasons meant that my life was to change as well and the challenge of completing my studies set off another set of insecurities.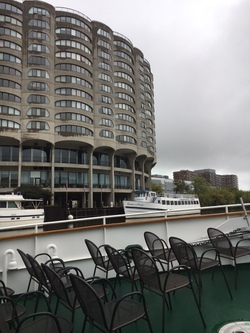 And so, we took the river tour under pounding rain and I was overcome by the incredible architecture of this era and that of times gone by. Much of the success of good architecture can be attributed to its timelessness. I will offer this: that the Trump Tower design and its site location are excellent and a fitting cornerstone for the river architecture. We concluded with a stop at Millennium Park which is adjacent to the Art Institute of Chicago and stood in awe of all the exceptional sculpture. Chicago's architecture remains second to none.
My return to San Francisco was bittersweet. This is my home and I can't think of living anywhere else. But, the recent architectural towers have been a stunning disappointment: their designs reflecting bland architectural solutions of the fifties or sixties. Many structures are very poorly placed, and the repetitive designs do not reflect what might be considered the architectural language of the West Coast. Such a sad commentary on our beautiful city. What surprises me the most are the residential towers that do not appear to embrace the outdoors. Given our proximity to the ocean this is a missed opportunity. Bay Area air is simply the best and to be enjoyed by all.
If you asked me today I would tell you that the reunion was a success and a surprise. Will a sixty-year reunion become reality? I hope so.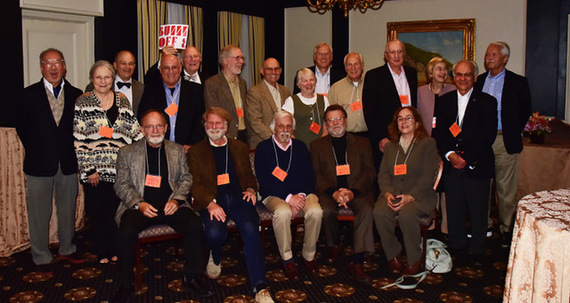 For now, I hope you will take some time to learn more about Chicago architecture and see for yourself what an incredible education experiencing that city has to offer.
Happy Holidays! See you in 2017!
Calling all HuffPost superfans!
Sign up for membership to become a founding member and help shape HuffPost's next chapter